Thanks to the rise of low-cost flights, hotel comparison sites and widespread access to a wealth of information on just about every imaginable destination, couples planning their dream wedding are no longer tied to their home area when it comes to finding the perfect destination.
Indeed, for modern couples looking to add that all-important sense of luxury and prestige to their big day, the world really is their oyster.
They could, for example, flock to Paris, the romance capital of the world. They could set sail for Italy, where the art of amore was practically invented, or they could escape to the sun-soaked bliss of some exotic beach for a truly unique wedding.
Yet rather than doing any of that, more and more soon-to-be-weds are flocking to the Highlands to make Scotland their destination of choice for their big day.
What is it about this ancient and historic land that attracts so many couples? Here at the Dunalastair Hotel Suites in Kinloch Rannoch, we think we have a few ideas.
An Unbridled Air of Enchantment and Beauty
Whether it's the dramatic, windswept vistas that herald your arrival or the unmistakable sense of peace and tranquillity that permeates the air in the most picturesque Scottish villages, there's no denying the intangible sense of romance that wraps you in its embrace whether you go in Highland Scotland.
The captivating scenes of rolling hills and lavish forests do more than paint a pretty picture, they add an almost magical, mystical quality to your Scottish wedding in a way that perfectly encapsulates the enchanted beauty of the love the two of you share.
The Perfect Romantic Escape
As far back as the 1700s, young, loved-up couples would famously run away to the village of Gretna Green, tying the knot at the old Blacksmith's shop as it served as their only option for confirming their love through the act of marriage.
Centuries later, 'running away' to get married at Gretna Green remains as popular and as romantic as ever, but that's not to say that the south of Scotland is the only place you'll be able to truly get away from it all.
Escape to the Scottish Highlands, and you'll find all the peace and serenity you could ever dream of.
At our luxury hotel in Perthshire, for example, you'll find yourself surrounded by quiet, picturesque village of Kinloch Rannoch, with only the occasional sheep from a nearby farm or the enchanting chorus of birdsong disrupting the otherwise undisturbed quietude.
For those whose idea of a dream wedding involves just you, your loved ones, and some much-needed quiet, that makes the Highlands practically perfect.
Magical Memories Captured in Breathtaking Style
We've talked a lot about the breathtaking scenery that surrounds our Perthshire hotel, and for good reason:
It's these remarkable views that you'll remember every bit as vividly and fondly as the moment you and yours say those life-changing 'I Dos.'
Not that you need rely on memory alone.
If there's one reason why so many couples fall in love with the idea of planning a Scottish wedding here in Kinloch Rannoch, it's that those same views make truly outstanding backdrops for your wedding photos.
Whether it's you and your beloved enjoying a moment alone by the edge of Loch Rannoch or your entire family gathered together amidst the elegance of our Perthshire hotel, you're guaranteed picture-perfect moments that beautifully capture your big day in just the right way.
Five-Star Service From First to Last
Recently awarded five-star status by Visit Scotland, the Dunalastair Hotel Suites in Kinloch Rannoch go above and beyond to provide couples with luxury wedding packages that truly deliver all the poise, prestige, and glamour they deserve with an added sense of style that is uniquely our own.
Famous for our exceptional attention to detail and first-class service, we not only ensure that your wedding party enjoys exclusive use of our hotel, we also ensure that every last detail, from your greeting on arrival to your wedding disco is provided with the care and quality that makes us one of the country's leading hotels for luxury Scottish weddings.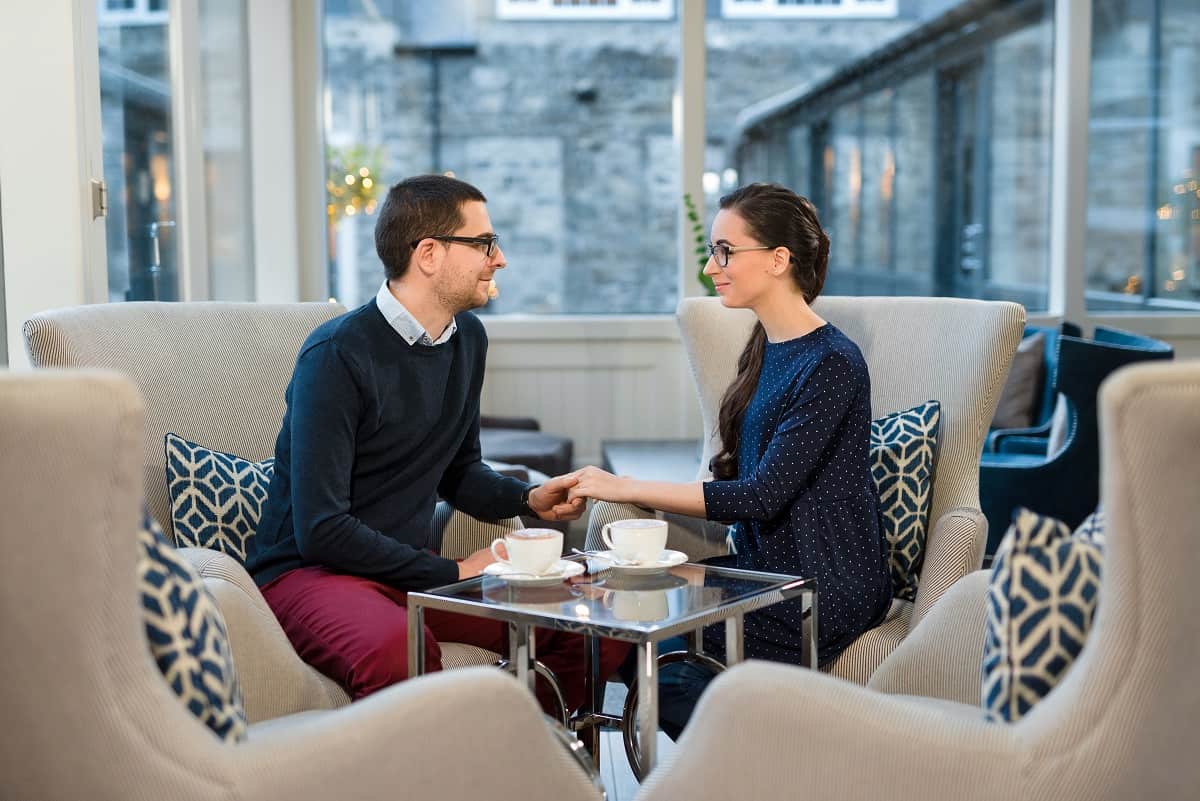 Exquisite Cuisine That Tastes Truly Divine
Part of our commitment to delivering a wedding day that really does guarantee the day of your dreams means sparing no expense when it comes to the food.
From your exquisitely-prepared wedding breakfast to the magnificently morish evening buffet, not to mention the three-course dinner on the night before your wedding and a traditional Scottish breakfast the morning after, the talented chefs at Monadh Dining put their heart and soul into preparing a veritable feast fit for a king and queen.
Plan the wedding of your dreams with the Dunalastair Hotel Suites, Perthshire. Call us today on +44 (0)1882 580444 to discuss your options for a luxury wedding package, or contact us online now.