When is the best time to visit the Scottish Highlands? It's a question we are frequently asked at our luxury hotel in Perthshire. It's a difficult question to answer because each of the Scottish seasons brings its own beauty.
Winter may bring colder temperatures, but the festive cheer of Christmas and Hogmanay will soon warm you up.
The warmth of summer in Scotland makes everyone feel more relaxed, while longer days can be enjoyed to the full.
As the cool of autumn descends, flora and fauna prepare for the winter with a show of fantastic colours.
Spring is one of the most popular times to visit Scotland. It's trite to talk of awakening and rebirth, but it's impossible to escape when you're surrounded by so many examples. Flowers unfurling from the ground, sheep with lambs soon to arrive, and buds on every tree branch, Spring is aptly named!
We've put together a guide to celebrate the first season of the year paired with our insider suggestions of things to enjoy. So, what is there to do in spring in Scotland?
What we are offering in this guide:
When Does Spring Start in Scotland?
Weather in Scotland During Spring
Scottish Spring in Pictures
Scottish Spring Activities
Accommodation Choice
When Does Spring Start in Scotland?
The start of spring in Scotland is elusive and unpredictable. The prevailing weather can plunge the country back into winter on one day only to warm considerably the next. There seems to be no rhyme or reason, but at least the new growth on plants and trees shows welcome promise.
| | | |
| --- | --- | --- |
|   | Starts | Ends |
| Meteorological spring in Scotland | 1st of March | 31st of May |
| Astronomical spring in Scotland | Between 18th-22nd of March | Between 18th-22nd of June |
| What Scottish outdoor experts say | 2nd week of March | 2nd week of May |
Weather in Scotland During Spring?
In Scotland, March is certainly milder than the notoriously frost driven months of January and February, and with the days becoming noticeably longer, you'll see that the temperature begins to creep up gradually throughout the season. Throughout Spring we can expect to see early spring flowers, such as daffodils and crocus, while wildlife can often be seen out in the open grazing. Sheep are still carrying their spring lambs too.
| | | | |
| --- | --- | --- | --- |
| | March | April | May |
| Average monthly rainfall  | 57.6mm | 39.4mm | 51.6mm |
| Average days of rainfall ≥1 mm (days) | 13.7 | 9.3 | 10.6 |
| Average daytime temperature (High) | 9.3°C | 11.6°C | 14.6°C |
| Average daytime temperature (Low) | 2.4°C | 4°C | 6.4°C |
| Average daylight hours  | 12 | 14 | 16 |
Scottish Spring Activities

1. Attend a Highland Game
It doesn't get much more Scottish than a traditional Highland Game. If you've never been, you might be surprised by the physicality of the sports, which mostly involve activities of throwing and lifting. Individual games include shot put, tug-o-war, caber tossing, and hammer throw. These events sort the men from the boys and are collectively known as heavy events. Highland Games also include plenty of pipe bands and Scottish dancing.
2. Ride the Harry Potter train!
Frequently quoted as 'the greatest railway journey in the world', the 84-mile round trip from Fort William to Mallain takes in some of the most beautiful countryside Scotland has to offer. Starting in the shadow of Ben Nevis, the six-hour journey through Fort William, the village of Arisaig, and of course, the famous Glenfinnan Viaduct, which any Harry Potter fan will instantly recognize.
3. Walk the Royal Mile in Edinburgh
With plenty of styles and youthful appeal, Edinburgh, the capital of Scotland, oozes history and intrigue. The Royal Mile is at the heart of Edinburgh's Old Town, with Edinburgh Castle at its head and the Palace of Holyrood house at its foot. Its name comes from its tradition as a processional route for kings and queens for the last 500 years.
The Royal Mile is a great introduction to the capital and if you tire of walking the frequent hop-on-hop-off tourist buses are a great way of soaking up the atmosphere.
4. Sail on the Waverley Paddle Steamer
Following a massive restoration in 2003, the Waverley Paddle Steamer is once more navigating the Western waterways of Scotland. With day and evening sailings and numerous drop-off points, it's a relaxing and enjoyable way to experience the sights. There is an observation lounge, a promenade deck, a restaurant, and a tearoom for refreshments.
5. Knock back a Dram at a Distillery Tour
It's easy to imagine all whisky distilleries are the same but try a few different brands, and you will see the difference between them. Some put the difference down to the water source, others the malting of the barley, or even the style of casks used for aging or the blending process. Whichever you may believe, a tour around a whisky distillery demonstrates this age-old craft in the modern world.
6. Explore the beaches of St. Andrews
West Sands is only a 15-minute walk from the historic town of St Andrews. It is almost 2 miles of fine white sand, which is backed by sheltered dunes and the internationally renowned golf course. It's an ideal spot for walking and swimming or you can relive the excitement of the Academy award-winning movie, Chariots of Fire, which was also filmed here.
7. Visit a Scottish Castle
Castles are often closed until around the beginning of April each year, to allow for restoration and cleaning work. However, once Spring comes, then the world is your oyster as Scotland has more than 1500 castles and ruins to explore. Spring is always a great time to visit when the gardens too, as they will be in full bloom, and there also tends to be fewer visitors.
8. Go for a Walk
Walking opportunities in Scotland range far and wide, from long-distance coastal paths, long-distance interior trails, riverside walks, to numerous mountain scrambles.
Accommodation Choice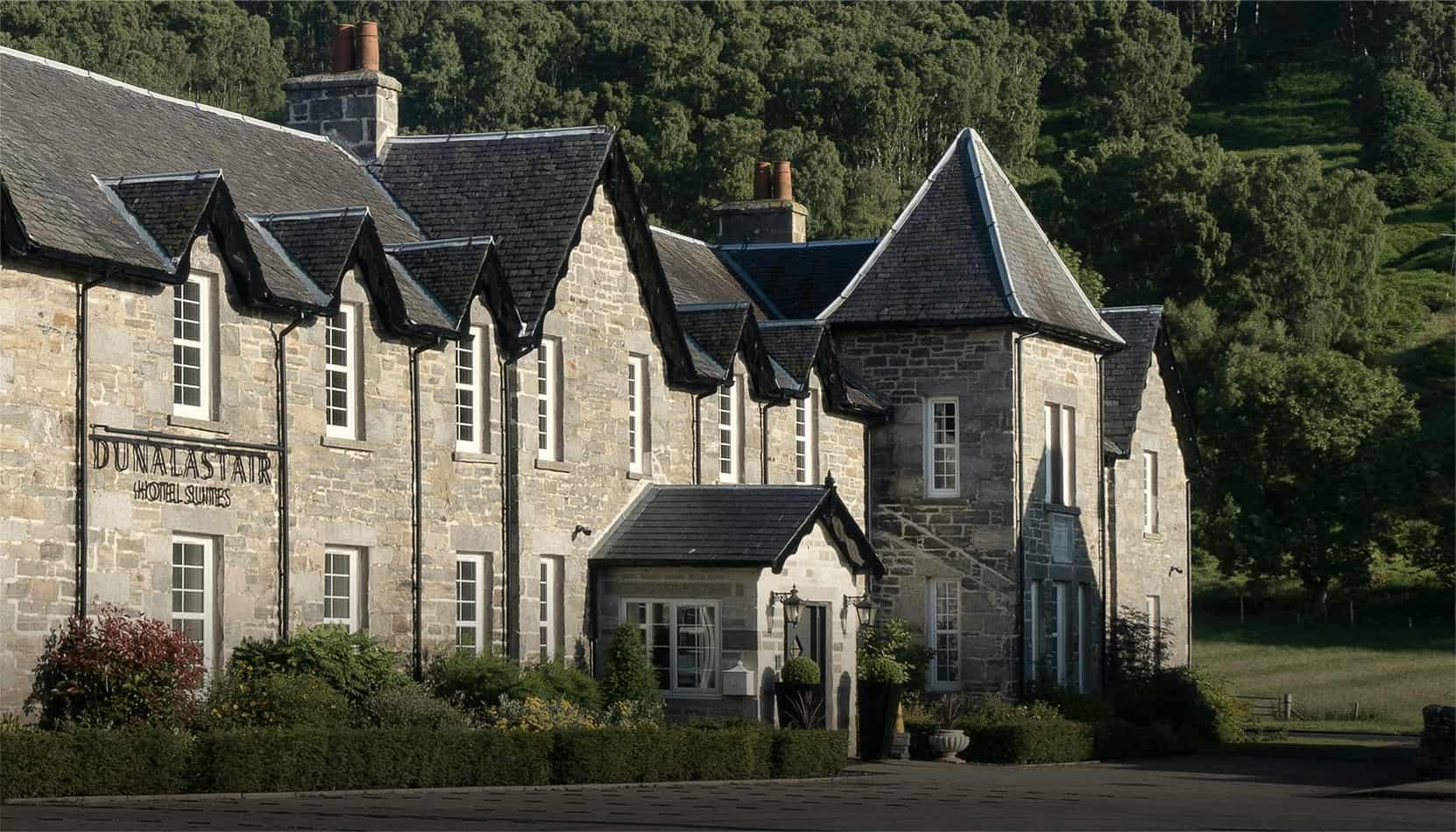 If you've decided on a short, family break to Scotland, Dunalastair Hotel Suites, the hotel in Pitlochry can offer you an outstanding package of two nights' accommodation for two adults and two children, which includes breakfast and your choice of a picnic lunch or an afternoon cream tea in Monadh Dining in the hotel.
This offer is for only £450 or try a relaxing weekend getaway for two with our special luxury package, starting from only £145.
Explore  our latest special offers online today, or to discuss your reservation, call us now on +44 (0)1882 580444.