With breathtaking views stretching for miles across the romantic Scottish Highlands and luxurious rooms that combine the very height of style, comfort and sophistication, Dunalastair Hotel Suites have spent the past two years establishing ourselves as one of Scotland's most popular boutique hotels.
Yet isn't just the scenery and style that has earned us an enviable reputation, a host of top industry awards and official five-star status. In fact, if there's one thing more than any other that we can attribute our success to, it's the absolute dedication and devotion of our Guest Ambassadors.
Day in, day out, they work right around the clock to ensure that each and every guest at our award-winning hotel in Perthshire enjoys the kind of five-star luxury break they truly deserve.
That doesn't just mean ensuring that every room is immaculately presented and exquisitely comfortable. That doesn't just mean ensuring that every guest enjoys exceptional cuisine at our in-house restaurant Monadh Dining no matter what their unique dietary requirements may be.
Nor does it simply mean being on hand to help ensure that the check-in process goes as quickly and smoothly as possible so that our guests can spend less time at the front desk and more time making the most of their Scottish holiday.
What it ultimately means is going the extra mile to ensure that you and your party truly enjoy the kind of getaway that dreams are made of.
Here are just a few of the things our team can do to make your next stay with us extra special.
It isn't just our beautifully designed hotel suites, our spectacular views or our delicious food that makes the award-winning Dunalastair Hotel Suites one of the top five-star hotels in Scotland. The first-class service from our Guest Ambassadors plays a very important part too.
Help you plan your itinerary and excursions
There's literally so much to see and do here in Perthshire that even knowing where to start can seem like a challenge all unto itself.
It could be that you're looking forward to the ultimate Highland hike but need expert advice on the best local routes. Or perhaps you're after a day of excitement and adventure at a top outdoor activity centre such as Nae Limits in Perthshire.
Maybe you're a history buff eager to explore the iconic local landmarks and areas of interest, or perhaps you've brought your golf clubs along with you and can't wait to tee off on one of Scotland's famous courses.
Whatever the case may be, your Guest Ambassador will be there to help. Using their local expertise and insights, they can help you to plan the perfect day out.
They can offer recommendations on the best hiking and cycling routes, the best fishing or golfing spots, or simply how to make the most of your visit to nearby destinations such as Pitlochry or Blair Atholl.
Headed to the highlands with no agenda in mind and need some inspiration?
Talk to us when you arrive and we'll be glad to draw on our passion and experience to help you create an itinerary that the whole family can enjoy.
Whether you're planning a fun-filled family outing or a relaxing day-trip, your dedicated Guest Ambassador can help you map out your itinerary, make reservations, and ensure that everything is set for the holiday of a lifetime.
Booking tickets and activities
Of course, the Guest Ambassadors at our five-star hotel in Perthshire can do much more than make recommendations.
They can help make your entire holiday that much more enjoyable by taking care of any bookings and reservations you may require during your stay.
Need a tee-off time at one of the Highland's most popular golf courses? Let us know and we'll get right on the case.
Looking forward to a fun-filled family day out on a Highland Safari? Talk to your Guest Ambassador and they'll take care of the booking, leaving you with more time to enjoy your stay.
Dining reservations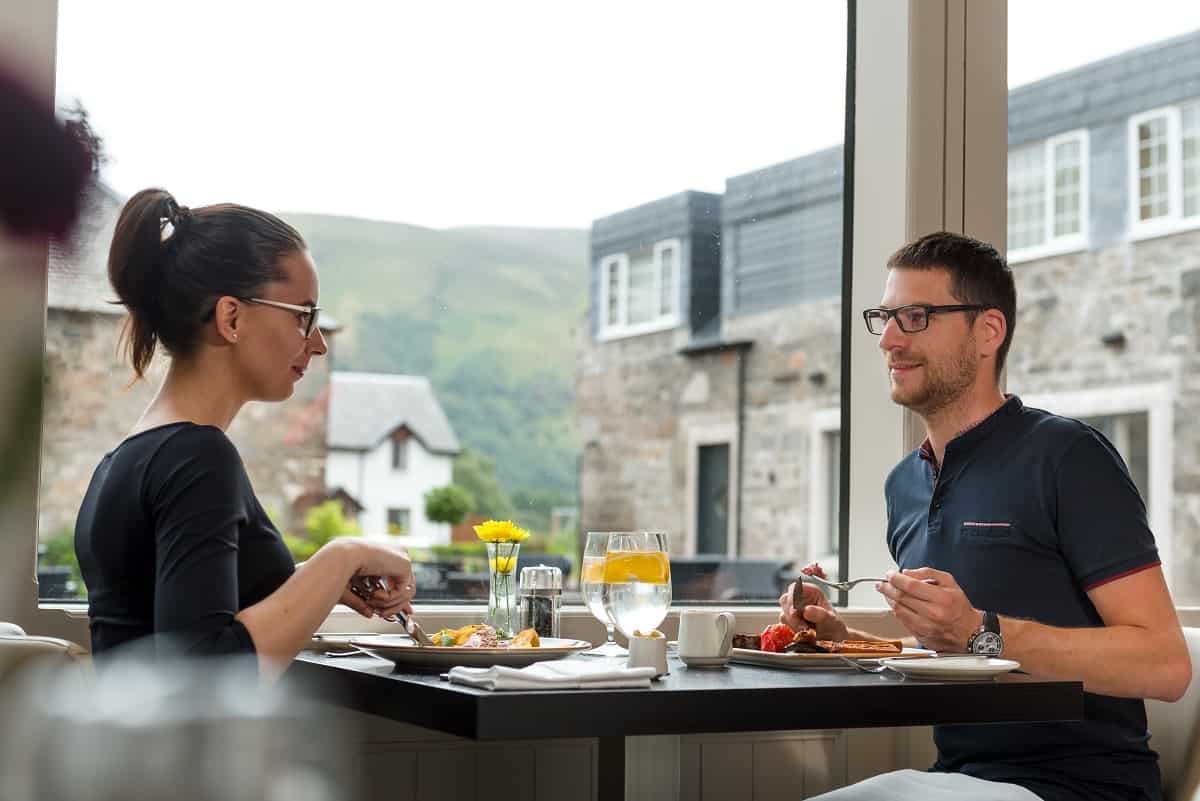 For many of our guests, the highlight of any stay at the five-star Dunalastair Hotel Suites is the food.
Lovingly prepared by our talented, in-house chefs using the freshest, ethically-sourced ingredients, all of our delicious menu options are served up in the elegant surroundings of Monadh Dining, our own restaurant which combines stunning interior design with first-class service and spectacular views across Highland Perthshire.
If you have special dietary requirements, your Guest Ambassador can relay this to our chefs to ensure you enjoy a meal that's just right for you.
If you're celebrating a special occasion such as a birthday or wedding anniversary, they may even be able to help make your reservation at Monadh Dining extra special.
What's more, if you're heading out for the day to one of our neighbouring towns, your Guest Ambassador can even help with making reservations at other nearby restaurants.
While we always love welcoming you to Monadh Dining, if your planning day trip that's just out of reach, talk to us about making dinner reservations at other leading restaurants throughout the Highlands.
All those little extra touches
Whether you need an extra pillow to help you enjoy a perfectly peaceful night's sleep, extra bathroom towels, or anything else at all, our Guest Ambassadors are on hand to help with all those little added touches that help make your stay absolutely perfect.
Looking to hire a car so that you go and explore the Highlands? Want to take advantage of our own laundry service or borrow a bicycle?
Simply ask us about our additional services and we'll do what we can to help.
Whether it's an extra pillow, a bicycle to hire or a delicious meal brought directly to your door, we really go the extra mile to ensure that every last little detail is taken care of, guaranteeing that you truly experience the holiday of a lifetime.
State-of-the-art E-Concierge service available in every room
The best part of all this is that you often don't even need to leave your room to enjoy first-class service from your Dunalastair Hotel Suites team.
Each and every one of our luxury boutique hotel suites comes with its own state-of-the-art eConcierge service, allowing you to access a full range of hotel services from the comfort of your bed.
Getting you home safely
Though we hate to see you go, we understand that all good things must eventually come to an end, even your Scottish Holiday.
Before you go, however, there's one last thing our Guest Ambassadors can do for you:
Help ensure your journey home is all taken care of,
Whether that's booking train tickets, checking on your flight departure times, or even giving you a ride to Rannoch Station courtesy of our in-house shuttle service, we're here to make sure you enjoy true five-star service right til the very end of your stay.
While you're at it, why not ask us to take care of upgrading your existing travel reservations to first-class so that you can continue to enjoy the same kind of premium luxury you received at our hotel, even after you've checked out?
Enjoy the ultimate in first-class service and five-star luxury with the award-winning Dunalastair Hotel Suites in Kinloch Rannoch, Perthshire. For a limited time only, enjoy a  two-night break for two adults and two children for £499, including a fresh fruit bowl in the room on arrival and a continental breakfast each morning.
See our website for more special offers or book your stay now by calling us on +44 (0)1882 580444.