For many couples looking forward to tying the knot in 2020, the global coronavirus pandemic has turned their dream wedding into something of a nightmare, delaying the start of their new lives together by months and, in some cases, completely altering their plans for the big day.
The good news is that after lockdown measures slowly began to ease over the summer, weddings are now once again allowed to take place throughout the United Kingdom.
The bad news, however, is that those weddings are strictly limited to just 20 people.
Still, that might not be quite as terrible as it sounds. It's often said that within the midst of crisis lies opportunity, and that's certainly the case as far as weddings are concerned.
While an elaborate celebration surrounded by all those you hold nearest and dearest to your heart may be out of the question right now, these unprecedented circumstances present a golden opportunity for lovestruck couples to plan the ultimate luxury destination wedding.
What's more, when you choose the romantic Scottish Highlands as your wedding destination, you can enjoy exclusive use of the five-star Dunalastair Hotel Suites, ensuring that the entire hotel and our dedicated staff are yours and yours alone for the whole day.
How to Slim Your Wedding Down to 20 Guests Without Upsetting Friends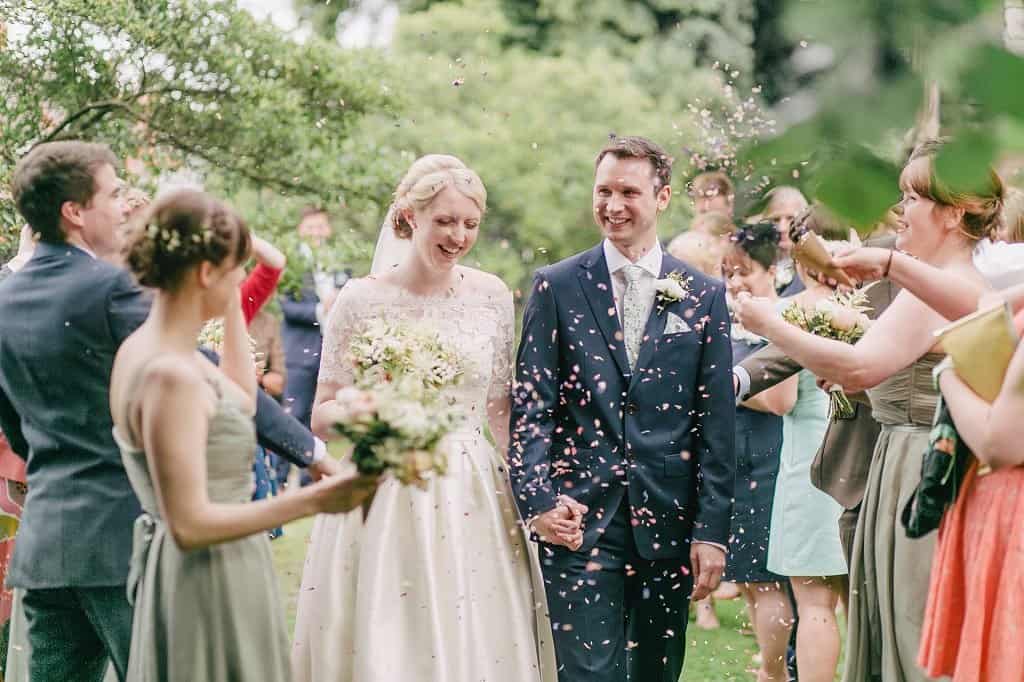 Of course, opting for a destination wedding isn't without its challenges, especially if you had already sent out invitations to your entire guest list before lockdown.
According to the latest Hitched annual wedding day survey, the average couple invites 82 guests to their daytime ceremony and an additional 21 people in the evening. If your numbers are anything like those, you may have some tough decisions to make to get that down to just 20 people without upsetting anybody.
So, who do you decide who attends and who stays home?
More importantly, how do you stay on good terms with those who sadly must go on the uninvited list?
Here's a few suggestions from our wedding planners here at the multi-award winning Dunalastair Hotel Suites.
Before you go finalising your guest list, it pays to know precisely what is and isn't allowed. According to the latest government guidance:
Weddings can take place indoors or outdoors
A maximum of 20 people (including children) can be in attendance.
That number includes not only the happy couple and their guests, but also anyone employed directly by the couple such as their wedding photographer or the entertainment.
The number doesn't include the registrar or venue staff.
1. Make a Priority List
When you close your eyes and think about the people in your life, who are the ones who make you the happiest? Who are the people who just couldn't imagine celebrating such a special occasion without?
Parents and siblings are likely to make a list, as are your absolute closest friends, but there may be a few people who, as much as you enjoy their company, are sadly going to have to sit this one out.
2. Get Away From it All
Destination weddings have always been popular, but in the current climate, they're also convenient too. Planning your special occasion in a far-off location like the breathtaking Scottish Highlands ensures only those who are truly closest to you are likely to commit, meaning there'll be far fewer people you'll need to break the bad news too.
3. Don't Invite Children or Plus-Ones
It may not be ideal, but when numbers are at a premium, making your big day an adults-only engagement and strictly limiting the number of plus-ones you invite can make all the difference.
Of course, your cousin may be a little upset that they can't bring that new beau they've been dating for the past month, but if her leaving him at home means someone you genuinely care about gets to be there instead, then it's no doubt going to be worth it.
4. Be Prepared to Deal With Hurt Feelings
While most people may be sympathetic to the challenging situation you've been forced into as a result of COVID-19, there may still be a few hurt feelings once your final invitations go out.
In that case, be ready to pick up the phone and speak to those you left out. Explain just how much you would have loved for them to be there, but with places at an absolute premium, you had no choice but to leave them off the list.
If it helps, you can always soften the blow by sending wedding favours or personal notes to those you've had to uninvite, or you could even promise a bigger get-together once circumstances improve.
Why Choose Dunalastair Hotel Suites for Your Destination Wedding
The beauty of a destination wedding is that you really can go almost anywhere, so make your dream wedding come true in a traditional Victorian-era building, surrounded by the fresh mountain air and breathtaking beauty of the romantic Scottish Highlands?
A few minutes' walks from our luxury hotel you'll find the tranquil waters of Loch Rannoch with mile after mile of sweeping vistas in the background, all coming together to create the perfect spot for some truly remarkable wedding photos.
Still not convinced?
Here's precisely what you can expect when you choose to celebrate your day with us.
A Stunning Location in the Heart of the Highlands
Standing proudly at the foot of the majestic Schiehallion Mountain, with the glistening loch just moments away and captivating views at all sides, Dunalastair Hotel Suites offers a setting for your big day that is genuinely so enchanting you're likely to remember it every bit as fondly as your vows.
All Ceremonies Catered For
Religious, civil, and humanist ceremonies are all welcome at the Dunalastair Hotel Suites.

Exquisite Catering
Although we do allow you to hire your caterers, our in-house team are more than up to the task. Our talented chefs use fresh, locally-sourced ingredients to create an exceptional wedding breakfast and food for your reception. We cater for all dietary and lifestyle requirements including vegetarian, vegan, kosher, and halal.
Exclusive Use of Our Luxury Five-Star Hotel
You and your wedding party will be the only guests at our venue during your wedding. Not only does this guarantee a level of intimacy for your cherished occasion, but it also proves helpful to keep you and your loved ones safe throughout the weekend.
Your Safety: Our Top Priority
Speaking of safety, we've worked tirelessly on implementing extra special measures to ensure the safety of our guests. Our express check-in and check-out facilities, commitment to social distancing and other COVID-friendly features have earned us the AA COVID Confident Certificate, as well as the UK tourism industry's We're Good to Go hallmark in recognition of our work to create the safest environment possible for your dream wedding.
Book your destination wedding in the romantic Scottish Highlands with the multi-award-winning Dunalastair Hotel Suites. Contact us online today to discuss your plans with our events team, or call now on +44 (0)1882 580444.