From the moment we re-opened our doors last May, the team at our luxury hotel in Perthshire have always gone out of our way to deliver the kind of first-class service and exceptional comfort you'd typically find at some of the world's most prestigious five-star hotels.
Now, we're thrilled to announce that we've joined the ranks of those illustrious venues after Visit Scotland granted the Dunalastair Hotel Suites official five-star status, making us one of the country's top luxury hotels.
Welcoming us into the exclusive club of five-star hotels, Visit Scotland's Regional Partnership Director, Jim Clarkson said:
"I would like to congratulate everyone at Dunalastair Hotel Suites on this thoroughly deserved award.  The hotel is a fantastic addition to Highland Perthshire's sterling offering and will undoubtedly attract visitors to Kinloch Rannoch – it really is a little bit of luxury away from home and five-star status shows visitors that they can expect a high quality experience."
Delivering that high-quality experience has always been our top priority regardless as to whether you join us for a relaxing weekend getaway, a long-term family adventure break, or even to take advantage of our exclusive luxury wedding packages, and we're delighted that our unwavering commitment to making your highland break truly unforgettable has been recognised by the Scottish travel and hospitality industry's leading authority.
Ready to experience the very best in Scottish hospitality for yourself? Here's just a taste of what you can expect when you visit the five-star Dunalastair Hotel Suites in Highland Perthshire.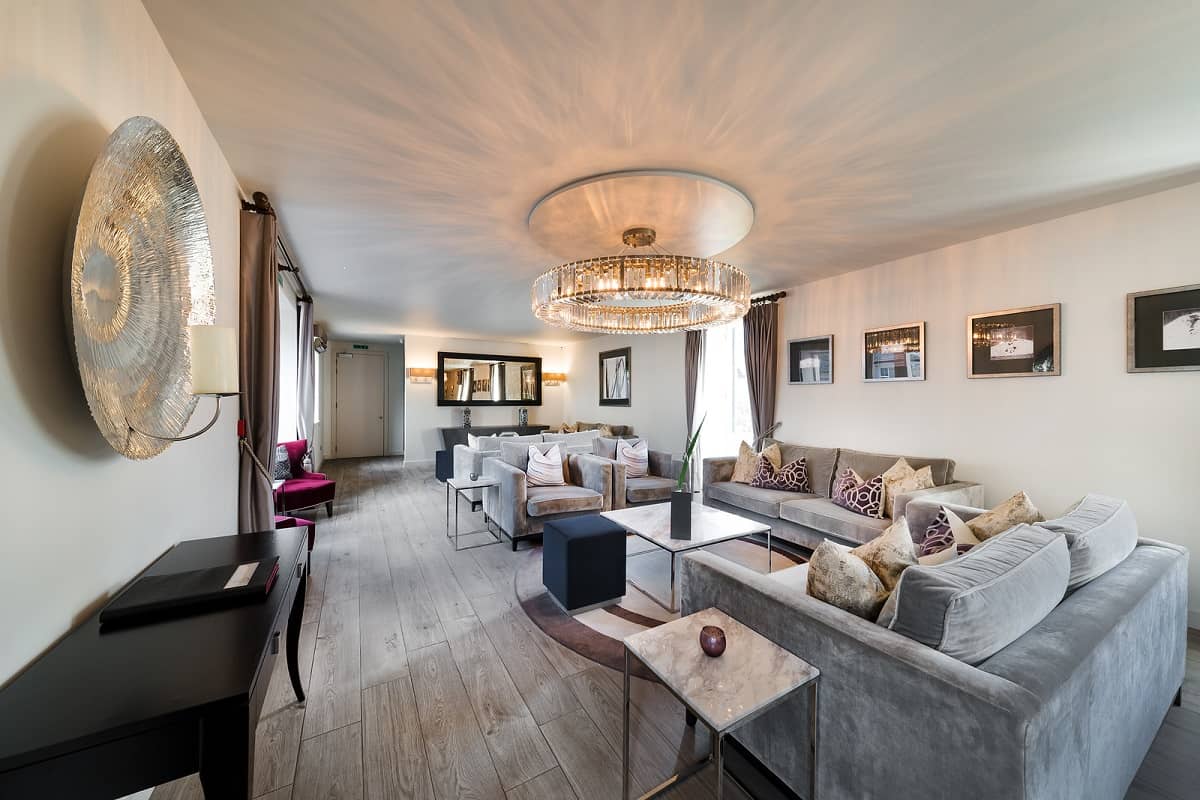 Unbridled Comfort, Unrivalled Style
Prior to our grand reopening in May 2017, the Dunalastair Hotel Suites underwent multi-million pound renovation work, transforming this classic, Victorian-era venue into a state-of-the-art hotel that positively exudes the very best in modern luxury.
Honouring our heritage whilst catering to the tastes of today's guests, our Perthshire hotel retains many of its original features, combining this traditional Scottish charm with an understated contemporary elegance, the result of which being an aesthetic and an ambience that is uniquely our own.
Yet don't be fooled into thinking that we're all style and no substance.
From the plush furnishings in our lounge area to the custom-made beds designed exclusively for our hotel, every last detail has been designed with your comfort in mind.
This lavish combination of unbridled comfort and remarkable style can prove so irresistible you'll likely never want to leave our Perthshire hotel once you arrive.
Yet to stay put means missing out on experiencing the very best that the Scottish Highlands has to offer.
Incredible Views Guaranteed to Steal Your Heart
Whilst we could never take credit for the idyllic surroundings and spectacular views which, on a clear day, stretch for miles out into the horizon, we certainly will take credit for choosing a location that offers such a flawless vantage point to take in this remarkable scenery right the year round.
Gently nestled at the foot of the majestic Schiehallion mountain, the picturesque village of Kinloch Rannoch is surrounded at all sides by dramatic vistas, rolling hills and enchanted forests, all of which you can take in from the window of your boutique hotel suite.
Exquisite Cuisine Freshly Prepared by World-Class Chefs
Even more so than the stunning views, the luxurious comfort and the elegant interior design, if there's one thing that really gets guests talking, it's the impeccable cuisine prepared by the critically acclaimed chefs at our own on-site restaurant, Monadh Dining.
Open daily from eight 'till late, the restaurant serves up a mouthwatering menu of delectable dishes to suit all tastes and all occasions.
Whether you're planning to fuel-up on a hearty Scottish breakfast before a day spent exploring the Highlands, or whether you're planning to indulge in an evening of fine-dining with a lovingly-prepared three-course menu, you're bound to find food to fall in love with on your next stay at Scotland's newest five-star luxury hotel.
Experience five-star style and first-class service when you stay at the Dunalastair Hotel Suites, Loch Rannoch. Book your stay online today or to find out more about our best available rates and special offers, call us now on +44 (0)1882 580444.