Scotland is more than glorious rolling hillsides, and charming countryside – with great natural beauty comes the most sought after natural produce. Fresh, high-quality and traditional are just some of the words that Scottish cuisine has become synonymous with, leading to a rich and diverse food culture that Scots show off with pride and adoration – and rightly so! You've probably heard of the classic traditional Scottish food recipes with favourites of haggis and neeps and tatties, though there is so much more to offer with several traditional delicacies only available to try in specific regions within Scotland.  It goes without saying that the best and only way to experience the high-quality produce and distinct flavours is right in the heart of Scotland.
We have compiled a list of the must-try Scottish delicacies available at our new restaurant:
Cullen Skink
Cranachan
Lobster
Homemade shortbread
Scottish Salmon Fillet
Brown Shrimp
Squid-Ink Mash
Smoked Salmon Mousse
Whipped Goat's Cheese & Walnut
Saffron Cream & Salmon Roe 
Sourced from the finest farms and fisheries that Scotland has to offer, our new restaurant Monadh prepares traditional cuisine freshly made by our passionate and expertly trained chefs. Experience food and drink at the heart of Scotland in our fine dining restaurant without the fuss.
Treat yourself and your loved ones at our hotel in Pitlochry and indulge in a culinary experience like no other, or make a weekend of it and experience one of the best luxury hotels in Scotland here at Dunalastair Hotel Suites.
Quick Overview of 'Monadh'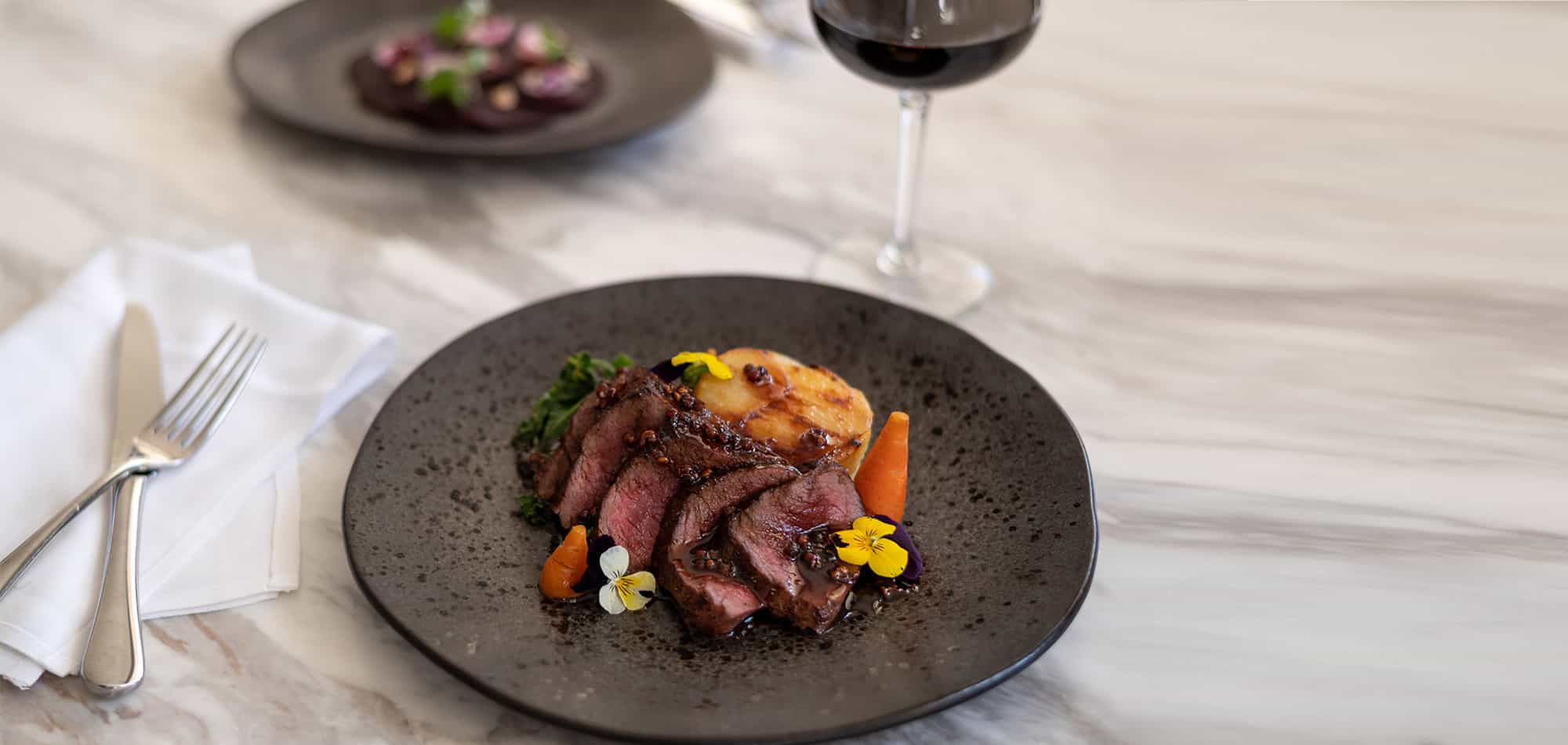 Our Concept
We have made some exciting changes for our new Scottish restaurant opening and renamed from Edina's to Monadh meaning 'moorland covered mountain'. Our new Scottish Gaelic name is inspired by our picturesque location in the foothills of Craig Varr and reflects our new direction in which we are taking guests on a journey with us – inspired by nature.
Our Speciality
Monadh is dedicated to serving hearty traditional Scottish dishes with an inclusive menu, serving up both hearty and healthy Scottish food with plant-based, halal and vegan options. Monadh serves breakfast, lunch and dinner using our fresh and speciality ingredients, including an array of classic Scottish snacks throughout the day.
Our Opening Times
We're open from 6:00 AM till late, seven days a week.
Our Awards
Don't just take our word for it – we truly have the best quality food and service here at Dunalastair. We are proud winners of TripAdvisor's traveller Choice Awards 2021. See for yourself here.
Our Health and Safety Policy
Your safety is an absolute priority. We have taken careful measures to ensure that rigorous health and hygiene measures are used by staff members in preparation for guests.
Here at Dunalastair Hotel Suites, we have options to suit every individual for any occasion. Of course, you will find our perfected and well-loved traditional dishes, from fresh Scottish salmon to juicy lamb rack bursting with flavour. While hearty Scottish dishes are a speciality of ours, we are also passionate about plant-based eating and inclusive meals that anyone can enjoy.
With some 350,000 Scots said to be eating a plant-based diet and an increased demand for vegan eateries and restaurants, we are proud to be part of the growing passion for plant-based cuisine. We have recently announced our own Flawlessly Vegan menu to offer our guests and visitors a fresh, delicious array of plant-based options at our vegan-friendly restaurant in Pitlochry. Our plant-based restaurant encapsulates Scotland's favourite food options like our vegan take on wellington and our sensational mushroom and truffle risotto, to name a few favourites.
Take a closer look at the menus on offer at Monadh…
If you have any food allergies or special dietary requirements, please speak to a member of our team, and we'll do our best to adapt to your needs.
Not only are our menus diverse – we also have several options for where you can sit down to enjoy your next Scottish culinary experience. Scotland is well known for its unpredictable and equally magnificent weather, so whether you want to sit inside in cosy and sophisticated surroundings or sit amongst the tranquil surroundings in our beautiful Highlands setting, we have the perfect space for you.
Al Fresco Dining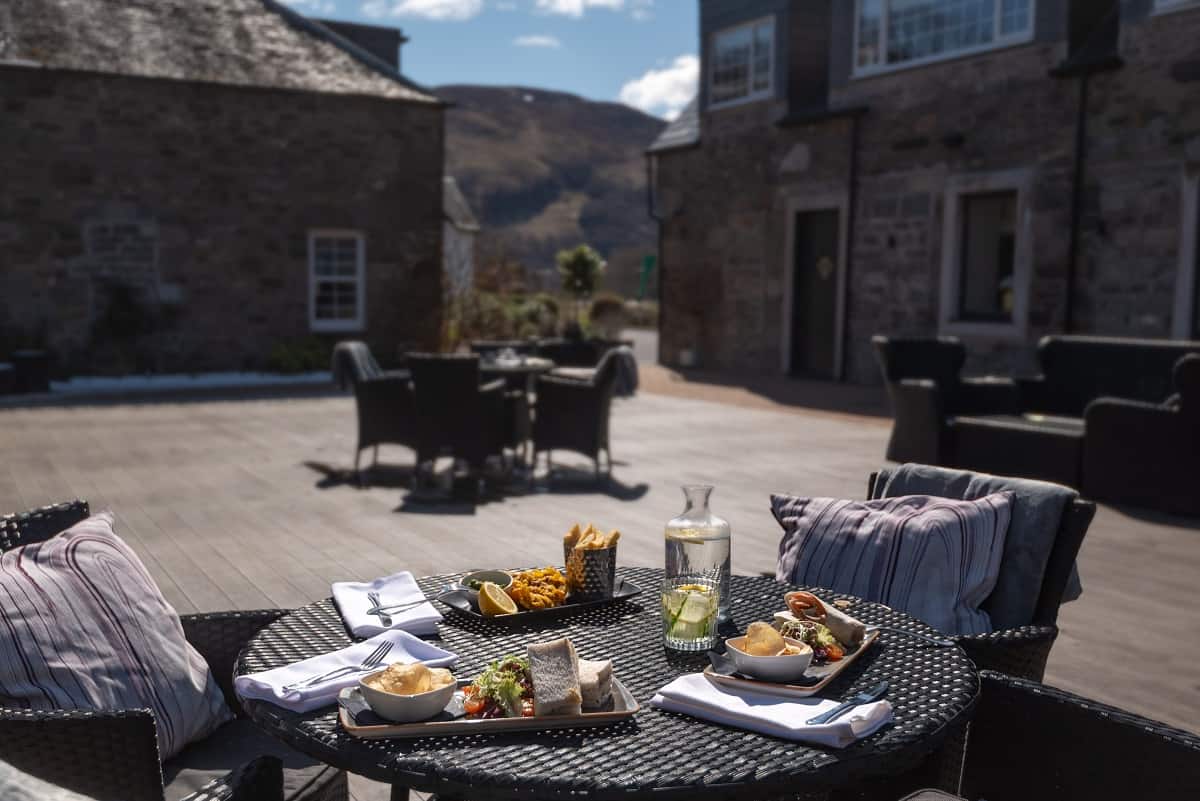 Our beautiful courtyard offers you an open patio oasis surrounded by the grandeur of our hotel and stunning tranquil views of the Highlands. Whether you want a picturesque brunch or an evening cocktail, our courtyard is popular among guests and visitors alike to sit back and relax in the heart of our hotel. Even in the colder months, umbrella's and patio heaters will help keep you toasty so that you can make the most of the outdoors and awe-inspiring surroundings.
Seven-Course Experience in 'The Library'
We are a 5-star hotel after all – so it's only right that our exclusive setting here in The Library offers a space of luxury and sophistication that encapsulates the splendour of Dunalastair Hotel Suites. With the help of our head chef, a Scottish culinary experience like no other awaits, hidden away in the turrets of Dunalastair, you can look forward to an exquisite 7-course tasting menu using ingredients and produce with the infamous 'Made in Scotland' stamp secured. Using traditional dishes with their distinct flavours and flair, your incredible culinary experience will be matched only with its intimate and dreamy surroundings.
A Perthshire Picnic
At our Highland hideaway, we encourage our guests and visitors to venture out and heed the call of the wild to soak up this glorious corner of Scotland. While you may seek adventure, there's no reason to not bring a little luxury along with you and enjoy a Highlands picnic using produce packed to your preference and ready when you are. Just let us know your dietary requirements, and our head chef will prepare a lunch-to-go for you to enjoy.
Eat In Your Suite
An obvious yet sometimes underappreciated indulgence is having 24-hour room service available during your stay in our luxury suites. Enjoy a selection of Monadh's dishes in the comfort of your room for movie nights in your bathrobe or just staying in bed.
There is something to everyone's taste at Monadh, our new Scottish menu and restaurant in Pitlochry. See our complete menu online, or why join us for your next stay in the Highlands at our luxury 5-star Dunalastair Hotel Suites in Kinloch Rannoch.