As we bid a fond farewell to 2017 and greet the arrival of 2018 with open arms, the team here at the Dunalastair Hotel Suites in Kinloch Rannoch have been looking forward to the months ahead and planning our own New Year's resolutions.
Individually, some of us have taken up one of the many vows so typically made at this time of year – a promise to hit the gym, take the trip of a lifetime, or learn a new skill, all the things that make us a little better, brighter, and well-prepared to give it our all every time we step through the doors of our luxury Perthshire hotel.
As a team, however, we've been channelling that same spirit of self-improvement and the desire to do better into a goal -a mission, if you will- that we can all work on together.
Continue to deliver world-class customer service to our guests and ensure that whether you're joining us for a relaxing weekend getaway or an adrenaline-charged adventure break in Scotland, you'll leave the Dunalastair Hotel Suites with the kind of memories you can truly cherish for a lifetime.
How exactly do we plan to achieve this goal?
Simple – by continuing to find new ways to improve every aspect of the service we provide, including:
Continuing To Ensure All Our Guests Enjoy VIP Treatment From First to Last
For us, our luxury Perthshire hotel isn't just our place of work, it's a place that truly feels like home.
As such, from the very first moment you arrive, every member of our team will be there to look after you as though you were a guest in their home, sparing no expense to ensure you really do enjoy the stay of a lifetime.
In 2018, we promise to treat you and your party like true VIPs, rolling out the red carpet and making sure we're on hand right around the clock to help with any needs you may have.
Whether that's assisting those of you on an adventure break in Scotland with information on local activities, popular walking routes, or even cycle hire, or delivering dedicated room service via our state-of-the-art eConcierge system so that you can enjoy a cosy night in on your romantic weekend getaway, nothing is too much trouble.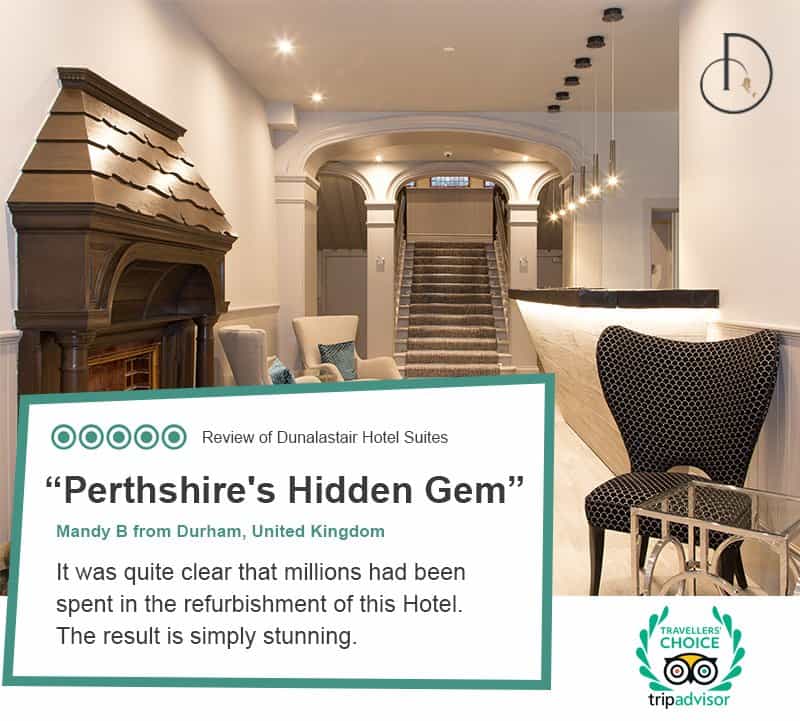 Continuing to Take Your Feedback on Board and Striving to Deliver the Perfect Stay
At the Dunalastair Hotel Suites in Kinloch Rannoch, there's nothing we love more than reading your glowing reviews about how much you enjoyed your stay with us, but don't be mistaken for believing that it's only the positive testimonials we take note of.
Whether you had the time of your life or think we could do better, we take all your feedback very seriously, and use it to help us fine tune our service so that we can ensure all of our guests enjoy the perfect stay, no matter what kind of Highland holiday you're having.
With the New Year upon us, we're committed to listening even more to your feedback and suggestions and striving at every turn to make our customer service the envy of every other luxury hotel in Scotland.
Continue to Cater for All Tastes At Monadh Dining
At the very heart of the Dunalastair Hotel Suites experience sits Monadh Dining, our first class restaurant catering for both guests and visitors alike.
Combining an elegant design to match the gentle, contemporary tones of our hotel with picturesque views across Kinloch Rannoch that stretch out into the horizon, the restaurant remains open throughout the day and has become popular for both evening dining and relaxing get-togethers over an afternoon tea.
Yet more than just the delightful ambience, it's the exquisite menu of traditional Scottish dishes and beautifully prepared British cuisine that has made Monadh Dining a focal point of Kinloch Rannoch life.
In 2018, our chefs promise to continue to explore new ways to bring you the freshest, locally sourced ingredients in a way that truly sets the taste buds alight, and we promise to do all we can to ensure that whatever your tastes or special dietary requirements, you'll find something on our menu that you'll truly love.
Experience the very best in world-class service with a luxury break in Scotland at the Dunalastair Hotel Suites, Kinloch Rannoch. Book your stay online today, or call our reservations team now on +44 (0)1882 580444.