Some call it Britain's best road trip. Others call it the ultimate Scottish adventure. Whatever you decide to call it, there's truly no better way to experience the very best that Scotland has to offer than by travelling the North Coast 500 (NC500).
Winding through over 500 miles of enchanting scenery, glistening lochs, historic towns and cities, and ancient landmarks, this popular route expands from Inverness to John O'Groats, taking in many of the country's most famous locations such as Loch Ness, the North West Highland Geopark, and the historic town of Pitlochry en route.
Planning to take on this once-in-a-lifetime adventure? We've put together the ultimate guide, complete with everything you need to know to make the most of the NC500.
Quick Facts About the North Coast 500 Route
Total Distance: 516 miles
Recommended time to complete: At least 7 – 10 days
Best time to complete: Travel the NC500 during the summer to take advantage of peak tourist season. All visitor attractions will be open, and you'll have the best of the Scottish weather too.
Primary route: Your journey starts in Inverness, heading up to John O' Groats via Caithness before journeying south back towards the finishing point at Inverness Castle.
[row]
[column lg="4″ md="4″ sm="12″ xs="12″ ]Best Attractions to Visit:
[/column]
[column lg="4″ md="4″ sm="12″ xs="12″ ]Best Boat Tours to Take:
[/column]
[column lg="4″ md="4″ sm="12″ xs="12″ ]Best Beaches to Visit:
[/column]
[/row]
Other Popular Activities:
Even if beaches, boat tours, and beautiful castles aren't your thing, you'll still find a host of activities and attractions to enjoy along the NC500 route. These include:
NC 500 Route Boating
NC 500 Route Cycling
NC 500 Route Deer stalking
NC 500 Route Fishing
NC 500 Route Hiking
NC 500 Route Historical landmarks
NC 500 Route Wildlife spotting and photography.
Full Route Map of NC-500 Scotland 
The NC500 Route Google Map: 5 Suggested Stages 
However you travel along the North Coast 500, splitting your journey into the following five key stages will allow you to make the most of your Highland adventure.
Inverness to John O'Groats
John O Groats to Durness
Durness to Ullapool
Ullapool to Applecross
Applecross to Inverness. 
1. Inverness to John O'Groats 
Route: Inverness 🡪 Beauly 🡪 Dingwall 🡪 Tain 🡪 Dornoch 🡪 Brora🡪 Helmsdale 🡪 Dunbeath 🡪 Wick 🡪 John O'Groats
Things to See and Do:
Tempted though you may be to head for the open road as soon as possible, don't set off on your NC500 adventure without first exploring the beautiful city of Inverness.
The historic Inverness Castle, the fascinating Museum & Art Gallery, and the enchanting Inverness Botanic Garden are all well worth a visit, while several local tour operators offer the opportunity to discover the Scottish Highlands at its most beguiling.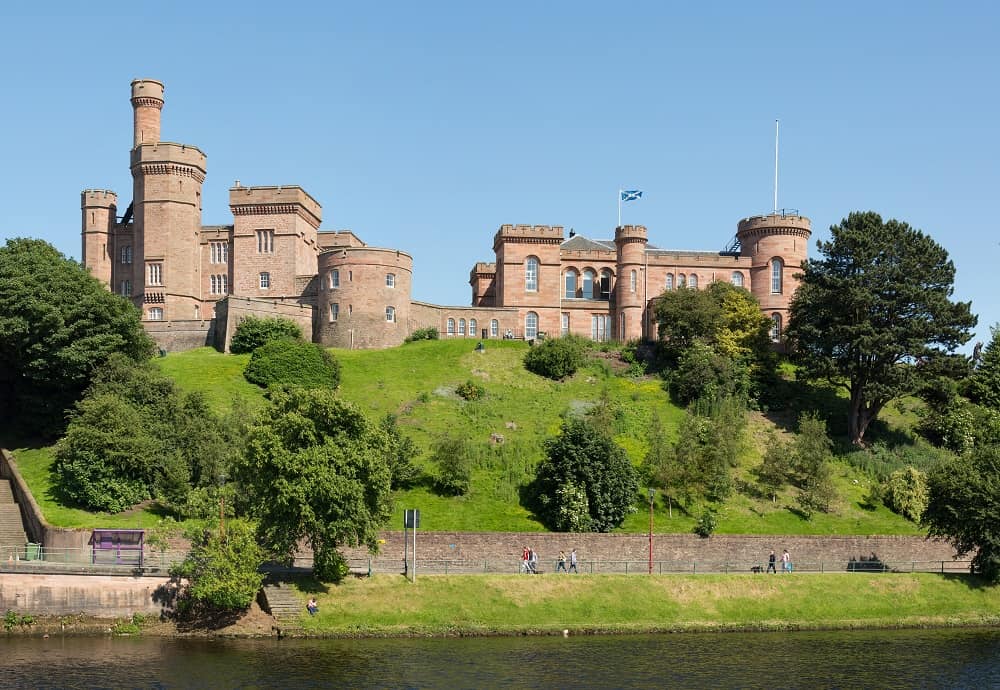 Once your road trip is underway, be sure to stop off in the charming town of Dingwall for a bite to eat at one of several popular dining spots. Don't worry; you can always burn off those calories on any of the numerous woodland hiking trails surrounding the nearby village of Evanton.
Harry Potter fans, in particular, will want to hike up to the Black Rock Gorge, instantly recognisable from Harry Potter and the Goblet of Fire from the memorable scene where a dragon pursues the boy wizard.
Prefer an activity that's a little less demanding? Keep on going up to Dornoch and tee off at the world-famous championship golf course at Royal Dornoch Golf Club before retiring to the dining room to enjoy world-class cuisine and stunning views of the Dornoch Firth.
2. John O' Groats to Durness
Route: John O' Groats 🡪 Thurso 🡪 Bettyhill 🡪 Tongue 🡪 Eriboll 🡪 Polla 🡪 Durness
Things to See and Do:
John O' Groats is a popular tourist spot known as the start of the longest distance between two inhabited points on mainland Britain, the other being Land's End in Cornwall. So, while you're there, be sure to have your photograph taken in front of the famous 'Journey's End' signpost.
It's a common misconception that John O' Groats is the most northerly point in Britain, though that honour goes to Dunnet Head, a short 25 minute drive away.
After ticking that particular milestone off your bucket list, you can enjoy a spot of brown trout fishing in Dunnet Lochs (April – October only) or grab your binoculars to watch the many puffins, guillemots and other seasonal birds settling among the surrounding cliffs.
From there, continue to Scrabster where you can take the ferry over to the Orkney Islands, known as the home of Scotland's very best walking routes.
If you need fuel -either for yourself or your trusty vehicle- stop at the town of Thurso en route to Scrabster where you'll find all the modern conveniences you may need.
Back on the mainland, your road trip will eventually bring you to the North West Highlands GeoPark. Described as one of the highlights of the entire NC500 experience, this UNESCO designated Geopark boasts unique geology and outstanding landscapes, making it an absolute must-visit.
3. Durness to Ullapool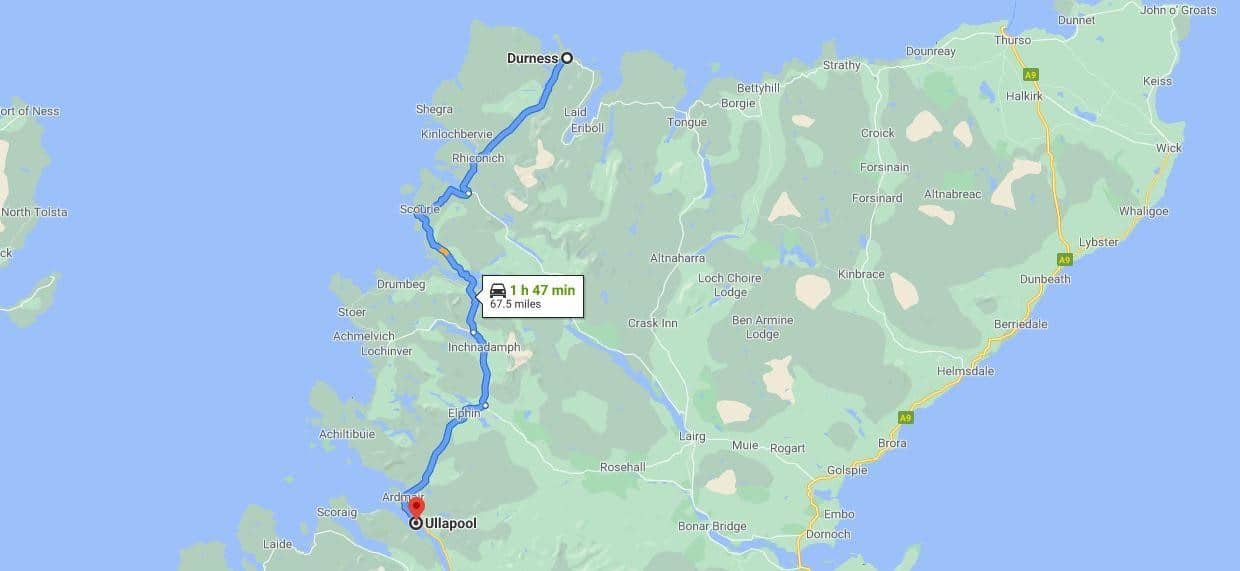 Route: Durness   Scourie 🡪 Drumbeg 🡪 Lochinver 🡪 Ullapool
Things to See and Do:
After two action-packed stages, start stage 3 with a relaxing day on the gorgeous sandy beaches around Durness. Both Sango Sands and Balnakeil Beach are both idyllic spots that are perfect for indulging in a little downtime before your adventure continues.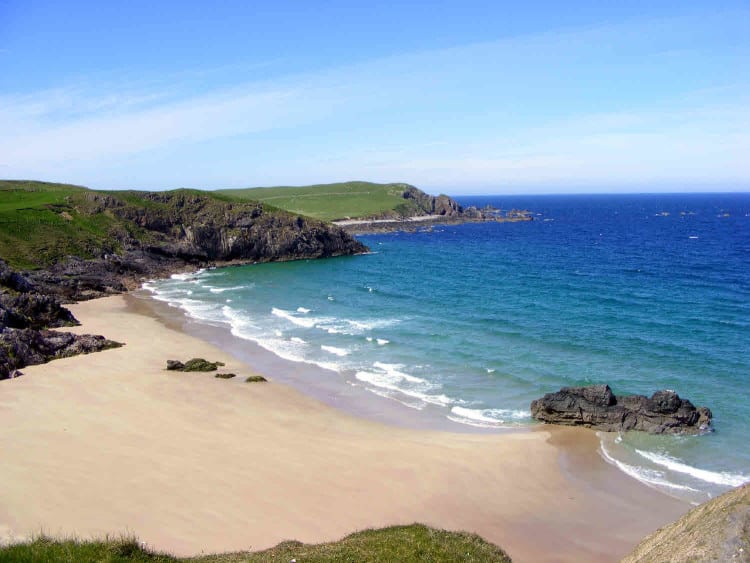 Meanwhile, history buffs will enjoy the leisurely walk to the fascinating ruins of the 17th century Balnakeil Church.
Further afield, the striking Kylesku Bridge serves as an ideal vantage point for some stunning scenic photography. Aim to get here just before sundown to experience just how genuinely awe-inspiring a Highland sunset can be.
Finally, finish your journey through the North West Highlands Geopark in Ullapool, where you'll find the Rock Stop Visitor Centre and Coffee Shop. This is an excellent opportunity to learn more about the great history of the geopark, enjoy some well-earned refreshments and even take advantage of the free WiFi so that you can share those incredible photos you took with your friends on social media.
4. Ullapool to Applecross
Route: Ullapool 🡪 Aultbea 🡪 Gairloch 🡪 Kinlochewe 🡪 Applecross
Things to See and Do:
Stage 4 is one for nature lovers.
Shortly after leaving Ullapool, you'll find yourself in Leckmelm, where the Leckmelm Shrubbery and Arboretum serves as an excellent place for a morning stroll surrounded by fascinating flora and fauna. Thanks to the unique combination of the mild climate and high rainfall, several exotic plants not usually found in Scotland tend to thrive in this area.
From there, head to the Corrieshalloch Gorge National Nature Reserve, best known for its suspension bridge designed in 1867 by John Fowler, but also known for a spectacular mile-long canyon, several magnificent gorges, and an abundance of native wildlife. Finally, you'll finish this stage of the journey on one of the most famous sections of the NC500, the spectacular drive into Applecross along the Bealach Na Ba road. Reaching no less than 2,053 ft, the route offers breathtaking views and truly unforgettable driving experience. 
5. Applecross to Inverness
Route: Applecross 🡪 Lochcarron 🡪 Strathpeffer 🡪 Inverness
Attractions:
Your road trip may be nearing its end, but there's still plenty to enjoy during the fifth and final stage. At Applecross, you'll find red sandy beaches and the Applecross Heritage Centre where you can learn about local history and heritage.
Before leaving Applecross, fuel up on fresh coffee while taking in the beautiful landscape and wildlife photos on display at the Applecross Photographic gallery, then enjoy a day full of peace and tranquillity as you journey through picturesque villages such as Stratchcarron and Garve.
Finally, you'll find yourself back in Inverness, where you can head to one of the numerous restaurants and watering holes to celebrate completing the North coast 500.
The North Coast 500: Your Frequently Asked Questions
How many days does it take to do the NC500? 
The journey can technically be completed in around 5 days. However, that would mean you'd spend most of your time behind the wheel with limited opportunities to stop off and enjoy the attractions and activities.
To make the most of the experience, give it at least seven to 10 days, or maybe even a full two weeks where possible.
When is the Best Time to Travel the North Coast 500 Route?
April to October is the best time to drive the NC500 route. This is the time of year when you'll have the most hours of daylight and the best weather. It's also the time when more attractions and places to stay will be open.
What Should I Pack for My NC500 Road Trip?
This will largely depend on the kind of activities you're planning to enjoy, though there are a few general packing tips we could give to all NC500 travellers.
Given Scotland's famously unpredictable and ever-changing weather, it's always a good idea to bring plenty of layers (including a strong waterproof one!) that you can add or remove as appropriate.
A reliable pair of hiking boots is always a good idea, as is a quality insect repellent, especially if you're travelling in the summer.
North Coast 500 and Coronavirus – Travel Advice from October 2020
At the time of writing, the Scottish Government had just introduced further restrictions aimed at combating the rise of COVID-19. Fortunately, the rules coincide with the tourism season along the NC500 for the year. We remain optimistic that by the time you hit the open road, restrictions will once again begin to ease. However, even if that's the case, we encourage you to remain considerate to the local communities by following the published guidelines and practising safety measures such as social distancing, wearing face coverings, and washing your hands regularly.
Most importantly, if you are showing symptoms of coronavirus, please do not travel until you've been tested and received the all-clear.
Full guidance from the Scottish Government for retail, tourism and hospitality customers can be found here.
Stop off for a Spot of Luxury at the Five-Star Dunalastair Hotel Suites in Highland Perthshire
Didn't get enough of the Highlands on your NC500 adventure?
Less than 80 miles away from the official starting point in Inverness, the five-star Dunalastair Hotel Suites in Highland Perthshire is ideally located close to nearby attractions, with a wealth of adventure activities, majestic mountains, enchanted forests and awe-inspiring scenery right on our doorstep.
We're a great first (or last) port-of-call to extend your Highland adventure even further.
Route: Kinloch Rannoch 🡪 Balmore 🡪 Etteridge 🡪 Aviemore🡪 Tomatin 🡪 Inverness
Things to See and Do:
A short drive from Dunalastair Hotel Suites, The Great Moor of Rannoch remains one of the oldest surviving wildernesses in Europe. This sprawling, windswept land captures the imagination with its vast, rambling hills, flowing waters and remarkable views which, on a good day, stretch as far as Ben Nevis.
The Moor itself is excellent for hikers or landscape photography fans, though if you prefer to stay inside and keep warm, head to the Rannoch Moor Visitor Centre -opened in 2005 by renowned botanist David Bellamy- to learn more about this stunning natural wilderness.
Journeying into Kinloch Rannoch itself, fans of Outlander will recognise several locations from the hit TV show, including the spot of the infamous Standing Stones from Season 1.
If you're more interested in real-life history, your journey from Kinloch Rannoch to Inverness will take you within reach of the Culloden Battlefield, site of the legendary Battle of Culloden in 1746.
There, you can enjoy an exciting, interpretive exhibition using interactive characters and archaeological evidence to tell the tale of this brutal and bloody battle.
Other popular activities and attractions include:
Staying at Dunalastair Hotel Suites
Located in the heart of the Scottish Highlands, Dunalastair Hotel Suites seamlessly blends original Victorian-era period features with modern conveniences of the highest standard, all with effortless comfort in mind. Reopened in 2017 following a multi-million-pound refurbishment, the hotel is known as one of the premier 5-star hotels in Scotland and is ideally located just a short drive from the start and end of the North Coast 500.
Experience the best that Scotland has to offer with Dunalastair Hotel Suites. Book your next stay online directly via our website to get the best available rates on luxury staycation packages in the Scottish Highlands.