A brand new year is upon us and, if our calendar is anything to go by, it's going to be the most exciting one yet for guests at our five-star hotel in Highland Perthshire.
After all, while the beautiful scenery, fantastic walking routes and fascinating historical landmarks already make the Highlands a perfect getaway destination, those visiting us throughout 2020 will have even more to look forward to.
Throughout the year, Perthshire plays host to a wealth of completely unmissable events, all just a stone's throw away from the award-winning Dunalastair Hotel Suites.
Here's our pick of the very best from the year ahead.
From magnificent music festivals to spectacular sporting events and exciting entertainment, Highland Perthshire has so much to offer Dunalastair Hotel Suites guests in 2020.
1 – March into Pitlochry
Where: Pitlochry Town Hall, Pitlochry
When: March 27th – 28th, 2020
Parking: Please note that parking is available on a first-come, first-served basis.
Tickets: £43.20 (available online)
Distance – 24.6 miles from Dunalastair Hotel Suites (40-minute drive)
Over the past four years, the March into Pitlochry festival has brought some of the most spectacular live music in Scotland to the heart of the Highlands.
In 2020, Perthshire's newest and festival returns for two days of genre-defying performances from artists such as Billy Mitchel, Logans Close, and The Tumbling souls.
Non-Profit event proceeds from this year's event will be donated to PKAVS (Perth & Kinross Association of Voluntary Services).
2 – Etape Caledonia
Where: Pitlochry
When: Sunday, May 17th, 2020
Parking: Available on a first-come, first-served basis.
Tickets: Free for spectators. General entry for participants sold out, but charity places are available
One of the biggest closed-road sportive events in the UK, the annual Etape Caledonia attracts thousands of cyclists from across the UK and beyond.
For those taking part, the event offers a unique chance to experience the sheer thrill of riding along closed roads while taking in the kind of breathtaking natural beauty that Scotland is famous for.
For spectators, it's a chance to witness the excitement up close and personal while soaking up the party atmosphere in the nearby Event Village.
3 – Land Rover Blair Castle International Horse Trials
Where: Blair Castle, Atholl Estates, Pitlochry, PH18 5TL
When: August 27th – 30th, 2019
Parking: Parking tickets will also be available at the gate during the event
Tickets: From £24 (available online)
Distance – 16.7 miles from Dunalastair Hotel Suites (30-minute drive)
A highlight of the equestrian calendar, this prestigious event brings together both amateur and professional riders from around the world to compete in several disciplines.
Even if you're not a big fan of horse riding, the event is still well worth a visit for the accompanying county fair, which offers over 200 stands selling an array of premium quality goods, gifts, and gourmet treats as well as children's entertainment and more.
The Land Rover Blair International Horse Trials serve as a landmark event in the equestrian world, while the associated Blair Atholl County Fair offers wonderful opportunities for shopping, dining, and entertaining.
4 – Pitlochry Highland Games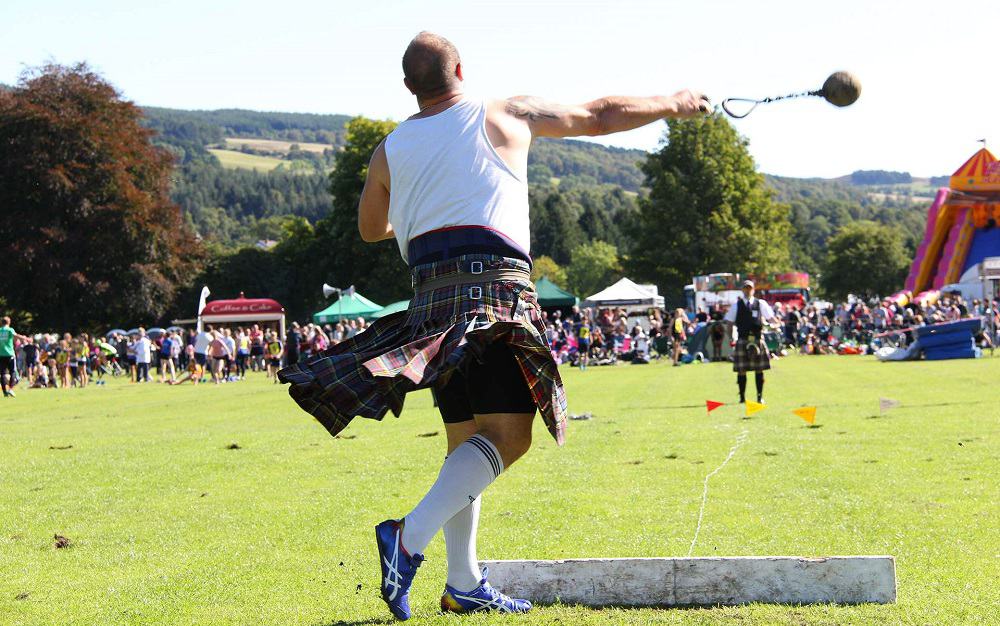 Where:  The Recreation Ground, Pitlochry
When: Saturday, September 12th, 2020 (TBC)
Car Parking: £2
Tickets: £8, children £2 (pay on arrival)
Distance – 25.7 miles from Dunalastair Hotel Suites (40-minute drive)
Highland Games have long been synonymous with the Scottish way of life, but did you know that the Pitlochry games were one of the first such events ever established way back in 1852?
In 2020, you'll have the chance to enjoy this authentic Scottish experience for yourself when the games return on Saturday, September 14th, bringing with them traditional pipe bands, Scottish country dancing, entertainment and, of course, the unique games themselves.
5 – The Enchanted Forest
Where: Enchanted Forest, Faskally Wood, Pitlochry, PH16 5LB
When: October – 1st November 2020.
Private Parking: The Armoury Road Car Park charges £2
Tickets: From £11
For almost 20 years, The Enchanted Forest has been enthralling visitors with its truly captivating sound and light shows.
Winner of multiple awards including Best UK Cultural Event and Best Outdoor Festival, this is one exceptional evening of entertainment you can't afford to miss.
Need help with booking tickets or planning travel arrangements to any of the above events? Talk to your guest ambassadors at Dunalastair Hotel Suites who will be glad to do everything we can to make your Highland holiday one you'll never forget.
We're proud to offer a range of exclusive new special offers, all designed to help you make the most of your 2020 Highland Perthshire getaway.

Experience the best that Highland Scotland has to offer with a luxury getaway at Dunalastair Hotel Suites. Book your stay online today or call now on +44 (0)1882 580444.