From neeps and tatties to the classic haggis, Scotland is as famous for its unique delicacies as it is for its bagpipes, majestic views, and unrivalled hospitality.
Yet whilst those aforementioned foods may be well-known throughout most of the country, here in the Scottish Highlands, there's only one dish that's really got everyone talking.
A traditional Scottish breakfast from Monadh Dining.
Located within our luxury hotel in Scotland, Monadh Dining serves hotel guests, local residents, and passing visitors alike with a mouthwatering array of well-established Highland favourites and the best of British cuisine from morning til night.
Some come to us to indulge themselves with our delectable afternoon teas, others to stock up on a freshly-prepared packed lunch before heading out to explore the Scottish Highlands, but whatever the reason, there's one thing the majority of our guests agree on:
It's the first meal of the day that really makes our Kinloch Rannoch restaurant famous.
Here are just a few reasons why.
The Freshest, Local Ingredients
All the ingredients that go into our traditional Scottish breakfasts are sourced from local suppliers. At the Dunalastair Hotel Suites, we believe that this is important not only to support our communities but also to ensure that our guests enjoy carefully prepared meals cooked from only the freshest of ingredients.
The salmon in our wholly-satisfying three-egg omelettes come from straight from nearby fisheries in Pitlochry and the surrounding areas.
Our sumptuous beef Lorne sausages come straight from local Perthshire farms to guarantee every last sausage is 100% Scottish, as does every last egg and every single vegetable that finds its way onto your plate.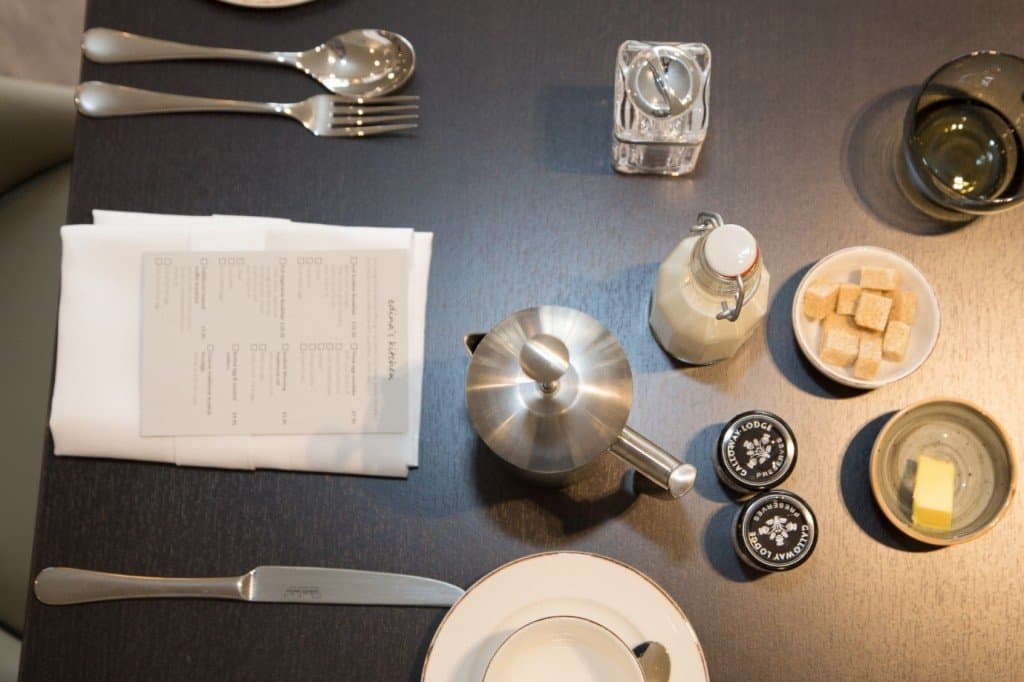 Prepared According to Age-Old Scottish Recipes
At the Dunalastair Hotel Suites, we're passionate about upholding the celebrated traditions that have been an integral part of life here in Perthshire since well before we arrived.
That extends to our Monadh Dining too, where our internationally-trained chefs prepare every dish according to recipes that have been passed down from generation to generation.
That means that, when you're tucking into your authentic totty scone or enjoying your traditional, creamy Scottish porridge, you're digging into delightful dishes that families throughout the Scottish Highlands have enjoyed to start their day for years.
A Scrumptious Selection of Breakfast Meals
Our famous full breakfast combines a succulent beef Lorne sausage, traditional totty scone,  juicy grilled tomatoes, and mouthwatering button mushrooms with your choice f fried, poached, or scrambled eggs.
Many of our guests tell us it's the highlight of their stay, but if it's not to your taste, don't worry, it's far from the only thing on the menu.
Our traditional toasted muffin breakfast is another firm favourite, served as it is with freshly smoked salmon straight from local waters, spinach and hollandaise, along with your choice of either a soft poached egg or a chilli scrambled egg.
You'll also have the option to choose from a three egg omelette or traditional Scottish roll, both served with a wide variety of fillings, or even our hearty vegetarian breakfast.
What will you choose when you visit Monadh Dining for one of our famous traditional Scottish breakfasts?

Open every morning from 8am until 9PM evening, we welcome hotel guests, passing visitors, and local residents alike to join us for breakfast seven days a week. View our full menu online, or call 01882 580444 to make a reservation.