November in the Highlands may be chillier than during the spring and summer months, but there's so much to see and do, making it a great time to organise a road trip through this rugged region of the Scottish Highlands.
The lochs and valleys are exceptionally beautiful at this time of the year. Woodlands are resplendent with their seasonal foliage when abundant wildlife is on display.
It's a great time to take advantage of all that's on offer, from fantastic scenery, dramatic coastlines, pristine beaches and culinary delights.
The Outlander Trail
Distance 814 miles (3,302 kilometres) | Time 12 days
Although the landscapes tend to be frosty, you'll enjoy warm hospitality wherever your route takes you when you visit the Highlands, and it doesn't get much better than on The Outlander Trail.
Starting in Edinburgh, the route takes you through the rust-coloured valleys of the Cairngorm National Park and past majestic snow-laden peaks. Then there are the Highland towns and delightful villages all aglow, ready for Christmas's festivities.
The trail takes you to the Isle of Skye, Loch Ness, Glenfinnan and Trossachs National Park, not forgetting Edinburgh, Scotland's historical capital and the lovely city of Inverness.
You can immerse yourself in some wonderful Highland locations, including Craig Na Dun, Fort William and Castle Leach, on this road trip through the rugged Scottish Highlands.
A82 through Glencoe
Distance from Inverness to Glen Coe: 81 miles (130 kilometres) | Driving time – 2 hours 
There are many gorgeous stretches of road along the A82, and it would be hard to beat the section of road that takes you through the stunning and scenic Glencoe Valley.
Starting out in Glasgow, the A82 takes you to Inverness, and there's plenty to see enroute. But the section that takes you through Glencoe Valley will take your breath away.
Surrounded by majestic mountains with superb vistas through frosty valleys, the scenery is glorious, even when it's rainy or foggy. It just adds to the superb atmosphere of Glencoe Valley.
Luckily, there are lots of laybys to stop and enjoy the vistas, especially when you discover the many waterfalls along this section of the route.
Snow Roads Scenic Route
Distance: 90 miles (145 kilometres) | Driving time 2 hours
Driving the Snow Roads Scenic route is a short but wonderful experience through the heart of the Cairngorms National Park.
Starting out at Blairgowrie, a delightful town and ending in Grantown-on-Spey, a traditional Highland town, the route takes you over the highest public road in the UK.
Needless to say, the landscapes in November are superb with their winter wonderland backdrops that merit several stops.
Pitlochry to Aberfeldy
Distance: 14.5 miles (23 kilometres) | Driving time 26 minutes
Discover the best of Perthshire's forest by driving this delightfully short route that takes in Faskally Forest and the southern part of Tay Forest Park.
You have the option to retrace the route from Aberfeldy, which allows you to rejoin the B846 (Lyon View Road) before heading north to Loch Tummel, after which you reconnect with the A9.
Road to the Isles
Driving time is around 1 hour 45 minutes from Inverness to the start of the Road to the Isles.
The Road to the Isles is another short Highland road trip that's definitely worth considering. It's a scenic drive that meanders through rugged landscapes to the dramatic coast and superb white sand beaches.
You can't rush this route because there's so much to see and places to stop so you can delight in the breathtaking views.
The A830 runs from Fort William to Mallaig, a port town on the West Coast. The route takes you past Glenfinnan, Lochailort, Arisaid, Morar and Mallaig, where you can catch a ferry to Skye, Knoydart and the Small Isles.
Pitlochry to Fort William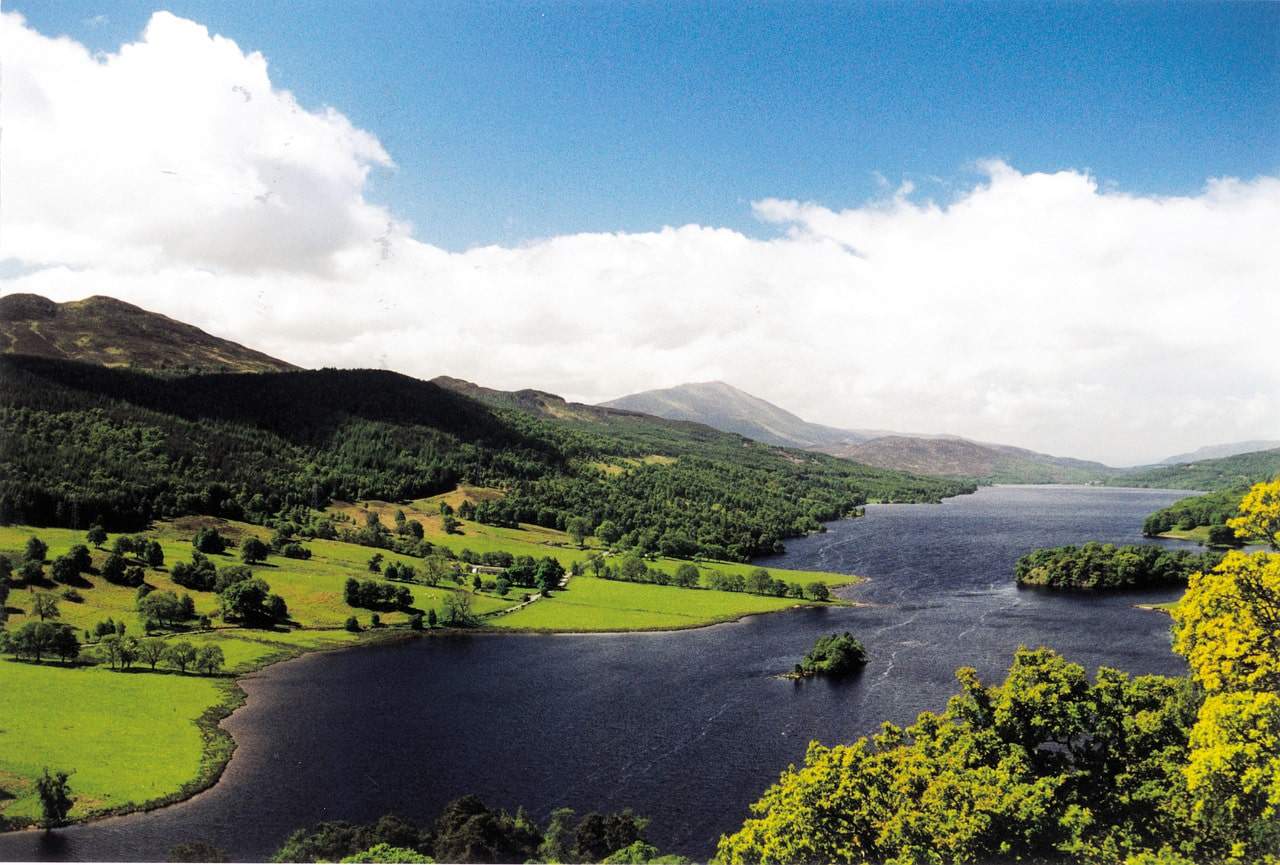 Distance 75.2 miles (121 kilometers) | Driving time 1 hour 40 minutes
Pitlochry to Fort William is a dream route that offers lots of detours to places like Urquhart Castle. But there are other places to stop enroute, including the Queen's View Visitor Centre.
The route includes views of the majestic Cairn Gorm that towers over the landscapes and other Highland marvels.
November Highland road trips: a more peaceful experience
The great part of organising a Highland road trip in November is the roads are quieter, so you get to enjoy a more relaxed experience. You can spend more time in chosen places to stop enroute without worrying about crowds.
Although the weather tends to be wetter and chillier at this time of the year in the Highlands, it can also be crisp and bright, with sunlight glistening off the landscapes on frosty mornings.
Finding the perfect base for your road trip
Naturally, finding the perfect base for your Highland road trip is essential. Our luxury Hotel in Kinloch Rannoch is ideally situated in a tranquil setting. You'll enjoy a warm welcome and fine dining in our Monadh restaurant.
Plus, you'll benefit from our Scottish Hotel Special offers at this time of the year. So, don't delay. Book your stay with us at our 5-star Hotel near Pitlochry, and let us make your Highland road trip an experience to remember.
You can book your stay online, or if preferable, you can call a friendly member of our staff on +44 (0)1882 580444. Alternatively, you can email us at reservations@dunalastairhotel.com