The presents are under the tree, the world-class chefs at Monadh Dining are making preparations for our five-course festive dinner, and there's an air of peace and goodwill moving gently throughout our hotel.
So, as the Dunalastair Hotel Suites team settle in for a holiday, there's only one thing left for us to do:
Wish all of our guests both past and present a very Merry Christmas and a safe, magical and prosperous New Year.
It's been another incredible year for us, and we're well aware that we wouldn't enjoy our reputation as one of the top five-star hotels in Scotland without your kind words, glowing reviews and regular visits.
Celebrating another successful year here at our five-star hotel in Scotland, the Dunalastair Hotel Suites team take a moment to relax, reflect, and wish all of our guests a truly magical Christmas 2019.
Here are just some of our favourite highlights from the past twelve months.
Another Award-Winning Year
Back in March, we were thrilled to be nominated in an unprecedented seven different award categories at the Prestige Hotel Awards and were even more delighted to presented with the trophy for Best Serviced Accommodation 2019.
We were also proudly voted as winners of the Style Award for Best Interior at the 2018/2019 Best Loved Hotel Awards thanks to the exquisite comfort and beautiful blend of contemporary elegance and timeless style that is the hallmark of Dunalastair Hotel Suites.
We want to take this moment to offer our sincere thanks to all of our guests for your invaluable nominations. We're proud to offer the pinnacle of five-star luxury here in the Highlands, and appreciate your votes as a sign that you truly enjoy your time with us.
Going forward, we're keeping everything crossed for even more success at the Best Loved Property Awards this Christmas.
We were delighted to win the top prize for Best Serviced Accommodation at the 2019 Prestige Hotel Awards, as well as earning the Best Interior Award at the Best Loved Property Awards.
Introducing The Library: Fine Dining for 2020 and Beyond
Shortly before Christmas, we proudly launched our new signature fine dining experience at The Library.
Adding a gourmet flair to traditional Scottish classics while also offering our exquisite signature dishes, The Library's seasonal menu promises a fine-dining experience like no other, all among the opulent surroundings of our five-star Scottish hotel.
From private dining to exclusive drinks receptions, The Library is available via appointment only and can be booked by contacting your Dunalastair Hotel Suites guest ambassadors.
Indulge in the finest Scottish cuisine in truly opulent surroundings with the signature fine dining experience at The Library.
Merry Christmas from Our Family to Yours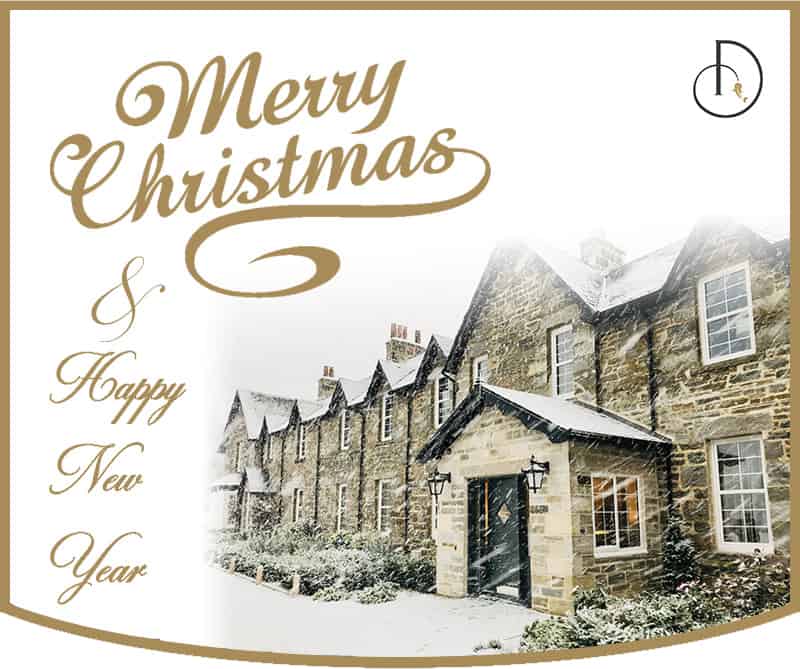 Whether you're staying with us as part of our luxury Christmas getaway package this year or staying home with your loved ones, we'd like to thank you for your continued support and look forward to welcoming you back to our hotel in 2020.
As a show of gratitude, we're proud to offer a range of exclusive new special offers, all designed to help you make the most of your 2020 Scottish getaway.
On behalf of all of us here at Dunalastair Hotel Suites, we'd like to wish you a very Merry Christmas and a wonderful New Year. We look forward to welcoming you back to our hotel in 2020. Book your next stay with us online today or call now on +44 (0)1882 580444.