New York, Sydney, London; there are some parts of the globe with a reputation for being among the best places to celebrate New Year's Eve anywhere in the world. Yet even those international hotspots are no match for Scotland when it comes to doing December 31st with such an unbridled sense of passion, tradition, and festivity.
Every year, millions of Scots turn out in force for Hogmanay, a celebration of the winter solstice thought to have been brought to Scotland by the Vikings in the early eighth century.
In Edinburgh alone, some 40,000 people took part in the Torchlight Procession and 75,000 people at the Concert in the Gardens with an estimated 100,000 watching the fireworks. Not that the nation's capital is the only place to celebrate this uniquely Scottish occasion.
Nowhere celebrates New Year's Eve with the same passion as Scotland. At Dunalastair Hotel Suites, we add a certain five-star luxury to the traditional Hogmanay experience to create a New Year's celebration you'll never forget.
Here at the award-winning Dunalastair Hotel Suites in Highland Perthshire, we're adding an extra touch of luxury to the proceedings with our exclusive gourmet Hogmanay package.
Gourmet Hogmanay Break in Scotland (£750 per room)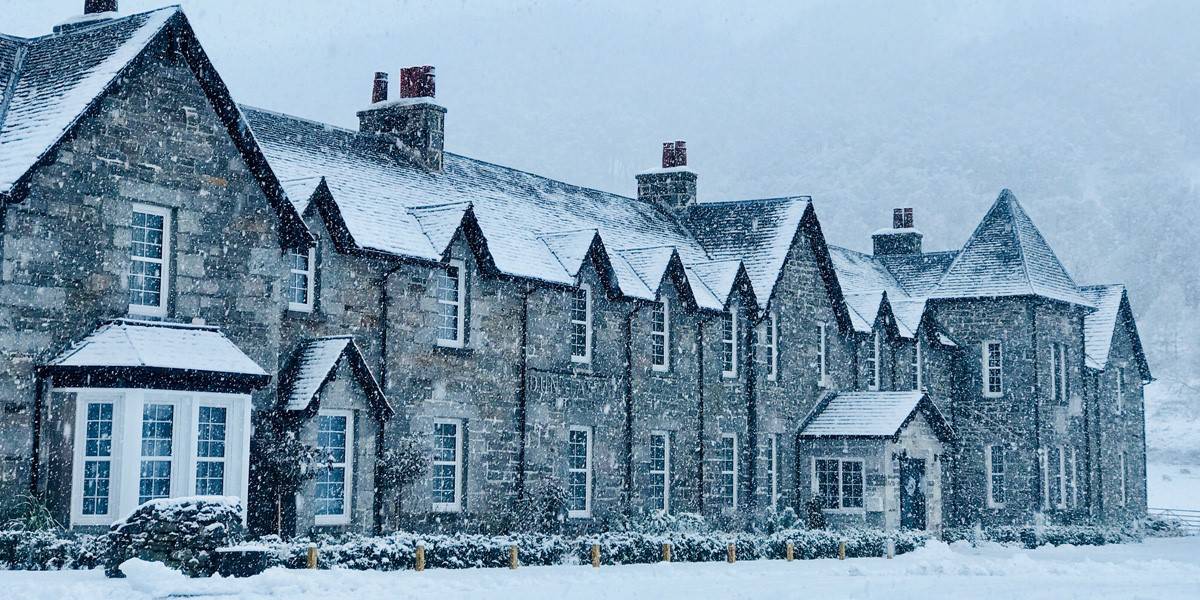 As we do every year, we're delighted to invite our guests to join us for a true five-star getaway, complete with everything you could wish for from an authentic Scottish Hogmanay experience.
This includes:
December 30th – The Warmest of Welcomes
After a peaceful drive through the snowy foothills of beautiful Highland Perthshire, you'll arrive at our luxury hotel sometime after 2 PM, stepping out of the chilly Highland air and into the warmest of welcomes from our ever-amiable guest ambassadors.
Your first-class getaway begins before you even check-in, with a complimentary yuletide drink to help you settle in.
Then, after taking some time to relax and unwind in the exquisite comfort of your luxury hotel suite, you'll be invited to join us for one of our famously delicious afternoon cream teas.
Later in the evening, your gourmet Hogmanay break package also includes a sumptuous three-course, candle-lit evening meal in the elegant surroundings of our fine-dining restaurant.
Spend your first day with us experiencing everything that makes us one of the leading five-star hotels in Scotland, including our spacious, luxurious suites, delectable afternoon teas, and enchanting, candle-lit dinners.
December 31st – A New Year to Remember
New Year's Eve in Scotland wouldn't be right without a traditional Scottish breakfast, so be sure to join us on the morning of December 31st to see why our flavoursome breakfast menu is the talk of the Highlands.
Feeling suitably full and satisfied, you may choose to burn off that hearty breakfast with a walk around the enchanting Loch Rannoch, taking in the breath-taking scenery and filling your lungs with beautiful fresh air.
Or perhaps you prefer to relax in our cosy lounge, whiling away the hours with a good book or daydreaming about what a wonderful year you have ahead of you.
However you decide to spend your day, be sure to join us from 7 PM to enjoy a celebratory drink and some rousing light entertainment, all setting the mood for what is undoubtedly the pièce de résistance of our entire Highland Hogmanay package:
A stunning set five-course dinner lovingly prepared using the finest local ingredients by our talented in-house chefs.
Afterwards, you can return to the lounge for a peaceful start to the New Year, or join in the festivities at the traditional Ceilidh in Kinloch Rannoch village and dance the night away.
Our five-course Hogmanay dinner is the centrepiece of our entire New Year's getaway package, after which you're free to welcome in 2020 at a traditional Highland Ceilidh or by relaxing in our comfortable lounge.
January 1st – A Relaxing Start to 2020
Feeling tuckered out after such an enjoyable evening? No problem. We've swapped breakfast for brunch so that you can enjoy a long lie-in before bidding us a fond farewell…at least until you come back to us for Hogmanay 2020.
All this for just £740 per room
Prices for the Dunalastair Hotel Suites' Gourmet Hogmanay Break package are based on two adults sharing a deluxe suite. Optional upgrades are available, and children under twelve are welcome to join us for an additional supplement of £80 per stay.
Dunalastair Hotel Suites has limited availability remaining for our 2019 New Year's break packages. Book yours online today or call us now on +44 (0)1882 580444.