Taking a cycling holiday in Scotland is a must on many an adventure-seeker's bucket list.
There's just something about the scenery, with its windswept vistas and dramatic Highland hills, the rolling open roads, and the certain air of the majestic that makes the country so ideal for hopping on two wheels and venturing for the experience of a lifetime.
So it's no surprise that, with the warm summer sun now blazing down upon us, you too are thinking of saddling up and hitting the open road.
There's just one problem: When it comes to planning that holiday, you just don't know where to start.
Luckily, we do.
We welcome scores of cyclists each and every month here at the Dunalastair Hotel Suites in Kinloch Rannoch. Recently, we asked some of our guests for their top tips on planning the perfect cycling holiday in Scotland.
Here's what they told us:
Where to Ride: Popular Cycling Routes
By far one of the best things about cycling in Scotland is that it's easy to venture off the beaten path and see a side to the country that most visitors never get to see.
If it's your first time exploring the country by bicycle, however, most experienced riders recommend sticking to recognised cycling routes, all of which offer their own stunning scenery and hidden highlights.
The National Cycling Network (NCN) supports scores of routes across the country, so whether you're planning a grand tour or a weekend excursion, you'll always find a route to suit.
Where to Stay: Cycle Friendly Accommodation in Scotland
Long before you book, decide on where you're going to stay on your cycling break, as this will largely determine the kind of budget you'll need, and the kind of experience you'll have on your holiday.
For some, there's nothing quite like the excitement of camping out in the great wide open, sleeping beneath the stars, and waking the next morning ready to head back out on the open road.
For those of you, the good news is that, particularly in the Scottish Highlands, you'll find plenty of camping facilities close to most major cycling routes.
Of course, not everyone likes the idea of carrying all that extra luggage around and leaving themselves at the mercy of Scotland's famously unpredictable weather (more of which later).
Whether you're planning to travel light, avoid the worst of the weather, or simply prefer to treat yourself to a little luxury after a long day on the saddle, your best bet is to first research cycle-friendly hotels in Scotland close to your route.
If you're travelling through Highland Perthshire, you'll be pleased to know that our own Dunalastair Hotel Suites offers first class luxury accommodation to groups, couples, and solo cyclists alike, all within close distance to some of the Highland's very best cycling routes.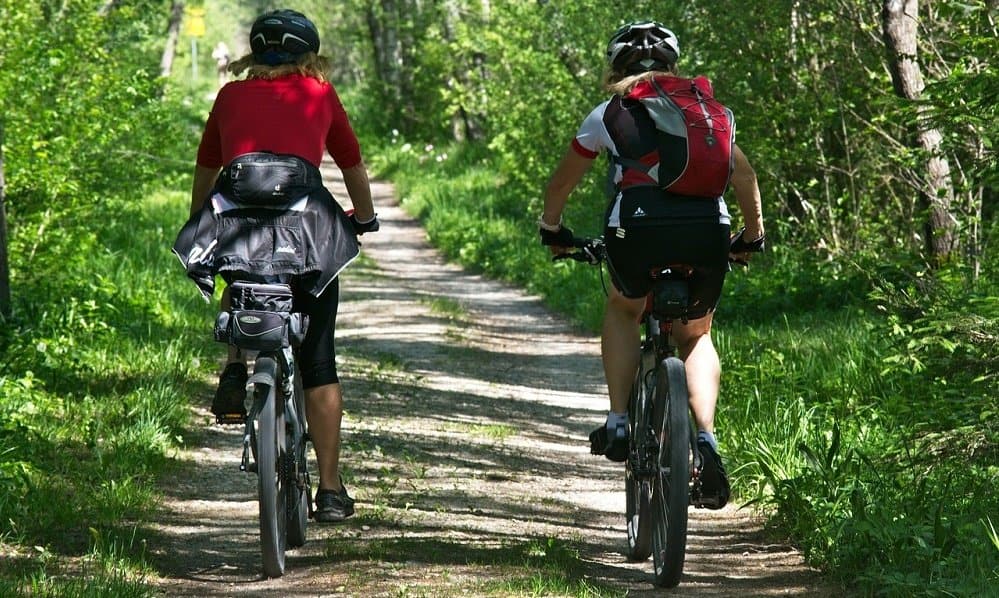 What to Pack: Come Prepared, But Not Overloaded
It's often said that you can experience all four seasons in a se day here in the Highlands, so the importance of packing appropriately can not be understated.
Most cyclists recommend keeping waterproofs close to the top of your luggage so that you can quickly change into them should the rain start to pour. That being said, just because it pays to come prepared doesn't mean packing everything but the proverbial kitchen sink.
Look for ways to keep your luggage light so that the actual riding part will be far more enjoyable than it would be if you were dragging around a tonne of stuff.
What to Know: Zen and The Art of Bicycle Maintenance
Other essentials you'll definitely need to pack include a basic puncture repair kit and a bicycle pump. You'll also need a good understanding of how to repair punctures and fix most common problems by the road side if the need arises.
You should find a bicycle repair shop in a lot of towns and villages close to popular Scotland cycling routes, but this isn't a guarantee, and of course, you never know when the worst may happen, so it definitely pays to be prepared.
How Long to Book For: Schedule More Time Than You Think You'll Need
In other words, this is not the holiday for tight deadlines and strict schedules.
The real beauty of a cycling holiday in Scotland is that there's always something new to see and do.
Whether it's off-the-beaten-path route to explore, a hidden ge to discover, or a welcoming group of people with fascinating stories to be heard, it's these unexpected moments that really add a true sense of magic to your getaway, so allow plenty of time to enjoy them.
If you do reach the end of your route before your holiday is over, don't worry; we can guarantee you'll easily find a fun way to spend that extra time.
Experience the adventure of a lifetime with the discount Scotland Cycling Break package, available exclusively from the Dunalastair Hotel Suites.

Available for a limited time only, this very special offer encompasses two night's accommodation in one of our top luxury hotel suites, plus breakfast, a packed lunch, and delicious dinner, all for only £497.

To claim your Cycling Break discount, call the Dunalastair Hotel Suites now on 01882 580444 or email bookings@dunalastairhotel.com