With the festive season fast approaching, it won't be long before we find ourselves walking in our very own winter wonderland here at the award-winning Dunalastair Hotel Suites in Highland Perthshire.
Outside, the mighty mountains, rolling hills, and acres of enchanted forests that make up our idyllic surroundings will all wear blankets of gentle white snow, glistening proudly in the glow of a bright winter sun.
That snow will fall further still, dusting the ground and scattering itself over traditional Christmas decorations in a way that turns Kinloch Rannoch's village square into a scene right out of one of the more romantic aspects of a Dickens novel.
Yule logs will roast on open fires, good cheer will spread, and at our Perthshire hotel, we'll be inviting our guests to step out of the cold and into the warmest of welcomes as we once again roll out the red carpet for our Christmas and New Year celebrations.
Last year, all of our luxury boutique hotel suites were sold out well before the festivities began and, if our books are anything to go by, are most definitely on course to do the same again this year.
Naturally, we wouldn't want you to miss out.
With a few places still remaining, the five-star Dunalastair Hotel Suites warmly invites you to experience a luxury Christmas break in Scotland you'll cherish for many years to come.
From as little as £629, you and your loved ones can enjoy a festive getaway in idyllic, peaceful surroundings, complete with a four-course Christmas dinner, beautiful, boutique hotel suite and even the possibility that a certain someone might stop by for the children.
Here's what's in store when you join us at the Dunalastair Hotel Suites this yuletide.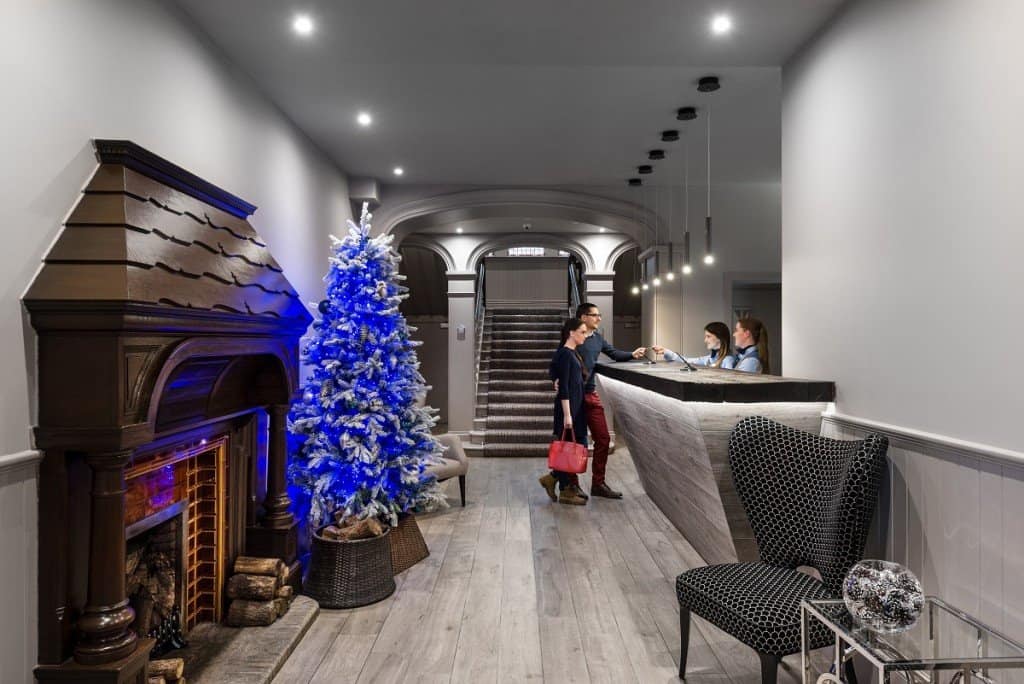 Christmas Eve: A Magical Start to Your Christmas Break
As with any holiday in Scotland you may take with us, your seasonal sojourn in the highlands begins long before you arrive at our Kinloch Rannoch hotel.
On the drive up, you'll notice that the scenery gradually takes on a fairytale-like quality; snow-capped mountains and forests reflected in the shimmering waters of the surrounding lochs in a way that feels as though you're being transported into a whole other world.
If you can prise yourself away from all this breathtaking scenery for long enough, you'll finally make it to the Dunalastair Hotel Suites in the heart of Kinloch Rannoch.
There, our ever-attentive staff will be waiting to greet you with a delightful festive drink, perfect for warming you up after the long drive.
For the rest of your time with us, those same staff will be on hand to ensure you have everything you need to ensure you enjoy the perfect Christmas break in Scotland.
That afternoon, you may choose to spend time relaxing in your five-star boutique hotel suite, or take a walk down to Loch Rannoch, remembering to keep an out for the magnificent wild deer who roam the area.
Later, you're invited to join us at Monadh Dining, our own in-house restaurant, for a wonderful meal created by our talented chefs using only the finest, in-season and locally sourced ingredients.
Christmas Day: The One You've Been Waiting For
Whether you treat yourself to the gift of a long lie-in or get up early to exchange gifts with your loved ones, be sure to start your Christmas Day the right way with your choice of a delicious cooked or continental breakfast at Monadh Dining.
Be careful not to overdo it, however, as you'll want to save plenty of room for our traditional four-course Christmas lunch, complete with all the trimmings and complimentary drinks.
Afterwards, the day is yours to relax in the comfortable, cosy surroundings of our lounge, to sprawl out and watch Christmas movies on your state-of-the-art in-room entertainment system, or to breath in the crisp, winter air by heading out to explore Kinloch Rannoch.
Later, room service will be available at our Perthshire hotel until 8pm if you're still feeling peckish.
Boxing Day: One Last Farewell…For Now
Before you leave us on December 26th, be sure to return to Monadh Dining, where we'll be waiting to send you on your way with a hearty breakfast.
Planning to spend one last day exploring the Highlands before you leave? Simply let us know in advance and we'll have a freshly-prepared packed lunch waiting for you.
Hogmanay: Celebrate New Year in Traditional Scottish Style
Of course, Boxing Day doesn't have to be the end of your Christmas break in Scotland. Whether you want to stay on for another week or simply join us for New Year, our Gourmet Hogmanay Break combines two night's luxury accommodation with a special New Year's Eve feast at Monadh Dining, light entertainment and more, all guaranteed to help you see out 2018 and welcome in 2019 in true Highland fashion.
For a complete itinerary, see our Christmas and New Year's special offers.
Christmas breaks in Scotland at the Dunalastair Hotel Suites start from just £629 per room, while our Gourmet Hogmanay Break package starts at £669 per room, both based on two adults sharing. Book your stay online today, or to discuss any special requirements you may have, call us now on +44 (0)1882 580444.