Scottish wildlife and marine life are exceptional thanks to the unspoilt nature of many regions. There are birds, deer, dolphins, whales and lots more to see when visiting the western Highlands.
Many areas of the Highlands have remained unspoilt. Coastal walks along pristine beaches offer a superb chance of spying a wealth of marine life. While inland, in the valleys, hilltops and mountains, an abundance of flora and fauna thrive. Staying at our hotel near Pitlochry provides the perfect opportunity to spot our Scottish coastal wildlife and even some rare Scottish animals!
In this post, we discover the many wonders of Scotland's marine life and wildlife. From majestic whales to fun-loving dolphins, from cute red squirrels to magnificent stags, we cover many of them in our top 12 Highland choices.
Orcas (May-August)
Scottish coastal wildlife is a sight to behold and it doesn't get any better than spotting Orcas offshore. These magnificent mammals are members of the dolphin family. Orcas  are often referred to as Killer Whales and are some of the most intelligent sea creatures on the planet.
Often seen on Scotland's west coast during the summer months, Orcas follow the shoals of mackerel to feed. A pod of nine Orcas were spied off Coll, the inner Hebridean island, but are believed to be endangered as none have bred for several years! 
Basking sharks (July – September) 
Basking sharks are the second-largest fish in the world. They are often spotted during the summer months. They travel along the water's surface and are slow-moving, making it easier to spot their dorsal fins.
These magnificent creatures filter plankton through their enormous 2-metre wide mouths and then out through their gills. Basking sharks  can measure up to 12 metres in length, but they are no threat to man despite their size. 
Grey and common seals (year-round sightings) 
When you explore the Highlands coastlines, you'll have chance encounters with lots of sea birds. Plus, the seal populations are found year-round, resting on rocks and outcrops along shorelines.
Grey seals pups are born from late September to late November and remain on land until they're weaned. However, common or harbour seals are born earlier in June when they can be spotted in the summer months on many Highland beaches! 
Puffins (April – August)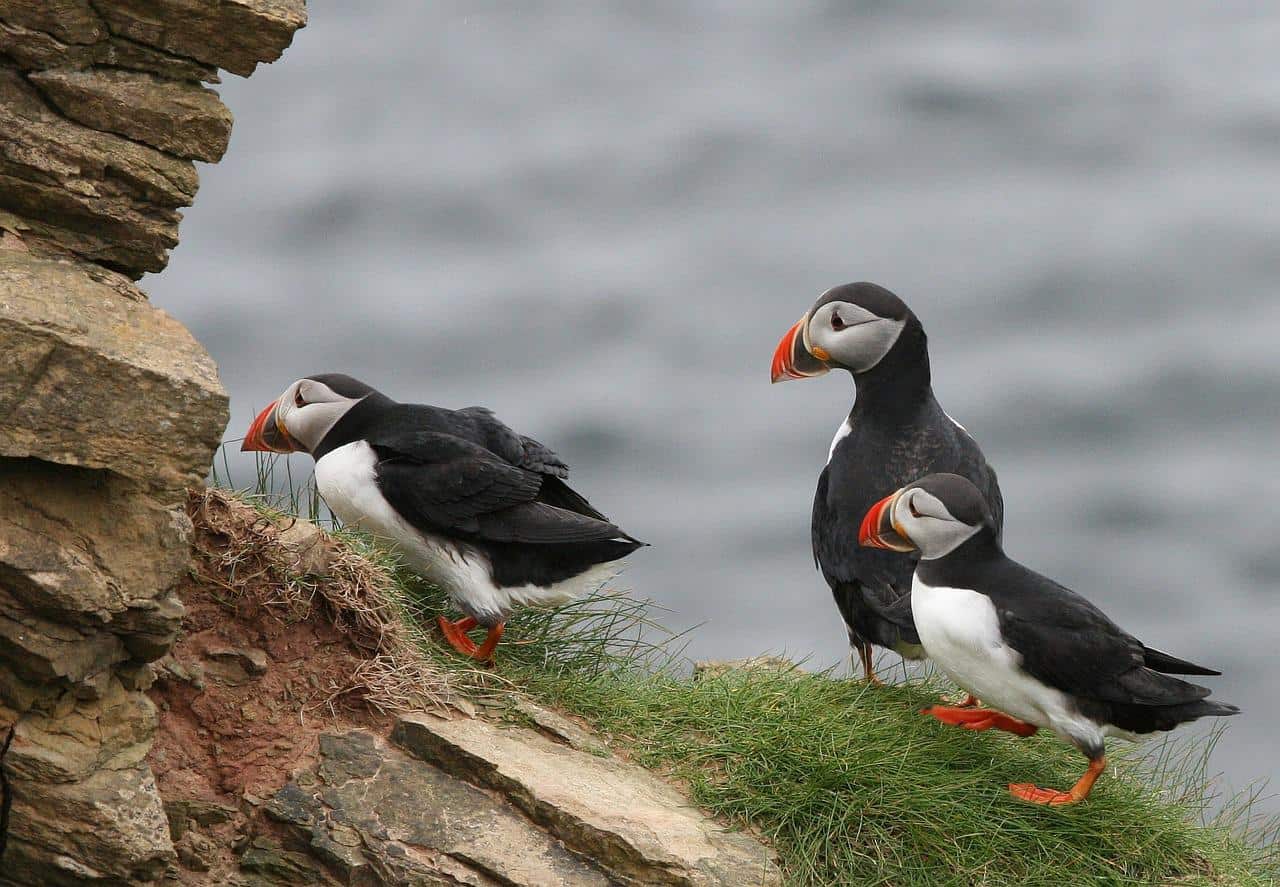 There is just one word to describe Puffins, and it's adorable! They return every year to breed in their chosen, favourite nesting places. You'll spot them rearing chicks in cliff-top burrows from late March to late August.
The largest colony of Puffins can be found on  St Kilda, the remote bird haven isle. The island is over 40 miles to the west of the Outer Hebrides off the northwest coast of Scotland. So if you are looking to extend your trip to the Highlands this could be an ideal option for you. 
Otters (year-round sightings)
You need quite a bit of patience when otter spotting! Plus, you'll have to be up early to glimpse these lovely creatures. Otters tend to be active at night and can be seen in sheltered bays very early in the morning or late evening.
You could get lucky and spy a female otter searching rock pools for crabs and other tasty morsels with her cubs. Otters are playful by nature and are a source of mischief that brings a smile to anyone's face when they spot them.
Sea Eagles (year-round sightings) 
Once extinct in Scotland, a Norwegian breeding pair were released on the Isle of Rum in the seventies. These white-tailed eagles are now re-established along Scotland's west coast.
The best place to spot these magnificent birds is on Mull, where several pairs of Sea Eagles are. But they can be seen along Scotland's western coastline too.
Pine Marten (September – October)
Pine Martens can be found in Highland forests across the region. Your best chance of seeing these lovely creatures is late evening during the summer months as they are nocturnal. They are excellent hunters and experts at tree climbing. Pine Martens are also partial to all sorts of treats left out for wild birds in gardens! 
Minke Whales (May – October) 
Minke Whales can often be spotted off the western coastline. However, the best time to see them is when the seas are calm on a sunny day. They can be up to 9 metres long and frequently seen around the isles of Rum, Eigg, Muck and Canna.
Deer (End of September – Early November)
Scotland's iconic red deer are a sight to behold and can be seen throughout the Highlands on rough moorland and forests. So having a guide take you deer spotting must be high on the list of must-do things when visiting the region! 
Red Squirrels (year-round sightings)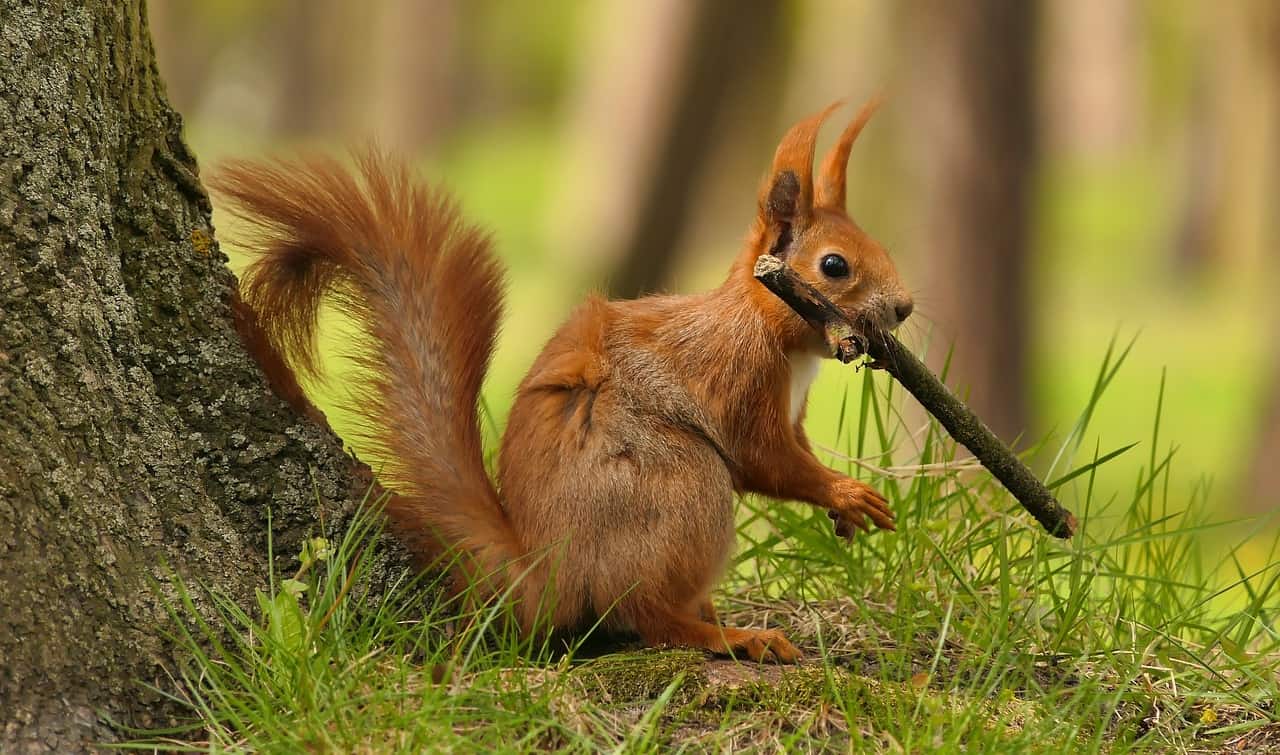 Scotland's native red squirrels can be seen throughout the Highlands, where they continue to thrive. Red Squirrels make coniferous forests their home, including the Caledonian Forest of Strathspey. But, if you startle one of these cute creatures, they freeze and won't move until they feel safe again!
Dolphins (May – September)
Scotland's native marine life includes dolphins, of which there are plenty. Playful and fun to watch, these lovely mammals love riding a boat's bow waves. They are frequently seen off the west coast with Bottlenose dolphins travelling in smaller pods. 
Wildcat (January – March) 
The Scottish wildcat is now one of the most endangered native species. They are now only found in the far north and west. These wildcats are hard to spot because of their shyness and low numbers!
Sadly, the Wildcat is one of the rare Scottish animals today. But you might get lucky and see one when you visit the Highlands! 
Accommodation in the Scottish Highlands
If you plan a trip to the Scottish Highlands, why not book your stay at Dunalastair Hotel Suites. Our hotel in Pitlochry offers 5-star luxury and comfort in a peaceful setting that's ideally situated.
Dine in our renowned  Monadh restaurant  where you'll enjoy fine dining, Scottish delicacies and local produce. There's also a fun children's menu, and the cream teas are delicious too.
To find out about our latest special offers or book your stay with us, call  +44 (0)1882 580444  today. We look forward to welcoming you and making your stay extra special.