Our roundup of the best scenic routes in the Scottish Highlands for romantic weekend breaks.
Escape together for the ultimate romantic weekend getaways in Scotland – whether you want luxury and comfort or complete freedom in the wilderness (or a bit of both), fall in love all over again amongst infamous ancient glens, mountains and city skylines.
You're spoilt for choice when it comes to the many stays that Scotland has to offer. Stay in cosy hideaways and remote destinations under a blanket of stars on a romantic getaway in the Scottish highlands, or experience the very best romantic hotel breaks in Scotland and relax and re-energise at Dunalastair Hotel Suites.
Whatever your heart desires, you will love the variety of landscapes and backdrops that Scotland has to offer that will leave you head over heels.
Why is Scotland perfect for Romantic Breaks and Getaways?
Couples have long favoured Scotland as the ultimate romantic destination – an escape full of charm and hidden gems.
If you're wondering if Scotland is the right destination for you and your partner, we have summarised what makes this dreamy location an absolute no-brainer for your choice of a best romantic weekend getaway – from luxury to thrills; we have the perfect guide for you. Let's take a look into our 2021 guide for romantic Scottish weekend breaks:
Romantic All-Suite Retreat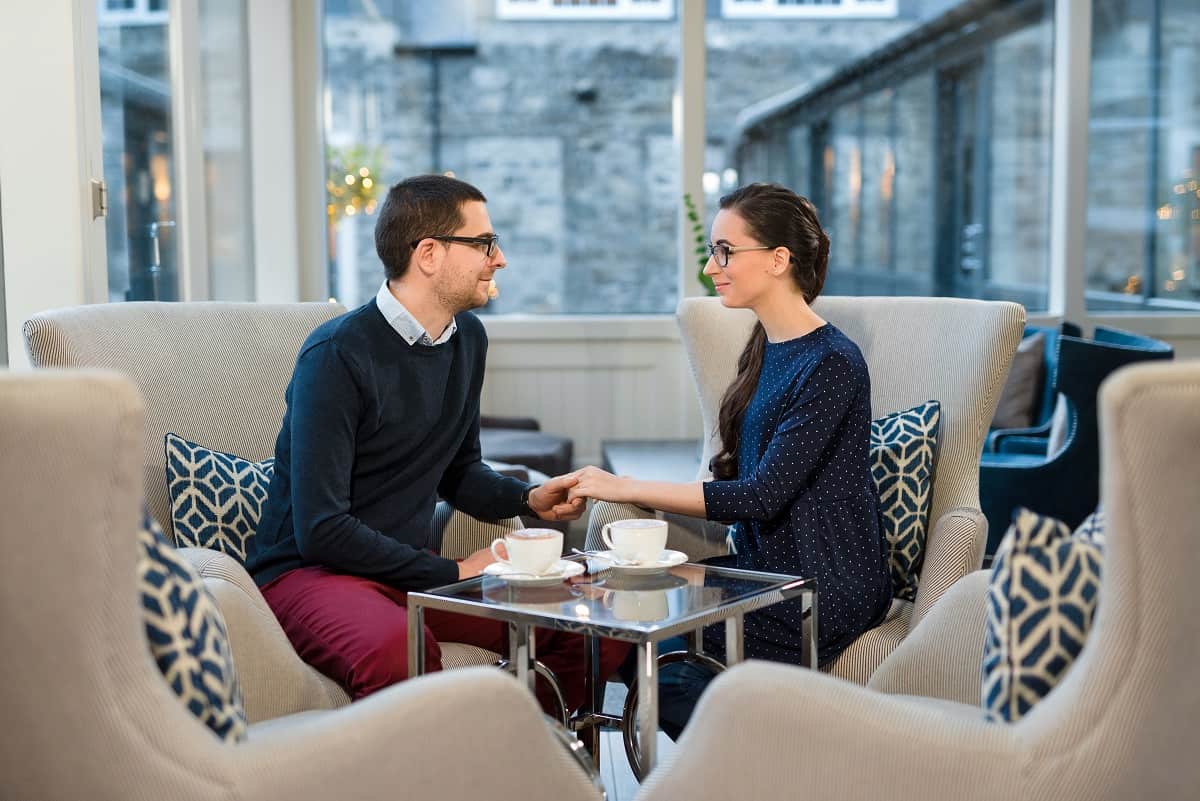 Where you stay on your romantic getaway, whether it's for a short weekend break in Scotland for family or for couples or a large group, your dream honeymoon or everything in-between, your choice of the retreat will be an important part of the experience. Luckily, Scotland has a lot to offer, and there is something to suit everyone.
If you love the idea of spoiling yourself and your partner by dowsing in luxury, then you will be spoilt for choice amongst the castles, country houses and romantic hotel breaks in Scotland on offer. If you're looking for the ultimate authentic Scottish highland breaks, then you may find yourself in a centuries-old estate, like our lovingly restored Dunalastair Hotel Suites.
Standing in the picturesque village of Kinloch Rannoch since the late 1700s, the historic grade listed 5-star hotel in Pitlochry is uniquely charming, having earned the distinction as one of Scotland's longest-standing hotels.
You can make the Highlands your home with a distinctive blend of modernity and history, surrounded by breathtaking scenery and award-winning service, courtesy of Dunalastair Hotel Suites in one of the best remote luxury hotels in Scotland.
Breathtaking Scottish Scenery 
Scotland has always been associated with its stunning landscape, making it a perfect setting for romance to flourish. With magnificent Highlands and dreamy islands, there is so much to discover and many ways to experience the Scottish scenery.
Whether you want a relaxing retreat, an adventure, or an opportunity to get closer to your partner, share memories together and admire Scotland's natural beauty and captivating views.
There are plentiful opportunities for romance and to soak up the serenity together in locations brimming with towering mountains, tranquil lochs, and green glens cannot be left unnoticed. Lose track of time in your discovery of wild beaches, hidden waterfalls, magical forests and craggy coasts. In Scotland, you're never far from its staggering natural beauty.
Top romantic spots in Scotland:
Check out our blog posts 10 Unique Ideas for a Romantic Break in Scotland and 14 of the Most Beautiful, Must-See Places in Highland Scotland for some more inspiration on how to make the best of your stay.
Outdoor adventures and activities 
If you're the adventurous type, then Scotland is packed with ways to get your adrenaline pumping. You don't have to stand back and admire the scenery; there is plenty to dive into with all of the activities on offer.
Walks and Hikes
With many routes on offer for any ability, hike among the wildest scenery and enjoy glimpses of local wildlife, the rich smell of evergreen pine forests and wander past the craggy coastlines.
If you're up for a challenge, try tackling some of Scotland's towering mountains – including the UK's tallest mountain Ben Nevis standing at a hefty 1,345 metres.
To get the most out of your break with your partner– take a look at our Ultimate Dunalastair Weekend Experience package that merges luxury and adventure in the Highlands for the perfect romantic getaway.
Water-based activities 
Lochs, coasts and rivers make up a big part of the Scottish landscape. If you want to feel fully immersed, then why not spend the day in a kayak floating down a tranquil loch or voyaging in blue waters and mysterious coves off secluded beaches. For adrenaline junkies, try the thrilling bends and fast-flowing water of the river rapids.
Loch's are also fantastic for watersports, such as the sheltered Loch Lomond (approx. 70 miles from Dunalastair Hotel Suites). If you're brave enough for the cold, this famous loch is also a popular site for wild swimmers.
Characterful Towns and Cities
Explore and find inspiration amongst the charming historical towns and cities of Scotland.
The enchanting medieval and Georgian architecture of Edinburgh creates a haven for romance, surrounded by the sights of Edinburgh Castle and tiny closes on the Royal Mile. Wander the cobblestone streets and watch the sunset from Calton Hill. If you're a food lover, then Edinburgh will not disappoint – between the sightseeing experience fine dining, traditional local produce and afternoon tea – and always wash it down with a true Scottish whisky.
Don't forget the city gems in Glasgow, Perth, Aberdeen or Inverness, as well as the picturesque towns like Falkland and Stirling (to name a few!). However, you want to spend your break, exploring the unique charms of Scotland's towns and cities will leave you desperate to return.
Whatever your idea of romance is, you can create a bespoke itinerary just for the two of you on a spring break in the Scottish Highlands. Book your romantic suite with us and don't hesitate to enquire about any ideas you have.