It's true what they say:
There really is no place on earth quite like the magnificent Scottish Highlands.
Sculpted by Ice Age glaciers millions of years ago and built upon ever since with roaring rivers, tranquil lochs and miles upon miles of rolling hills and valleys, the Highlands are a remarkable work of art the likes of which only Mother Nature herself could have created.
Whether it's the bold and beautiful Schiehallion Mountain which watches guard over the five-star Dunalastair Hotel Suites here in Perthshire, the dramatic sense of mystery and intrigue surrounding Loch Ness, or the lush forestry and ancient landmarks to be found at Cairngorm National Park, you never have to travel far to find yourself in truly spectacular surroundings.
But look, there's something you should know:
As breathtaking and inspiring as such places are, they're only the very tip of the proverbial iceberg when it comes to the Scottish Highlands' most beautiful places.
The Scottish Highlands – A home of mountains, glens and rivers, deep lochs, ancient woods and hidden beaches
Down every road and across every river, there's another hidden gem just waiting to be discovered.
So yes, while the likes of Loch Ness are essential bucket list items for any holiday in Scotland, they aren't the only places you should be checking out.
Here, we explore 14 of the most beautiful places in the Scottish Highlands that you might not have already considered for your next getaway.
1: The Caledonian Canal
If you're going to start a list of the Highlands' best kept secrets anywhere, it needs to be here:
60 miles of gorgeous waters that glisten, shimmer and lull their way from the heart of Inverness to Fort William known as the Caledonian Canal.
Developed in the 19th century by notable engineer Thomas Telford, this delightful stretch of water served for years as a fully functioning, commercial canal that played a vital role in Scottish industry.
Today, things are much calmer around the Caledonian Canal, but that doesn't mean there isn't still plenty to see, do and explore.
A remarkable spot to relax, a perfect place to play
Cutting its way through the world-renowned Great Glen, the canal offers picture-perfect views from start to finish, making it the perfect place to enjoy a gentle stroll or a leisurely afternoon boat ride.
Yet here's another secret:
Nobody says you have to take it easy when visiting the Caledonian Canal.
Mountain biking along the Great Glen Way, casting off into the surrounding lochs for a spot of fishing or heading out on a daring adventure on one of the many canal trails are all popular activities in the area.
Top tip for visiting the Caledonian Canal
Love nature? Fascinated by flora and fauna?
Then the canal is a must visit.
Mute swans, otters, kingfishers and more can all make their home in and around the waters.
You'll also find a plethora of plants and flowers that only add to the canal's beauty.
2: Loch Lomond and The Trossachs National Park
An area of outstanding natural beauty, Loch Lomond and The Trossachs National Park only became an official National Park in 2002 but has been attracting cyclists, hikers and those with an affinity for the Great Outdoors for years.
In fact, some four million people visit the park every year, and when you go there yourself you'll soon understand why.
Like something straight out of a fairytale, The Trossachs is a truly captivating area full of magical woodlands, peaceful lochs, rugged hills and deep valleys.
The gentle air of serenity you'll find in this region makes it as ideal a stop for a romantic holiday in Scotland as it does for those simply looking to escape from the hustle and bustle of everyday life.
The Bonnie Banks o' Loch Lomond
Loch Lomond itself sits right at the very heart of the National Park and is a must for your itinerary.
With a surface area of  71 km2 (27.5 sq mi), it's the largest body of inland water anywhere in Great Britain but hey, size isn't everything.
Whether you take a boat ride on the tranquil waters and explore one of the loch's 30 islands or simply sit upon the bonnie banks made famous by that traditional Scottish folk song, you'll be hard pressed to find a more idyllic loch anywhere in the highlands.
Here's another secret:
If you visit the small island of Inchconnachan, you might well bump into a wallaby or two!
The creatures were introduced there in the 1940s by Lady Arran Colquhoun and have been living there happily ever since.
Top tip for visiting Trossachs National Park
Don't leave without taking a ride on The Steamship Sir Walter Scott.
First launched in 1900, this world-famous steamship has taken countless visitors on an enjoyable pleasure ride around Loch Katrine.
It's named after the famous Scottish writer and poet whose memorable poem, Lady of the Lake, is set around the loch.
3: Loch Tummel
Based a stone's throw from The Dunalastair Hotel Suites in Perthshire, Loch Tummel and the River Tummel are among Scotland's most beguiling hidden gems.
A narrow stretch of glistening waters reaching deep into the heart of Big Tree Country, the area is known for its many popular walking and cycling routes, each offering its own unique views which evolve throughout the seasons.
Easily accessible from Pitlochry, hotel guests who stay with us frequently remark that a visit to Loch Tummel is a highlight of their stay, with many making multiple visits just to explore all the various pathways and trails around the area.
One of Scotland's most magnificent vantage points
If there's one thing you absolutely have to do when visiting Perthshire, it's this:
Journey up to the lookout point known as Queen's View.
Why?
Because it's largely regarded as one of Scotland's most breathtaking vantage points.
There's a good reason for that, too.
Awe-inspiring panoramas sweep out for miles into the horizon, taking in the mighty Schiehallion Mountain that stands close to our Perthshire hotel, the cragged hills and valleys that litter the Highland landscape, and the acres upon acres of dense, enchanted forests.
4: Sandwood Bay
Looking for the perfect place to really get away from it all?
This is it.
Sandwood Bay is a beautiful little beach on the north-west coast that is as perfectly untamed as it is utterly alluring.
The best part?
There's every chance you'll have the whole area to yourself.
Usually void of people, the agreeable remoteness of the whole area makes it equally as wonderful for a spot of quiet contemplation and solitude as for spending quality time with a loved one on your romantic holiday in Scotland.
Sounds good?
Here's the kicker:
There's no road access.
Instead, you'll need to take a four-mile walk along a reasonably well-trodden path to get there.
Still, the trek is well worth it.
Known as one of the most unspoilt beaches in Britain, this is as far away as you get from man-made structures and the trappings of modern society.
In place of all that, you'll find dramatic cliffs, impressive sand dunes and the sense of contentment that comes from being truly out in the wild.
Top tip for visiting Sandwood Bay
Up for a spot of fishing?
The bay reveals its best secret behind those huge sand dunes.
There, you'll find Sandwood Loch, known as a great place for catching brown trout and sea trout.
5: Loch Nevis and Loch Hourn, Knoydart
Speaking of Scottish beauty spots that are off the beaten track, we journey next to the far-off peninsula of Knoydart.
Another one of Scotland's most treasured secrets, Knoydart isn't just a fair distance from our Pitlochry hotel, it's a fair distance from anywhere.
In fact, there's something you should know:
If you're planning a visit, it pays to leave the car behind.
Getting to Knoydart
The only ways to get there are on foot or by boat.
Taking a boat will prove to be your easiest option, with a local charter boat and ferry making several trips per day.
There's also the option of chartering your own private boat from Minch Adventures.
Prefer to take the scenic route?
A number of routes lead into Knoydart from Kinloch Hourn, Glenfinnan or Glen Dessary.
However, here's a warning for you:
The walk can be long and challenging, and typically takes even more experienced walkers at least two days to do.
Of course, this is all begs one important question:
Why is it worth the journey?
The answer is simple:
It's officially one of the most stunning places anywhere in Scotland.
Covering a total of 50,696 hectares, the peninsula is one of only 40 designated national scenic areas.
This means that its outstanding scenery is fully protected and preserved, standing as a perfect example of the kind of incredible beauty synonymous with the Scottish Highlands.
An oasis of tranquillity, somewhere between heaven and hell
You'll find Knoydart sat between Loch Nevis and Loch Hourn, or, to give them their Gaelic names, Loch Néimh and Loch Iutharn.
This translates as Loch Heaven and Loch Hell, though from our experience, the region is certainly more heavenly than hellacious.
Wild, untouched landscapes surrounded by dramatic, snow-covered mountains and rich, green woodlands all make this a haven for hikers and nature lovers alike.
6: Camusdarach, Morar
Resplendent with clear blue waters, soft, white sand and jagged cliffs, Camusdarach Beach brings a certain tropical feel to the wild wilderness of the Scottish highlands.
The beach is located on the Isle of Skye, easily accessible by ferry or by car via the Skye Bridge which connects the island to the mainland.
On arrival, you'll be greeted by truly fabulous views across Cullin, Rum, and Eigg.
Discover one of Scotland's best-loved film locations
Thought Camusdarach Beach looks familiar?
Then you likely recognise it from the Bill Forsyth's 1983 classic, Local Hero.
The movie, which starred Burt Lancaster, Peter Riegert and Dennis Lawson, featured the beach prominently and remains a must-see attraction with film fans to this day.
Top tip for visiting Camusdarach
If you're bringing the kids along on your holiday in Scotland, this is a great place to spend the day.
Young ones will love searching for fascinating marine creatures in the surrounding rock pools.
Meanwhile, the clear waters are also perfect for a spot of swimming, so don't forget your costume!
7: Ben Loyal
Standing 764 m (2,507 ft) in the far north-west of the Highlands, they call Ben Loyal "The Queen of Scottish Mountains," and when you visit for yourself, you'll immediately understand why.
Bold, majestic and utterly magnificent in her rugged beauty, she is as captivating to admire as she is challenging to explore.
The mountain's four distinct peaks and glorious views of open seas, handsome mountains and romantic moors make it a popular location for Munro baggers.
A day's walk, taking in all four peaks, should take a reasonably fit walker five to six hours.
Top tip for visiting Ben Loyal
After conquering the mountain, take a trip to the nearby coastal village of Tongue.
Here, you'll find the delightful Weavers Cafe, perfect for a spot of lunch or a well-earned cup of tea.
8: Meall na h-Aodainn Moire
A firm favourite with guests at our Pitlochry hotel, Meall na h-Aodainn Moire is a 633 metre-high summit that offers remarkable views across Highland Perthshire.
Looking for a real adventure on your Scottish holiday?
Here's a tip for you:
Tackling Meall na h-Aodainn Moire can often be done right after conquering the nearby Ben Vrackie, itself a very popular hike for those staying in Pitlochry.
An enjoyable day out
Taking on Ben Vrackie should take you no more than four hours if you're a reasonably fit walker, and the ascent is well worth the journey.
Clear, well-trodden paths carve through open moors, thick woodlands and beyond the still waters of Loch a' Choire, taking you all the way to the top.
En route, you'll find yourself resting at vantage points overlooking the historic village of Blair Atholl and Cairngorms National Park.
Feeling well-rested and ready to go, you'll use the rest of your energy making it up Meall na h-Aodainn Moire, where even more stunning sights await.
Top tip for visiting Meall na h-Aodainn Moire
After such a challenging day out, treat yourself with a drive over to Monadh Dining for one of our famous afternoon teas, the perfect reward for brave adventurers.
9: Ben A'an and Loch Katrine
Loch Lomond itself isn't the only treasure worth discovering on a visit to The Trossachs.
For mile after mile, this vast oasis of natural beauty continues to reveal one secret after another.
The one secret you absolutely have to explore for yourself?
This one:
At 454 metres high, this might not be the biggest challenge you'll ever face. In fact, its name literally translates as "Small Pointed Peak."
Yet that's all part of its appeal.
Why?
Because its stature allows it to combine the two things many people look for from a holiday in Scotland.
An amiable walk and incredible scenery.
Walking Ben A'An
Ideal for those new to hill-walking, the area is most popular in the summer months.
But here's the thing:
No matter what time of year you go, you'll enjoy one of the most memorable walks of your holiday.
Steep, though never too steep to be seriously off-putting, you'll find yourself moving through flourishing woodlands, scrambling across Allt Inneir and climbing along rocky pathways.
Views that make it all worth it
At the top, you'll be rewarded with the kind of outstanding views that you'd normally have to climb much higher to enjoy.
Looking out from the peak, you'll have undisturbed views of Ben venue, Loch Achray, and Loch Katrine, each one sure to steal your heart and take your breath away.
Loch Katrine, in particular, is well worth a closer look.
More than just a pleasure ride
While the aforementioned Sir Walter Scott Steamship serves as a highlight of any visit to Loch Katrine, this 13-kilometre long freshwater loch offers lots more to enjoy.
Hire bicycles and delve deep into the surrounding forests, or cast off into the open waters.
For years, fishing was banned on Loch Katrine, but has recently been allowed again and now serves as a great place to catch wild brown trout and pike.
Fishing here is only allowed by boat, though you can, of course, hire boats from Loch Katrine Fisheries.
10: Loch Ba
Stretching for mile after mile in the regions surrounding our Perthshire hotel, Rannoch Moor is a wild and mysterious expanse that has more than its own fair share of hidden gems waiting to be discovered.
Want to know our favourite?
It's this:
Loch Ba, a shallow body of water that is truly a photographer's dream.
Think soft marshes glistening in the dew of an early morning rain, heather shooting a meter high from the crowd and ancient trees reaching for the heavens, and you get some idea of the kind of treat you're in for.
Prefer to leave the camera at home and simply take it all in?
This is an ideal place for a lazy afternoon walk.
The route around Loch Ba up to Knockantivore can be done via a well-preserved footpath and should take you no more than two to three hours.
Top tip for visiting Loch Ba
Keep your eyes peeled for some of the fantastic creatures you're likely to spot en route.
Sky eagles -enormous, white-tailed birds that are so big the locals call them "flying barn doors"- can often be seen soaring the skies overheat, and it isn't too uncommon to spot a deer or two roaming the nearby hills, valleys and woodlands.
11: Loch Tulla
As with every location on our list today, Loch Tulla is a place where remarkable scenery and abundant wildlife combine to create that certain sense of magic you only find here in the Scottish Highlands.
But here's the thing:
There's more to Loch Tulla than meets the eye.
Yes, the way a gentle fog spreads lazily across grassy hilltops looks just like something out of a painting.
Yes, the way ancient trees stand noble and proud on the banks of the loch, casting a shimmering shadow that reaches out into the water is guaranteed to stop you in your tracks.
But that's just for starters.
A historic highland glen
Nearby, you'll find Glen Coe, part of the Ben Nevis and Glen Coe National Scenic Area.
It was here, in February 1692 that the famous Massacre of Glencoe took place in the wake of the 1689 Jacobite uprising.
It's also here where the legendary figure of Ossian, who poet James Macpherson attributed his notable cycle of epic poems to.
Top tip for visiting Loch Tulla
The loch is famous for its locally bred salmon, brown trout and pike, making it ideal for a spot of fishing.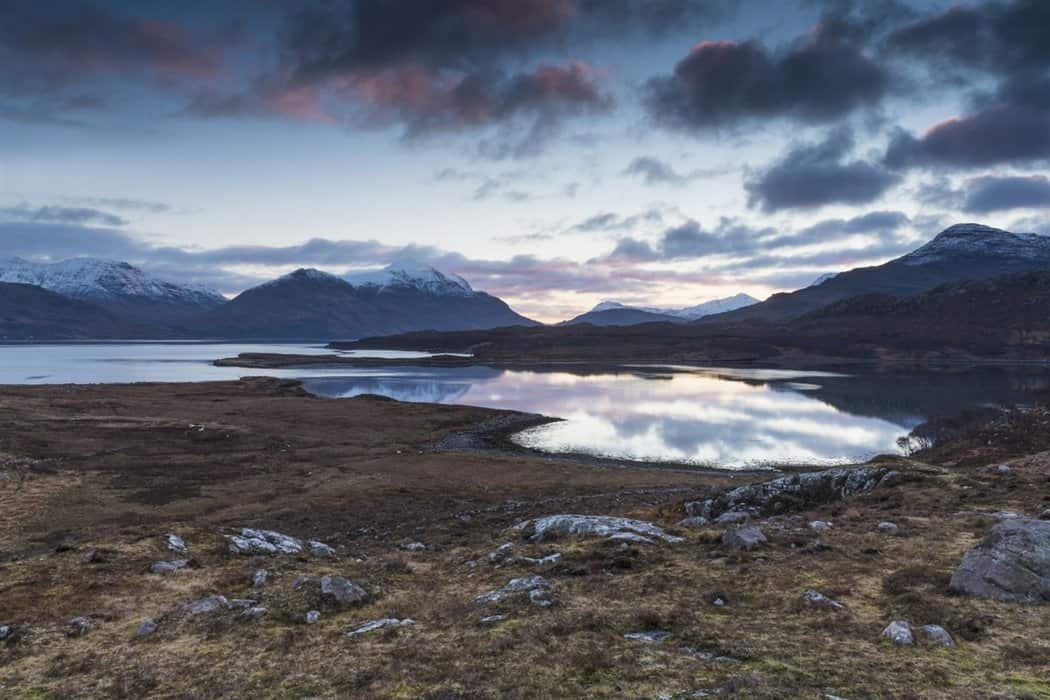 12: Loch Torridon
A vast sea loch spreading out for fifteen miles on the Northwest coast of Scotland, Loch Torridon is a true haven for walkers and climbers.
A number of different paths provide a suitable challenge for adventurers of all ages and abilities.
The most challenging of all?
Traversing  the mighty Beinn Eighe.
Though the popularity of this route means the pathway is clear and well-defined, there's no getting away from the fact that the 1116m ascent to the summit will serve as a real test of your mettle.
Elsewhere, the Liathach is well regarded as the finest mountain in Scotland and certainly gives Beinn Eighe a run for its money as one of the toughest hikes around.
More to explore at Loch Torridon
Prefer something a little less arduous?
Torridon has lots to offer those looking for a more relaxed time on their Scottish holiday.
The waters are well known as a great fly fishing spot, whilst boat rides, kayaking and clay pigeon shooting are all popular activities in the area.
Top tip for visiting Loch Torridon
For a truly unique experience, make an hour's drive up to Gairloch and book on one of the fantastic whale cruises.
Heading into the North Minch, there's every chance you'll see magnificent wales and dolphins in their natural environment.
The best part?
That's not all.
Seals, otters and a number of rare sea birds are also a common sight.
Plus, if you visit in the summer, you may even see the gentle giant known as the Basking shark, an endangered species who make annual visits to the Hebridean waters.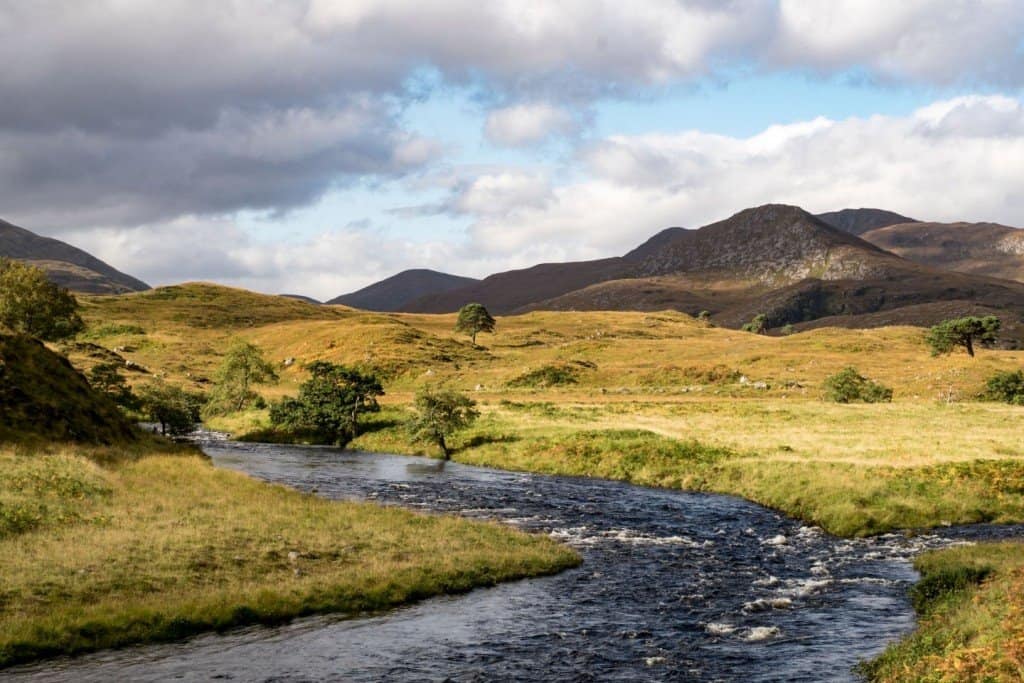 13: Glen Strathfarrar
As we near the end of our journey of discovery through Scotland's best-kept secrets, it's only fitting that we arrive at Glen Strathfarrar.
Although it enjoys close proximity to Loch Ness, Strathfarrar is so well-hidden that you need special permission to access it via a 17-mile private road.
Exciting, right?
If you're travelling in the summer season (late March to late October), you simply need to turn up and talk to the gatekeeper.
During the winter months (the rest of the year) you'll need to contact Mountaineering Scotland to arrange access.
Though it may sound like a hassle, getting access to this most alluring glen is well worth it.
Here's why:
An invigorating day's walk
The Glen Strathfarrar Munros circuit is a 15.75-mile route that takes most walkers between seven and ten hours to complete.
Doing so, you're rewarded with views that change dramatically from season to season, guaranteeing that there's always something new to see no matter what time of year you go.
Perfect peace and total tranquillity
Due to the access restrictions, you'll find very few people and even fewer cars disturbing your visit, meaning you'll enjoy ideal peace, calm and quiet throughout your day.
A fascinating piece of history
The River Farrar winds its way around the glen and flows into Loch a' Mhuillidh. In the middle of this loch sits a small island where the remains of an ancient, 18th-century building sit.
It was here in this building that  Simon Fraser, 11th Lord Lovat spent some time hiding whilst fleeing from the government in the aftermath of the Battle of Culloden.
14: Rannoch Moor
Last but by no means least we arrive back home in Highland Perthshire for a trip to the vast, awe-inspiring wilderness of Rannoch Moor.
Within easy reach of the five-star Dunalastair Hotel Suites in Kinloch Rannoch, this 50 square-mile expanse of dense moorland, dramatic skies and crumpled rock faces sets the perfect scene for an enjoyable day of walking or cycling.
See Scotland's most spectacular creatures in their natural environment
On any given day, there's a chance you'll catch site of gorgeous red deer, roes and red squirrels.
Don't forget to keep your eyes to the skies too, as Kestrels, Golden Eagles, Falcons and Ospreys are can sometimes be seen overhead.
That's not to mention the Curlews and Grouse that make their home in the thick heather, and the unique blend of different plants and flowers you'll find across the moor.
Your gateway to the highlands
Looking for more to explore?
Head over to Rannoch Station for a journey on the renowned West Highland Railway, which rises 1,3000 ft deep into the heart of the highlands.
The line connects to Fort William and Mallaig, putting the rest of the beautiful Scottish Highlands right at your feet.
Where will your next adventure take you? Discover Scotland's best kept secrets with the award-winning Dunalastair Hotel Suites in Kinloch Rannoch, Perthshire.

Book your stay online today for our best available rates, or call now on +44 (0)1882 580444.