Scottish landscapes and coastlines are spectacular at any time of the year. Then there are all the activities, from hiking, cycling, skiing, fishing, and so much more. But have you heard about the delicacies and traditional Scottish foods to try on your next visit?
The Highlands has an abundance of superb resources. Fish caught daily off the coast is just one of the tempting ingredients used in centuries-old recipes. In addition, land in the Highlands is fertile, which means crops like potatoes and other vegetables are flavoursome and nourishing.
The Scots also enjoy a tipple or two and are proud of their distilleries that produce the best alcohols in the world. Of course, there's also an abundance of markets, restaurants and eateries, all serving the best Highland Scottish food only found in this beautiful and exciting country.
We've listed just a few Scottish delicacies to whet your appetite and foods you must eat when staying at our luxury hotel Perthshire. 
1. HAGGIS
You can't visit the Scottish Highlands without tasting the country's most well-known dish, haggis! It's a delicacy that's not to everyone's taste, but you'll never know unless you try it. Served with turnips (neeps) and potatoes (tatties) and the obligatory dram of the finest Scotch whisky, it's a treat to savour if only the once.
The best restaurants that serve haggis are:
The Grog and Gruel, Fort William
Ubiquitous Chip, Glasgow
2. FISH N CHIPS
Fish suppers in Scotland are not to be missed. The seas around Scotland are teeming with some of the best fish caught daily. You'll discover hundreds of eateries in Scotland that serve the best traditional fish and chips in the land!
Best restaurants that serve traditional fish and chips include:
Anstruther Fish Bar in Fife
Frankie's in Shetland
Fisherman's Pier fish & chip van on the Isle of Mull
3. SCOTTISH PORRIDGE
Throughout the centuries, porridge has been a staple in Scotland. Enjoyed today much as it was in times long past, porridge is a great breakfast dish that sets you up perfectly for an adventurous day out in the Highlands.
Best places to sample Scottish porridge include:
Contini on George Street in Edinburgh
Food Story Café, Aberdeen
Bridgeview Station Restaurant, Dundee 
4. ICE CREAM
Ice cream is a Scottish favourite throughout the year. Boutique businesses produce some of the tastiest flavours in the region. You'll discover parlours, gelaterias and independent cafés that serve delectable ice cream in lovely settings.
Places to savour Scottish ice cream include:
The Milk Barn, in Falkirk
Alandas Gelato, North Berwick
Discover the best places to find ice cream across Scotland
5. FULL SCOTTISH BREAKFAST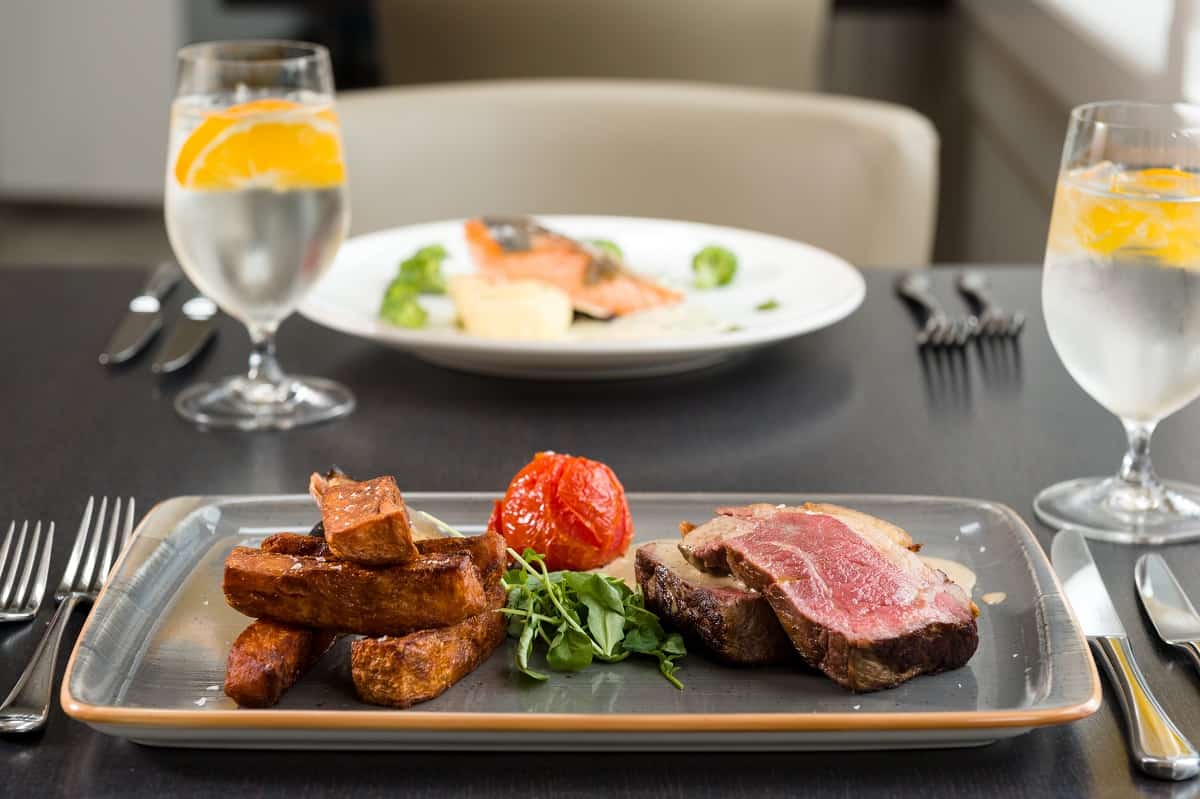 A hearty full Scottish breakfast is a must when you visit the Highlands. It sets you up for the day in the best possible way. A full breakfast typically consists of lots of goodies including black pudding, fried eggs, bacon, baked beans, hash browns, tattie scones, mushrooms, fried tomatoes toast and more. The best part is that a full Scottish breakfast is served in many eateries including our 5-star luxury hotel!
Best places to try a full Scottish breakfast:
Monadh Dining in Kinloch Rannoch
Gloagburn Farm Shop in Perth
The Shore on Arran
6. SEAFOOD
The Scottish coastline, with its quaint fishing villages, provides the perfect location to sample some of the best seafood in the region. You'll be spoilt for choice from lobster, crab, local langoustines, scallops, and salmon.
Best places to sample Scottish seafood include:
Loch Fyne in Edinburgh
Wildfire in Edinburgh
7. CRANACHAN
A Scottish dessert that beats all others, Cranachan consists of delicious cream mixed with juicy seasonal raspberries served with oats and whisky! This desert has been known as the 'uncontested King of Scottish desserts'. You'll be glad you tried it!
Best places where you can savour Cranachan include:
Applecross Inn in Applecross
Cranachan in Glasgow
8. CULLEN SKINK
Cullen Skink is a traditional dish that is not as well-known as other traditional dishes. It consists of smoked haddock, onions and potatoes. It's a local speciality you can savour at the Rockpool Café. It's a dish you have to try when you visit Scotland.
Best places to try Cullen Skink include:
Rockpool Café, in Buckie, The Square
Lily's Kitchen Cafe, at 22 Seafield Street
9. BLACK PUDDING
Scottish Black Pudding is a dish you love or hate. For those who can't resist it, traditional black pudding consists of beef or pork blood with oatmeal. It goes well with many meats, scallops and anything else you fancy! The most delicious Black Pudding is produced in Stornoway, but it's also served in many restaurants and stocked by butchers on the island.
Best places to try Scottish Black Pudding include:
Number 16 in Glasgow
The Bon Vivant, at 55 Thistle St, Edinburgh
10. TABLET
If you have a sweet tooth, this Scottish treat is for you. It takes practice and a keen measuring eye to get the recipe just right. Tablet is a medium to hard sweet you can eat mixed with ice cream or eat on its own. It's excellent with many ice cream flavours like chocolate orange or rum and raisin.
Best places to buy tablet include:
Aldomak, Glasgow
Donnie's Tablet Shed on the Isle of Skye
Scottish Tablet Company in Campbeltown
FARMERS' MARKETS, SEASONAL PRODUCE & NATIVE FOODS OF SCOTLAND
There's a whole host of farmers' markets across Scotland's towns which are held a couple of times a month. Farmers and growers bring their produce to the markets to sell. You'll find freshly cured Scottish cheeses, boutique brewed alcohols, tasty meats, homemade bread and jams, as well as arts and crafts!
LET SOMEONE ELSE DO THE COOKING AND ENJOY THE ULTIMATE DUNALASTAIR WEEKEND EXPERIENCE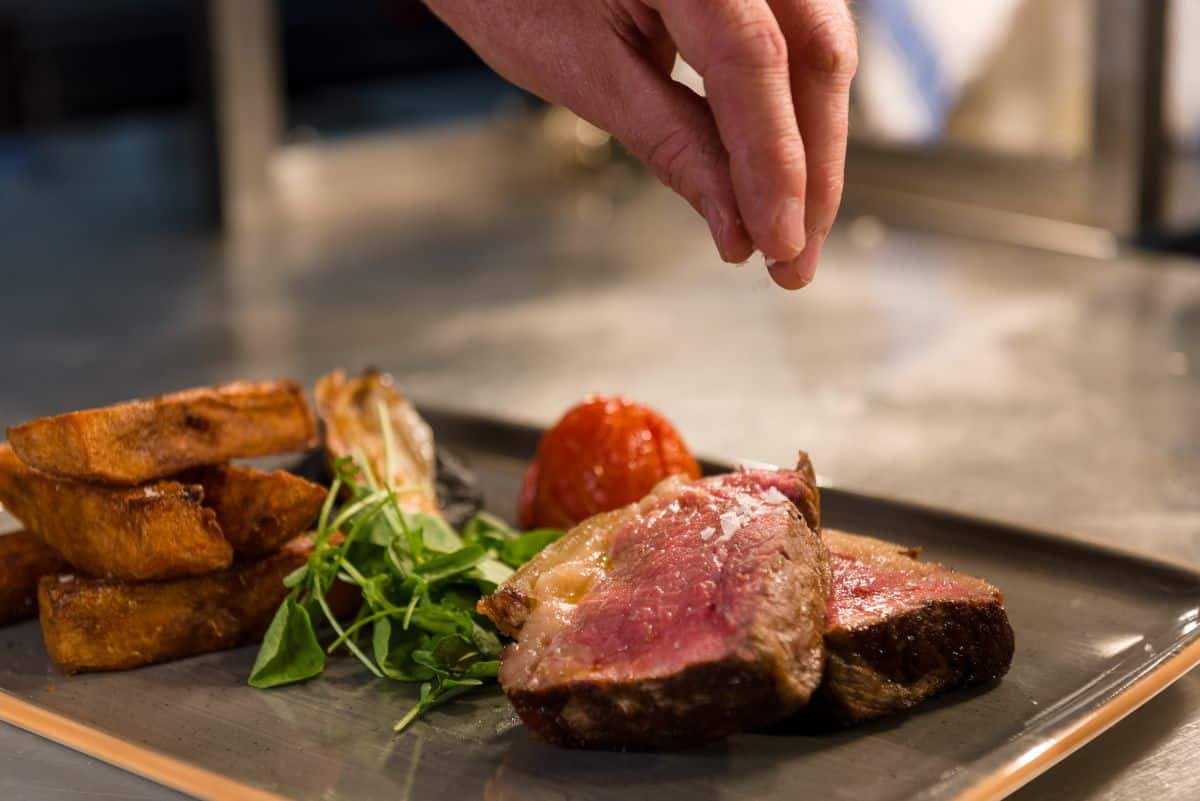 Dunalastair Hotel Suites is more than just a place to stay. Staying in our beautiful location is an exceptional experience that will have you coming back for more.
Pamper yourself and your loved ones in our secluded hotel in the heart of Perthshire. Let someone else do the cooking!
You'll discover something to suit everyone's taste in our superb Monadh restaurant. Check out the complete menu online. So come and join us for your next vacation in the Highlands and enjoy 5-star luxury in a superb setting that's Dunalastair Hotel Suites in Kinloch Rannoch.