By the time you read this, Cupid will have drawn back his bow and taken aim towards Highland Scotland as that most amorous time of year draws ever closer.
Yes, ladies and gentlemen, Valentine's Day is almost upon us once again, and here at the Dunalastair Hotel Suites in Kinloch Rannoch, we're looking forward to what guarantees to be our most romantic week of the year.
With the last vestiges of winter fading gently into a light, bright, and beautiful spring, we're inviting you to join us for a relaxing romantic getaway in the Scottish Highlands that promises the very pinnacle of luxury, elegance, and unbridled romance, all delivered to our usual, impeccable five-star standards.
Valentine's Breaks in Scotland – Love Never Felt So Luxurious
Of course, we can't take all the credit for the unforgettable experience you'll enjoy on your visit to the Highlands – the breathtaking Scottish landscape plays a big part, too.
Long before you even arrive at our luxury Perthshire hotel, you'll find yourself travelling along quiet roads as the truly awe-inspiring scenery reveals itself one mile at a time – first lush forests and vast, green acres resplendent with soaring trees and gentle, running waters, then majestic mountains and spectacular valleys, before, finally, you come face-to-face with the dramatic, sweeping vistas that steal the heart of all who cast their gaze upon them.
The best part, is that once you do finally arrive at the Dunalastair Hotel Suites in Kinloch Rannoch, you don't have to leave those views behind.
Look out the window of any of our deluxe hotel suites, and you'll enjoy the kind of magnificent views no other part of the country could ever compete with.
That's not the only reason why everyone from Forbes magazine to Harper's Bazaar have featured us as one of the top hotels in Scotland.
Step away from the window, and you'll be able to lie back on our decadently comfortable beds, enjoying the elegant blend of contemporary design and timeless style, relaxing on the finest quality Egyptian cotton, and indulging in a bottle of something special whilst watching your favourite romantic movie on our state-of-the-art in-room entertainment system.
However you decide to spend your time with us, you can be sure that you and your beloved will be treated like a king and queen by our dedicated staff, on hand right around the clock to deliver the VIP treatment you both truly deserve.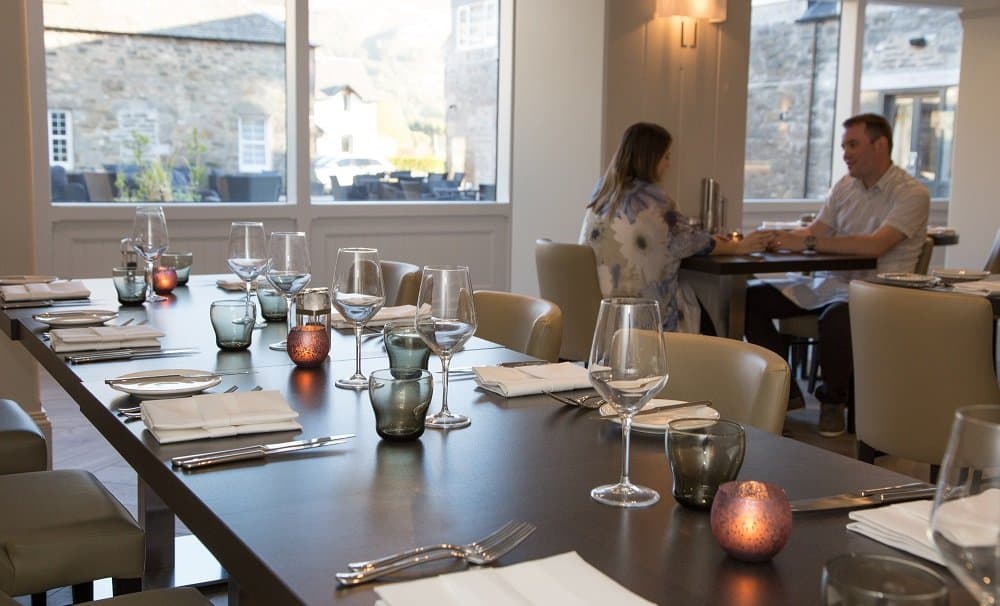 Indulge Yourself with A Romantic Meal for Two
As if that wasn't enough to have you falling head-over-heels in love with our luxury Perthshire hotel, just wait until you hear about our Valentine's week special offer.
For a limited time only, you and your special someone can enjoy a one-night romantic break in the Scottish Highlands for only £285, or a two night stay for just £495.
This offer doesn't just include our luxurious hotel suites and the guarantee of VIP treatment from our staff throughout your stay.
After all, no Valentine's break would be quite complete without a romantic meal for two.
That's why, as part of this low cost offer, you'll both enjoy a traditional Scottish breakfast, and indulgent afternoon tea.
Then, in the evening, you'll both be able to take your pick from our specially selected sharing menu for two, prepared by our renowned chefs using the freshest ingredients and served within the elegant surroundings of our Monadh Dining.
Enjoy a Romantic Getaway in Scotland Any Time Of Year
Of course, whilst we'd love for you to join us for a truly special Valentine's break in Scotland, nobody says that you have to wait for just one week in mid-February to spoil the one you love with a  romantic getaway in the Highlands.
With our captivating scenery, outstanding luxury, and famous first class service, you can be sure that love will be well and truly in the air whenever you choose to visit.
Treat your loved one to the ultimate Valentine's break with a luxury romantic getaway to the Scottish Highlands with the Dunalastair Hotel Suites.

Book now, and enjoy one night's accommodation with breakfast, afternoon tea, and dinner from our special sharing menu for two, all for only £285, or stay an extra night for just £495.

This special offer applies to bookings made for any time from Friday, February 9th, 2018 to Sunday, February 18th, 2018. To book, call our reservations team now on 01882 580444 or email bookings@dunalastairhotel.com.