It's the moment you've all been waiting for all year long:
The moment summer finally arrives, and the whole family gets to take off on a truly well-deserved holiday.
While everyone else is looking forward to the long days and beautiful weather, you're dreading the unenviable task of trying to make this a summer vacation that truly pleases everyone.
After all, while some are looking forward to the ultimate relaxing getaway, others are eager to venture into the great outdoors on the adventure of a lifetime or to head out and explore the famous local landmarks.
If all of this sounds familiar, we've got some good news for you.
Taking your next summer holiday in the Scottish Highlands means you never have to try too hard to make everybody happy.
With mile upon miles of sweeping vistas, tranquil lochs and soaring mountains setting the perfect scene, and with the five-star Dunalastair Hotel Suites providing world class service throughout your stay, the stage is set to ensure everyone can enjoy a holiday of a lifetime.
Trying to please the whole family on your summer holiday can be tricky, but Highland Scotland makes it easy. Whether it's relaxation, excitement, or the chance to enjoy a unique experience, the Highlands truly offers something for everyone.
That's just as true for couples planning a romantic getaway as it is for groups looking for the ultimate activity break or families hoping for a fun-filled holiday that keeps mum, dad, and the kids happy.
However you plan to spend your time in Scotland this summer, here's everything you need to know to ensure it truly is the perfect Highland Holiday.
Heading to the Great Outdoors
Breathe in that beautiful fresh and air and take in the Scottish sunshine with a relaxing stroll around the loch or a spot of fishing. Alternatively, sit back and take in the glorious scenery.
According to a survey by visit Scotland, some 71% of visitors said that the scenery and landscape was the main reason for heading to the highlands.
With its breathtaking panoramas, rolling hills and the kind of spectacular views you don't get anywhere else in the world, who can blame them?
Still, Scotland's beautiful surroundings aren't merely there to be admired from afar; they're to be explored, experienced, and fully enjoyed.
For those looking to escape and unwind this summer, a gentle stroll around the haven of tranquillity known as Loch Rannoch could be just the thing, or how about casting off into those same peaceful waters on a relaxing Scottish fishing holiday?
At the five-star Dunalastair Hotel Suites, we take care of everything so that you can enjoy casting off into the majestic waters of Highland Perthshire without a care in the world.
Our exclusive Fishing Getaway package includes two night's accommodation, a three-course dinner, continental breakfast, and fishing permits, as well as a freshly prepared packed lunch so that you've got everything you need for a relaxing fishing trip.
Action and Adventure
Excitement and adventure await with a host of outdoor activities including white water rafting, tubing, canyoning, and Highland Safaris.
Of course, not everyone's idea of the perfect holiday involves gentle strolls and taking it easy.
If you're the type of adventure-seeker who prefers to spend your summer holiday in Scotland getting that adrenaline flowing, the Highlands have a lot to offer.
You could, for example, swap our fishing break for our £200 per room/per night luxury Summer Biking Break, where you'll enjoy five-star accommodation, continental breakfast, and a complimentary iced tea, along with half a day's cycle hire and route map so that you can explore the famous Loch Rannoch Circular, a cycling route renowned for its spectacular views.
Looking for something to get the heart racing? Head to Nae Limits, Scotland's most accessible outdoor activity centre. Based a short drive from our hotel in Highland Perthshire, this top-rated attraction offers a host of exciting activities to suit thrill-seekers of all ages and abilities.
White water tubing (£50),
Canyoning (£60),
Quad biking (from £50),
Clay pigeon shooting (£55),
White water rafting (from £50)
Gorge walking (£45) are just some of the options on offer, while multi-activity packages start from just £99.
Alternatively, why not venture out into the wilderness on a fun-filled Highland Safari.
Awarded five-star status from the Scottish Tourism Board and winners of the Best Visitor Experience in Scotland at the ASVA Awards, Highland Safaris presents a unique opportunity to see some of Scotland's most majestic native wildlife.
The incredible Red Deer, the impressive Golden Eagle, and the Famous Grouse can all be spotted in their natural environment, all while a dedicated guide talks you through the history and culture of the region and shows you the best places to take photos.
Highland Safaris start from £45 for adults, £30 for teenagers (12-18) and £25 for children. The cost includes the safari itself, binoculars and telescope, hot drinks and shortbread and Wildlife identification sheets & fact files.
And now for something completely different…
Looking for a unique, once-in-a-lifetime experience from your Scottish holiday? Explore the sights made famous by your favourite blockbuster movies, visit the Pitlochry Explorers' Garden, or even take a ride on the actual Hogwarts Express.
Didn't we tell you there'd be something for everyone on your summer holiday in Scotland?
For some people, the best part of taking any holiday is engaging in those unique, once-in-a-lifetime experiences they can't find anywhere else.
Thankfully, the Scottish Highlands has plenty of those to offer too.
Film buffs will love taking a tour of the many iconic movie locations to be found in Highland Perthshire.
Right on our doorstep, a short walk from our luxury hotel in Kinloch Rannoch brings you to the famous Standing stones featured in the hit TV show Outlander, while other memorable locations from the Golden Globe-winning series can also be found throughout Perthshire.
Elsewhere, you'll find sights familiar to fans of James Bond, Rob Roy, Trainspotting and Monty Python. That's not to mention the fact that you can hop aboard the actual Hogwarts Express.
The famous steam train from the Harry Potter franchise is a beautifully-maintained steam train known as The Jacobite and runs regular journeys between Fort William and Mallaig with tickets at the following prices:
Adult day return:
First class – £59.95
Standard – £37.75
Child day return:
First class – £32.90
Standard – £20.75
Alternatively, you could spend the day at the world-famous Blair Castle International Horse Trials. Throughout August 22nd – 25th, Olympic medalists, international champions and top-ranked amateur riders alike descend on Blair Castle for four-days of world-class competition.
The event also features a popular pop-up shopping village, county fair and more.
General Admission tickets start at £12 per day. For full details, see our recent guide to the Blair International Horse Trials.
Other popular experiences include Highland Pony Trekking (From £50 per person), and the stunning Pitlochry Explorers Garden (admission from £4), all of which are just a short drive from our Perthshire hotel.
Dining in Style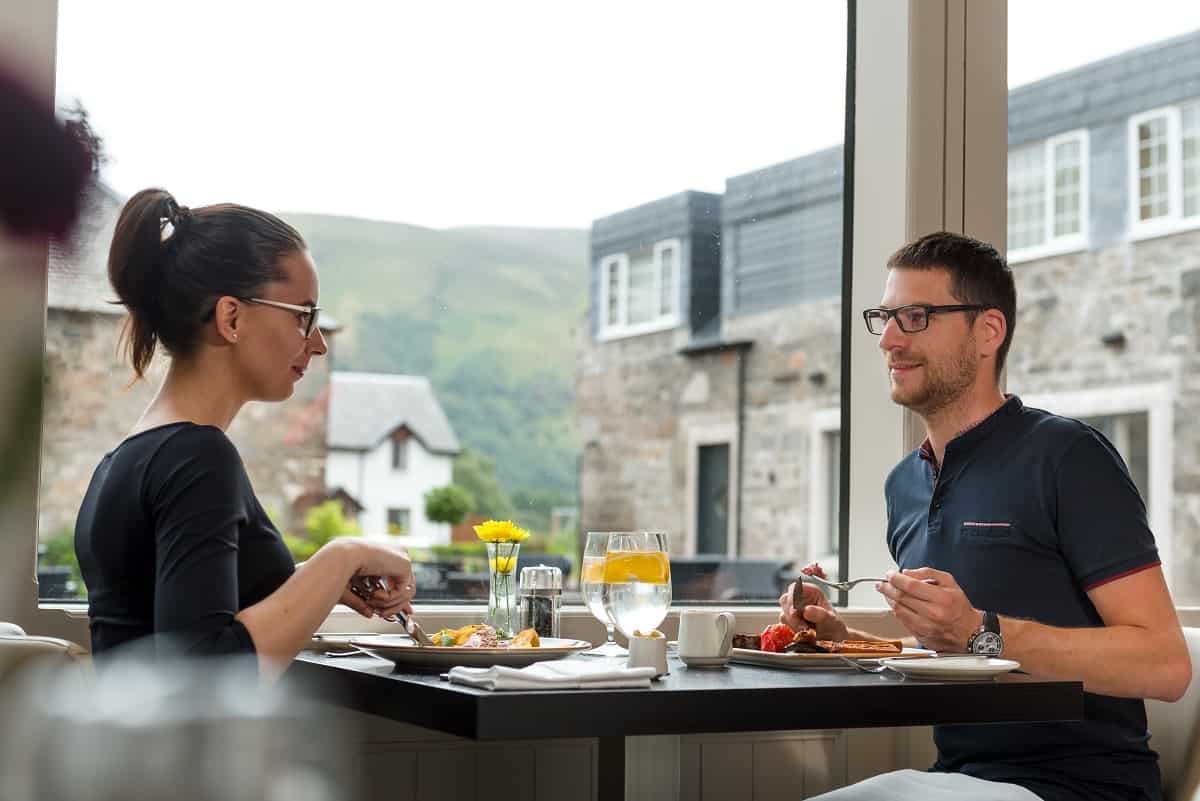 Join us at Monadh Dining for fresh, delicious meals, and a selection of light-bites, all lovingly prepared by our talented in-house chefs using the finest, ethically sourced ingredients.
Whether you're looking for authentic Scottish cuisine or the best British dishes in the land, visiting Scotland this summer means you're never too far away from delicious food to suit any palette.
At our own Monadh Dining fine-dining restaurant, we cater for all tastes and dietary requirements. Our new Flawlessly Vegan range promises a fresh, exciting array of plant-based cuisine, while our regular menu serves up choice meat cuts, ethically sourced from local farmers and all lovingly prepared by our talented in-house chefs.
Heading for a big day out in the Highlands? Join us every morning for a hearty traditional Scottish breakfast first, then pick up your packed lunch so that you'll have plenty of fuel for your adventure.
Meanwhile, those looking to take it easy this summer will love Monadh Dining famous Afternoon Teas (from £17.50), served out in our courtyard so that you can enjoy an array of delectable treats in beautiful surroundings.
Relax and Unwind on Your Summer Holiday in Scotland
Whether you've been exploring the local landmarks, enjoying the adventure of a lifetime or making the most of your fishing holiday, the award-winning Dunalastair Hotel Suites offers everything you need to relax and unwind at the end of the day.
Sit outside and take in the view, enjoy an invigorating soak in our luxurious bathrooms, or order room service and watch a movie on our state-of-the-art in-room entertainment systems, all while enjoying the kind of exquisite style, opulent luxury and first-class service that makes us one of the leading five-star hotels in Scotland.
For a limited time only, you and your loved ones can take advantage of our Family Package special offer. For only £499, two adults and two children can enjoy a two-night stay in one of our beautifully designed suites with complimentary continental breakfast and your choice of lunch-on-the-go or traditional afternoon tea.
The Dunalastair Hotel Suites' Family Package also includes a two-hour tour with Highland Safaris and late checkout on the day of departure. To book your package, call us now on +44 (0)1882 580444.