It comes around so quickly, doesn't it?
It doesn't seem like five minutes since we were polishing off the last of the turkey and singing our way through a spirited performance of Auld Lang Syne, and yet here we are again. The Christmas tree is going up in the reception area of our five-star hotel in Scotland, traditional yuletide carols ring out wherever we go, and as we look outside, we can see the first of the snow falling gently across the majestic Schiehallion Mountain.
Yes, the holiday is here again, and at Dunalastair Hotel Suites that means only one thing:
A chance to wish all of our guests past, present, and future a very merry Christmas and a wonderful new year.
After all, we just wouldn't be where we are today without you.
A Time for Reflection and Celebration
This November, we proudly accepted the award for Best Interior at the Best Loved Hotel Awards 2018. We've always taken pride in our unique style which blends together the pinnacle of contemporary elegance with a traditional Scottish charm and the original, Victorian-era features which have long been synonymous with our historic Loch Rannoch hotel. So we're delighted that the panel of experts behind the Best Loved Hotel Awards like it every bit as much as we do.
Of course, that's far from the only award we've won in 2018.
As we approach the end of the year, your Guest Ambassadors, and the entire behind-the-scenes team here at Dunalastair Hotel Suites have taken time out to celebrate all the prestigious prizes we've been honoured to receive this year.
Not that we're merely patting ourselves on the back.
Our celebrations have given us plenty of time to look back and reflect on how we really do owe all of our success to you: to all of you families looking to spend some quality time together, to all of you loved-up couples escaping from the day-to-day grind and joining us for a well-earned romantic getaway and, of course, to all of you intrepid solo travellers who choose to make us a part of your Highland adventure.
Without your regular visits and, of course, your glowing reviews, we wouldn't be in a position to be honoured with such awards as the Boutique Hotel Guest Experience Award (Boutique Hotel Guest Experience Awards) or the Boutique Hotel of the Year at the 2018 Scottish Hospitality Awards.
That's why we've gone out of our way to say thank you by doing everything we can to make your Christmas and New Year 2018 the best one yet.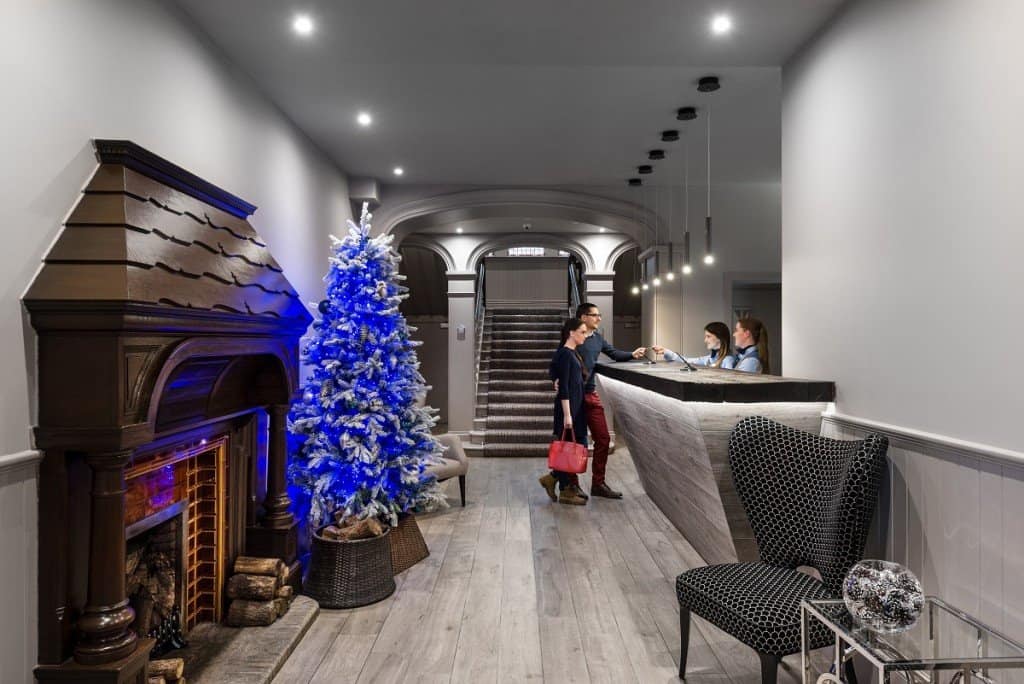 Celebrate Christmas and New Year at a Five-Star Hotel in Scotland
With just weeks to go before Santa loads up his sleigh, we're putting the finishing touches on our luxury festive getaway packages.
From as little as only £629.00 per room (based on two adults sharing a deluxe room), we're offering you the chance to make all your dreams of a most magical Christmas come true with a two-night Christmas break here in the heart of the romantic Scottish Highlands.
Join us on Christmas Eve for a delicious, three-course meal at Monadh Dining before retiring to your boutique hotel suite, where you'll enjoy a perfectly peaceful night's sleep on an exquisitely comfortable mattress designed exclusively for our hotel.
If you can tear yourself away from all those shiny new presents on Christmas morning, we'll have your choice of continental or cooked breakfast waiting for you. Be careful not to fill up too much, as we'd love to invite you back to Monadh Dining for our traditional four-course Christmas lunch complete with all the trimmings and complimentary drinks.
As if that wasn't enough, we'll even prepare a very special boxing day breakfast to help you fuel up before bidding us a fond farewell on December 26th.
Your complete Christmas Break package
A two-night stay from only £629 per room based on two adults sharing a deluxe suite.
Package includes all of the following:

Christmas Eve

Traditional festive drink on arrival
Afternoon cream tea
Delicious evening meal
Christmas Day
Your choice of fresh continental buffet or traditional Scottish cooked breakfast.
Traditional four-course Christmas lunch, complete with drinks and all the trimmings
Room service available until 8pm (charged separately)
Boxing Day:
Traditional Scottish breakfast
Optional packed lunch to take with you (charged at £12)
Children under 12: £75 supplement per stay includes:
Soft drink on arrival, cream tea, children's menu for dinner, breakfast, soft arrival drink before Christmas day lunch, half portion of Christmas lunch, juice with lunch, cold evening buffet, breakfast
A Gourmet Hogmanay in the Highlands
Not ready to leave us on Boxing Day? Planning to really see out the year in style? We have another very special gift in store for you:
A two-night New Year's Eve getaway package from only £669.00 per room based on two adults sharing a deluxe room.
After checking into your boutique hotel suite on December 30th, you're welcome to join us for one of our famous afternoon teas or spend time exploring the beautiful winter wonderland of the Scottish Highlands before joining us for a three-course candlelit evening meal at Monadh Dining.
Breakfast will be served on New Year's Eve, after which you're welcome to spend the day as you choose. Don't go too far, however, as you'll want to come back for our celebratory drinks and set five-course New Year's meal, complete with light entertainment.
As the hour approaches midnight, you may choose to simply relax and unwind in the lounge, or head over to the village hall for the annual Ceilidh, the perfect way to enjoy a truly authentic Highland Hogmanay.
Your Complete New Year's Getaway Package
A two-night stay from only £669 per room based on two adults sharing a deluxe suite.
Package includes all the following:
December 30th
Traditional winter drink on arrival
Afternoon cream tea
Delicious evening meal
New Year's Eve
Breakfast
Celebratory drinks and light entertainment
Set-five-course dinner
Light entertainment in the lounge
Free ticket to the Kinloch Rannoch Ceilidh
Children: £90 supplement per stay

Includes:
Soft drink on arrival, cream tea, children's menu for dinner, breakfast, soft arrival drink before NYE dinner, half portion of NYE Menu, juice with dinner, brunch)
Please see our special offers page for details of optional upgrades.
An Early Christmas Gift From Us to You
Stay with us any time* between now and Sunday, March 31st, 2018 and you'll receive our guaranteed best available rate and a complimentary drink on arrival, only when you book directly on our website or via telephone and quote "Dunalastair Presents".
From Our Family to Yours: Wishing You a Very Merry Christmas
Whether you decide to join us this Christmas and New Year, or whether we've already had the privilege of welcoming you to our five-star hotel in Scotland, on behalf of all of us here at Dunalastair Hotel Suites, we'd like to wish all of you a very merry Christmas and a safe, happy New Year.
We look forward to seeing you again in 2019.
*The Dunalastair Hotel Suites Early Christmas Gift offer excludes stays on December 24th, 25th, 2018.
For more information about this, or about our special Christmas and New Year getaway deals, contact us online today or call now on +44 (0)1882 580444.