With Summer only just behind us, it may be hard to believe that Christmas is only just around the corner. Yet here we are already, approaching just three months before Old Saint Nick comes shuffling down the chimney to bring good tidings and joy to all.
So while it may not have been on your mind before now, if you're planning on escaping the usual hustle and bustle of the festive season this year, then now is the perfect time to start making those all-important bookings.
After all, the next few weeks are sure to fly by faster than a fleet of reindeer, meaning many of the more popular holiday hotspots will be filling up in record time.
Here at the award-winning Dunalastair Hotel Suites in Perthshire, our team have already been taking reservations for our luxury Christmas package, meaning there are only limited chances remaining for you to enjoy a five-star festive getaway in true Highland style.
Still haven't made your mind up as to where you'll be spending this Christmas? Here's what's in store when you spend it with us:
Did you know that there's now officially less than 15 weeks to go before Christmas 2019? If you're thinking of getting away this year, it pays to book your winter break now before it's too late.
Christmas Eve – A Warm Welcome to Your Own Winter Wonderland
More and more of us are hitting the roads every Christmas. According to Reuters, some 107.3 million Americans travel at least 50 miles between Christmas and New Year, while here in the UK, the BBC reports that 14 million of us journey by plane, train and automobile over the holiday.
Yet while scores of those travellers will be stuck in endless, soulless traffic jams, the start of your Christmas break in Scotland begins with an easy, relaxing drive, winding your way through open roads lined with soaring pine trees dusted with snow as out in the distance, an awe-inspiring view of the majestic Schiehallion Mountain rises up to meet you.
The Highland's natural Winter Wonderland will continue to take your breath away as you approach our luxury hotel in Kinloch Rannoch, but we urge you not to stay out in the cold for too long.
Instead, step inside to a warm, friendly welcome from your Dunalastair Hotel Suites Guest Ambassador, who will be there to greet with you with a delicious, hot festive drink (with soft drinks for the children) and help you enjoy a swift and smooth check-in process.
After taking some time to relax and get settled in, we'd love for you to join at Monadh Dining for one of our famous traditional afternoon teas.
Though all of those freshly prepared finger sandwiches and oh-so-tasty mini desserts may prove too tempting to resist, you won't want to fill up too much, as you're later invited back for a specially prepared Christmas Eve meal.
In between, you might want to take a gentle stroll down to the loch, explore the picturesque village of Kinloch Rannoch, or simply enjoy the five-star comfort of our boutique hotel.
Step out of the cold and start your Christmas 2019 getaway in style with a wonderfully warm welcome at the five-star Dunalastair Hotel Suites in Highland Perthshire. Our luxury Christmas break packages deliver everything you and your loved ones could need to enjoy a truly magical holiday together.
A Magical Christmas Day You'll Never Forget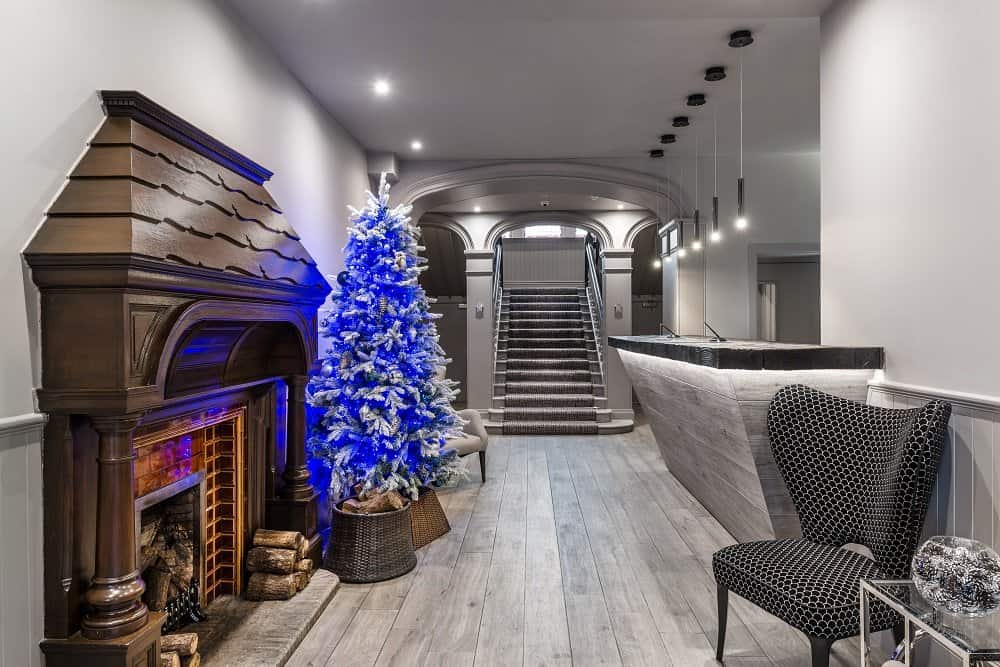 After a perfectly peaceful night's sleep on one of our beautiful, bespoke beds made exclusively for our hotel, it's time to start your Christmas Day 2019 in the elegant surroundings of Monadh Dining as you enjoy your choice of either a continental or traditional Scottish cooked breakfast.
Feeling nicely full, you'll then have the whole of Christmas morning to yourself, giving you plenty of time to exchange gifts with your nearest and dearest, or simply to walk off that hearty Scottish breakfast in the fresh Highland air.
If you do decide to venture out, be sure that you don't go too far as waiting for you back at our Perthshire hotel will be the finest, four-course Christmas lunch you've ever laid eyes on.
The highlight of our Scottish Christmas break package, this lavish festive feast comes with turkey and all the trimmings, not to mention a variety of drinks.
Later, why not put your feet up in our beautiful hotel lounge and treat yourself to the Christmas gift of a wonderfully relaxing afternoon.
If you're still feeling peckish, room service will be available for you until 8 pm.
The pièce de résistance of our Christmas Break package is a fabulous four-course festive feast, complete with turkey and all the trimmings, not to mention complimentary drinks.
Explore the Beautiful Scottish Highlands on Boxing Day
After another night enjoying the sweetest of dreams in your luxury hotel suite, it's time to sample our chefs' exceptional cooking one last time as you join us once again for breakfast at Monadh Dining, compliments of the house.
Finally, before we bid you farewell for another year, why not ask us to provide you with a freshly-prepared packed lunch to give you all the fuel you need for that boxing day hike around Highland Perthshire or a trip to the sales in the neighbouring town of Pitlochry?
And if, like many of our guests, you simply can't get enough of the romantic, snow-covered Highlands? You're welcome to extend your stay for only £199, with continental breakfast included.
Don't leave without taking a freshly-prepared packed lunch with you, the perfect fuel for your Boxing Day adventure in the highlands or a day of shopping at the sales in nearby Pitlochry.
Enjoy an Extra Touch of Luxury This Christmas with Our Special Upgrade Offers
To really make this a Christmas remember, why not consider one of our exclusive hotel suite upgrades.
You may choose to upgrade from a Deluxe Suite to our exceptional Grand Deluxe suite for £46.00 per stay or splash out on the exquisite comfort and exceptional style of our Luxury One-Bedroom Suite for £100.00 per stay.
Alternatively, why not consider one of our new Munro Suites, offering all the same five-star style and lavish comfort that our hotel is known for, albeit with the added bonus of a spectacular view across the Highland mountains?
Talk to our team when making your booking or call +44 (0)1882 580444 to discuss a Munro Suite upgrade.
Looking to add an extra touch of luxury to your winter getaway? Upgrade to one of our five-star Munro suites, offering exceptional luxury with spectacular views across the beautiful Scottish Highlands.
Book Your Christmas Getaway in Scotland Today for Only £679
Christmas break packages at the award-winning Dunalastair Hotel Suites start from only £679 based on two adults sharing, and include two nights' five-star accommodation, afternoon tea, Christmas Eve dinner, a four-course Christmas Day lunch and breakfast on both mornings.
Room service is available until 8pm on Christmas Day and is charged separately. Packed lunches are available from £12.00 per person.

Two Bedroom Family Suites are available for a supplement of £150.00 per stay.
An additional supplement of £75 per stay is charged for children under 12 years-old, with the price including a soft drink on arrival, cream tea, kids menu for dinner, breakfast, soft arrival drink before Christmas Day lunch, half portion of Christmas lunch, juice with lunch, cold evening buffet and breakfast.
Additional adults are charged at £155.00 each per stay
Enjoy a Traditional Highland Hogmanay with Dunalastair Hotel Suites
Already made plans for Christmas but still don't want to miss the chance to soak up the spectacular views of the Scottish Highlands in winter?
Fallen so in love with the incredible scenery, the air of tranquillity and the warm Scottish hospitality that you simply can't bear to part with us after Christmas?
Why not join us for our traditional Highland Hogmanay? We currently have limited availability remaining on our special two-night New Year's packages, starting from just £740 per room based on two adults sharing a Deluxe Suite.
See our website for full details of our New Year's Packages, or to book your 2019 Christmas getaway to Scotland, call our team now on +44 (0)1882 580444.