It barely seems like five minutes ago since the children went back to school after the Christmas holiday, and yet here we are already, with the 2018 Easter break quickly approaching. For you, that means finding a way to spend the holiday that keeps the young ones entertained and gives them the perfect chance to blow off some steam whilst still affording you the opportunity to indulge in some long overdue R&R.
Here in Highland Perthshire, you'll find a Scottish Easter getaway that really does offer the best of both worlds. Our boutique hotel near Pitlochry offers all the exquisite luxury and relaxation you deserve, whilst the wealth of exciting nearby attractions make it one family holiday in Scotland they'll never forget.
Looking for the perfect way to keep your young ones entertained this Easter? Here's our guide to the top five family-friendly activities in Highland Perthshire that your children will love.
Highland Safaris
Aberfeldy, PH15 2JQ
Majestic red deer, mighty golden Eagles, and all manner of wild and wonderful creatures in between are just waiting to be discovered in one of Highland Perthshire's most popular attractions.
Based a short drive from our hotel in Aberfeldy, Highland Safaris offer a unique chance to explore the vast, Scottish wilderness, making your way through dense forests, magnificent mountains and untamed moors and encountering all manner of natural Scottish wildlife in between.
Winner of multiple awards and voted a five-star visitor attraction by the Scottish Tourist Board, Highland Safaris offer several different tours, including Mountain Safaris, Forest Safaris, and private charter tours. Whilst you're there, be sure to stop by the fantastic red deer centre, where children of all ages will love getting up close and personal with these truly marvellous creatures.
From there, parents can sit back and relax with a spot of Scottish afternoon tea whilst the kids visit Scotland's only gold and gem panning centre in search of some truly unique treasures.
For booking and information, see: www.highlandsafaris.net
River Tubing
Nae Limits Activity Centre, PH9 0LG
Popular with guests at our boutique hotel near Pitlochry right the year round, there's few better ways to spend an Easter break in Scotland than visiting Nae Limits Activity Centre.
The centre in nearby Ballinluig offers a host of exhilarating activities for kids and grown-ups alike, including canyoning, quad biking, and white water rafting.
In our experience, however, nothing quite beats the thrill of river tubing, which is the safest (though still nonetheless exciting!) way of experiencing the roaring Scottish rivers without any prior experience.
Led by qualified guides, tubing is a unique experience like nothing else we've tried before, and offers tremendous fun no matter how young, or old you may be.
For younger children, Nae Limits also run The Wee Limits Adventure Academy, where children from five to 12 will be taken on a tour through Highland Perthshire's natural beauty spots to run, play, learn, and explore.
For more details visit: www.naelimits.co.uk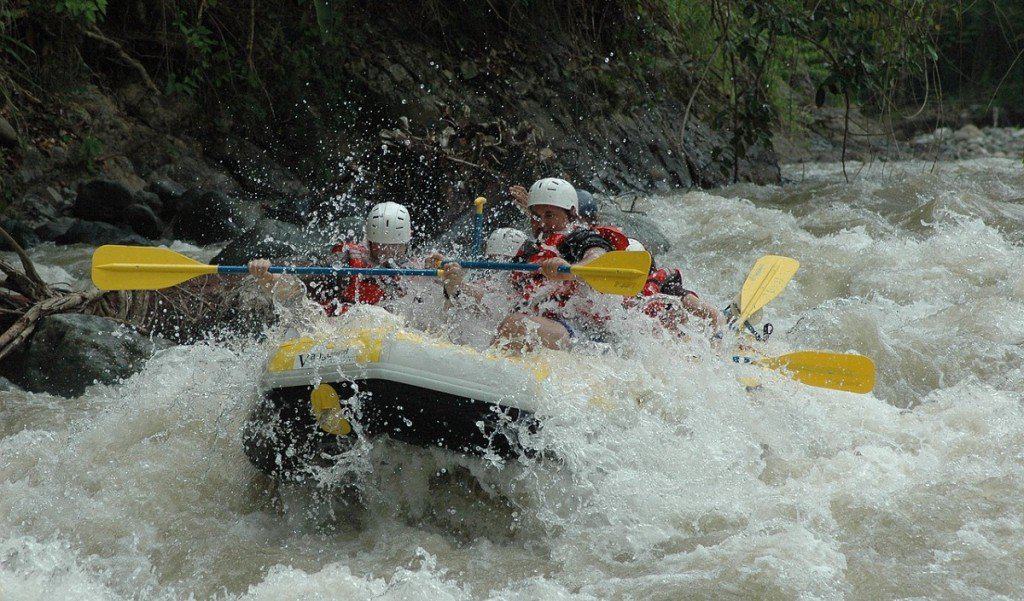 Splash White Water Rafting
Aberfeldy,  PH15 2AQ
We'll stick with all things wet and wild next as we head to the Splash White Water Rafting centre, just 30 minutes away from our hotel in nearby Aberfeldy.
Suitable for ages 9- 18, white water rafting gets the adrenaline-pumping like nothing else as you race down the river rapids with Highland Perthshire's awesome scenery surrounding you at every turn.
Don't worry though, to ensure no mishaps get in the way of your family holiday in Scotland, experienced and highly qualified guides will be with you and your family every step of the way.
Fancy something a little less daring? Splash offers a host other family-friendly activities, including river bugging, abseiling, kayaking and paddleboarding.
For booking and full details, see: https://rafting.co.uk/
Horse and Pony Trekking
Blair Atholl, Pitlochry, PH18 5TH
Of course, nobody says that your Scottish Easter break has to be full of high-octane adventure. Your family may prefer to take things a little easier with a trek through the unspoiled glens of Perthshire on the famous Atholl Highland Ponies.
Reopening just in time for the Easter break, Blair Atholl pony trekking centre is popular throughout the spring and summer months as a truly special way to experience the authentic Scottish Highlands up close and personal.
Plus, it helps that the Highland ponies themselves are absolutely adorable!
While you're there, be sure to explore the magnificent surroundings of the historic Blair Castle. You could even book a fabulously fun tractor tour, an enjoyable Land Rover safari, or indulge in a relaxing spot of fishing.
Pre-booking for Blair Atholl Pony Trekking is essential and can be done online at: https://atholl-estates.co.uk/estate-activities/activities/blair-castle-trekking/
Go-Karting, Bowling & More
Noahs Perth, PH1 1QE
Scotland's weather is famously unpredictable, and the last thing you want is for an unexpected shower to put a dampener on your family's Scottish Easter break.
Fortunately, it doesn't have to with Noah's Perth, a true mecca of family-friendly fun in the heart of Perthshire, offering everything you could need to keep the kids entertained no matter what the weather.
A short drive from the Dunalastair Hotel Suites in Kinloch Rannoch, Noah's offers enjoyable activities for everyone from tots to teens, including indoor go-karting, ten-pin bowling, a soft-play centre for younger children, and more.
Whilst the kids are running around using up their energy, you can recharge yours in Noah's Cafe, where you'll find a selection of tasty treats simply too tempting to resist.
For more information, see: http://www.noahs-perth.co.uk
Kids eat free at the Dunalastair Hotel Suites this Easter

Book a family holiday in Scotland with us for any time from Monday, March 26th to Sunday, April 22nd, 2018, and children under 12 will enjoy a free, healthy continental breakfast and three-course lunch or dinner on each day of your stay.
All this, plus luxurious, boutique hotel accommodation for two adults and two children, costs from only £219 per night as part of our Scottish Easter break special offer.

To book, call us now on 01882 580444 or email bookings@dunalastairhotel.com. Alternatively, see our website for more Easter holiday deals.