With each day that passes here at our luxury Pitlochry hotel, the sun seems to glow just a little brighter, the air becomes a little warmer, and that ever-stunning highland scenery takes on a sense of magic the likes of which you just won't find at any other time of year.
Yes, dear readers, it seems that the long, dark, wet winter that was, is finally no more. Spring has well and truly sprung, and before we know it, the radiant beauty of summer will cast its magnificent spell across the highlands.
Though whilst other parts of the country may boast their own unique charms once the warmer weather arrives, few offer such a complete package as the one you'll find here in Pitlochry.
Below, we look at just a small number of the countless reasons why this enchanting highland town is fast becoming the number one destination for 2017 summer breaks in Scotland.
A Warm Welcome and the Best in Traditional Scottish Hospitality
From the moment you cross into HIghland Perthshire to the moment you check out of your luxury Pitlochry hotel and bid us farewell, you'll be treated like one of the family.
We Scots are as famous for our first class hospitality as we are for our tartan, and love nothing more than going all out to make sure you feel right at home throughout your stay.
Whether you're dining on authentic Scottish dishes in one of our top local restaurants, shopping for quality souvenirs and one-of-a-kind gifts for loved ones back home, or simply walking into your hotel for the first time, you can expect the warmest of welcomes and the friendliest service at every turn.
Breathtaking Views You Won't Find Anywhere Else
Right the year round, Pitlochry is surrounded by truly remarkable scenery, with incredible views of rolling hills, lush forests and awe-inspiring mountains stretching out as far as the eye can see. Yet when the warm summer sun begins to shine, Pitlochry truly does develop a whole new sense of magic and wonder that is uniquely its own.
Nowhere better encapsulates the area's breathtaking beauty quite like Queen's View.
A renowned vantage point famous for offering one of Scotland's best views, looking out beyond Queen's View at Tay Forest Park offers a remarkable panoramic view which, on a good day,stretches all the way to the Glencoe mountains.
All the Peace and Quiet You Need On Your Relaxing Summer Break
Unbeatable views aren't the only thing you'll find on your visit to Queen's View. Despite its reputation, the area is delightfully peaceful, providing all the calm and quiet you deserve on a relaxing summer break in Scotland.
Not that you need spend your entire vacation there just to get a few moments of well-earned break from the hustle and bustle of daily life.
Queen's View is perfectly typical of the kind of tranquility you can expect to find throughout Pitlochry, making it the perfect destination for those of you planning to really get away from it all this summer.
Action and Excitement for the Whole Family
Prefer a little more adventure on your Scottish getaway? Don't worry, the town has plenty of that too. Just a short drive from your luxury hotel near Pitlochry itself, you'll find the Nae Limits Activity Centre, offering a range of exciting outdoor pursuits for kids and grown-ups of all ages.
From the adrenaline rush of white water rafting to the unbeatable thrill of canyoning, quad biking, and paintballing, it's all here in abundance.
Elsewhere, you'll find some of Scotland's most exhilarating hiking trails, cycling routes, and golf courses, not to mention plentiful opportunities to indulge in a spot of fishing.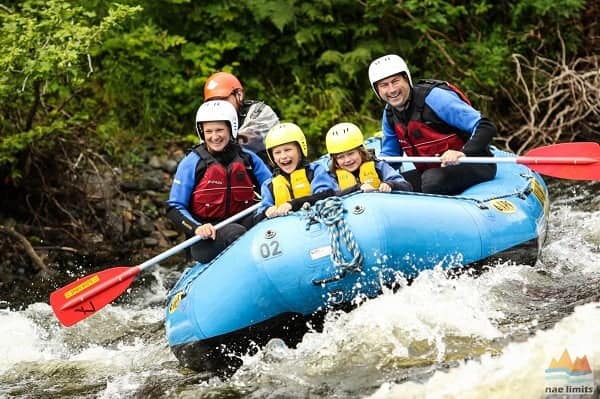 Close to Major Tourist Destinations
If this is your first holiday in Scotland, you won't want to miss the once-in-a-lifetime chance to check out iconic landmarks like Edinburgh castle and the Wallace Monument.
The good news, is that you don't have to.
The city of Edinburgh, home to not only the famous castle, but a wealth of authentic Scottish culture and top tourist attractions, is only 90 minutes away by car. Alternatively, you could also take the scenic route, enjoying a relaxing train ride through the Scottish Highlands which takes roughly two hours to reach Edinburgh from Pitlochry.
Meanwhile, Stirling (home to the Wallace Monument) is a little over an hour away, with Loch Lomond and Fort William also within an accessible distance.
The Finest Boutique Hotels in Scotland – Just Waiting For Your Arrival
If there's one thing we do better than anywhere else here in Highland Perthshire, it's accomodation. At the Dunalastair Hotel Suites near Pitlochry, you'll find premium quality boutique hotel suites, exemplary first class service, and all the modern amenities you'd expect from one of Scotland's top hotels.
What's more, for a limited time only, we're offering a completely free upgrade to the next available room category when you book your 2017 summer break in Scotland any time between May 1st and June 30th.
To take advantage of this incredible deal, book your stay at the Dunalastair Hotel Suites online today, or call to speak to one of our team now on our reservations line now on +44 (0)1882 580444.