A brand new year is finally upon us, and here at the Dunalastair Hotel Suites in Perthshire, that means only one thing:
A brand new calendar packed full of must-see events for all ages and tastes.
Whether you're planning an action-packed adventure break in Scotland for the whole family, a relaxing Valentine's Day getaway or simply looking for the perfect opportunity to do something completely different on your next holiday, Highland Perthshire really does have something for everyone in 2018.
Here, we offer our picks of the five most unmissable events you simply must experience for yourself on your next visit to the Dunalastair Hotel Suites.
Etape Caledonia
Sunday, May 20th, 2018 | Pitlochry, Perthshire
It's been described as the UK's premier closed-road sporting event, and in 2018 it returns, bigger and better than ever.
Each year, organisers of the Etape Caledonia invite thousands of cyclists from across Scotland, the UK, and beyond, to take on a demanding 81-mile route through some of the country's most stunning scenery.
Starting and ending just a short distance away from our luxury hotel in Pitlochry itself, the route winds its way through long, forest-lined roads, across the famous (and famously challenging!) Schiehallion Mountain, and past all manner of serene lochs, glorious vistas and remarkable views.
Yet don't be fooled into thinking the annual event is anything like a gentle pleasure ride.
Vigorously tough in places, the Etape Caledonia poses a serious test for even the most ardent and experienced road warriors. Rise to the challenge, however, and the sense of achievement you'll experience on your next adventure break in Scotland will make every gruelling mile more than worth it.
Rob Roy Challenge
Saturday, June 18th, 2018 | Kenmore, PH15
Named after the legendary Scottish outlaw who once made his home around this most magnificent part of Highland Perthshire, the annual Roy Roy Challenge sees hundreds of hardy souls battle their way along an unrelenting route which requires all the stamina, bravery and resolve of Rob Roy McGregor himself.
For beginners, the Rob Roy Ramble takes you on a 14-mile hike along the famous Rob Roy Way, conquering hills and valleys en route to some truly spellbinding views of Loch Tay.
Meanwhile, those looking for a serious challenge on their next adventure break in Scotland can push on with the 'Big Red' Route, which -after the initial 14-mile hike- adds on a 35-mile bike ride which passes our hotel in Kinloch Rannoch en route to and from our neighbours over in Kenmore.
If you're exhausted just reading that (and we don't blame you!) then don't worry – you don't have to saddle up to enjoy all the excitement of the Rob Roy Challenge.
Take the short journey from the Dunalastair Hotel Suites to Kenmore to join in the festivities at the main event hub, where delicious food, entertainment, and all the thrill of seeing the competitors complete the course are all part of a fun day out.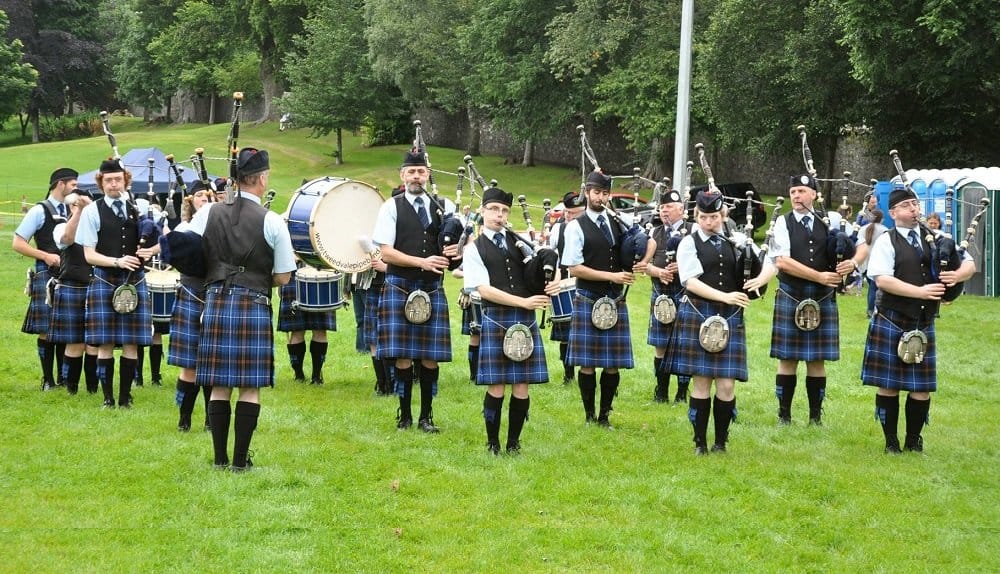 Rannoch Highland Gathering
Saturday, August 18th, 2018 | Weller Poley Park, Kinloch Rannoch
A five-minute walk from the Dunalastair Hotel Suites in Kinloch Rannoch, Weller Poley Park has played host to the historic Rannoch Highland Gathering since 1955.
The event itself dates back even further, to 1881, making it one of the region's most celebrated traditions and a much-anticipated highlight of the Kinloch Rannoch sports and cultural calendar.
From Scottish country dancing and local Highland pipe bands to caber-tossing and strongman events, the Gathering is your chance to experience authentic Scottish tradition up close and personal with an array of events, activities and attractions for the whole family.
Blair Castle International Horse Trials & Country Fair
Thursday, August 23rd to Sunday, August 26th, 2018 | Blair Castle, Blair Atholl, PH18 5TL
If you're planning a family holiday in Scotland this summer, then the Blair Castle International Horse Trials and County Fair are an absolute must for your itinerary.
Widely regarded as Scotland's leading equestrian event and one of the most anticipated occasions on the UK calendar, the four-day happening brings together world-class riders and Olympic heroes with some of the best amateur riders from across the globe, all competing for prestigious prizes in cross country, dressage, and show jumping.
When you're not enjoying the incredible displays put on by the talented riders, you and your family can indulge yourself in a host of activities, entertainment and shopping at the annual Bruadar County Fair.
Held within the grounds of the majestic Blair Castle (a must-visit in its own right), the fair is packed full of things to see, do, and enjoy for all ages, whilst the popular shopping village is ideal for finding those unique souvenirs to take back home.
The Enchanted Forest
Thursday, October 4th – Sunday, November 4th, 2018 | Faskally Wood, PH16 5BN
Winners of the 2017 Scottish Outdoor Leisure Award for Best Outdoor Festival, the annual Enchanted Forest is less of an event and more of a magical experience that simply has to be seen to be believed.
Based just a short drive from our Highland Perthshire hotel, the already breathtaking Faskally Wood is transformed into an awe-inspiring feast for the senses, with a dazzling array of lights, colours, and sounds turning the whole area into a beautiful and vibrant wonderland.
Such is the appeal of this truly spectacular event, that last year's attracted record visitor numbers of over 73,000 in a single month – and we have it on good authority that organisers of the 2018 Enchanted Forest are going all out to top that by making this year's show even better.
Experience the Scottish holiday of a lifetime in 2018 with the Dunalastair Hotel Suites, Perthshire. See our website for our very latest special offers, or call our reservations team now on +44 (0)1882 580444.