Celebrate New Year in the Heart of the Scottish Highlands
When you ask most people the best place to celebrate New Year, Scotland will often be the first choice. Steeped in the history of generations, the celebrations have an authenticity, which draws crowds from far and wide. Hogmanay is the Scottish word for 'the last day of the year', enabling revellers to celebrate the incoming New Year.
The Viking's pagan Norse roots took a firm hold in Scottish soil, and to this day, they exert influence over traditional Scottish Hogmanay parties. Such as the annual torchlight procession in Edinburgh, which attracts more than 40,000 people each year. The fire was a symbol of rebirth and new beginnings to the Vikings, so they celebrated with huge bonfires and by rolling blazing tarred barrels downhill during the winter solstice.
The song Auld Lang Syne is equally synonymous with Scotland, especially as it was written by Robert Burns in 1788. The title translates to 'in days gone', while the lyrics ask if we should forget old times but remember friendships. What better way to celebrate the New Year than a New Year break in Scotland, remembering your own friendships in true style?
Why is Highland Scotland the Ideal Destination for a Romantic New Year Break or Honeymoon Scotland Package?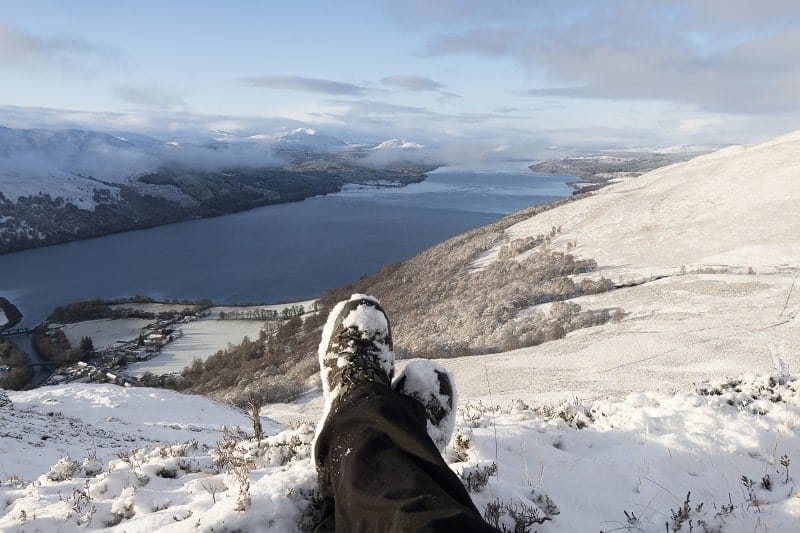 It can be very romantic to experience the contrasts of Highland Scotland with a loved one. Granted, venturing outside, you will have to wrap up warm at this time of year, but on the upside returning to the snug welcome of Dunalastair Hotel suites will quickly restore you.
The contrasts of scenery continually change in Scotland as well. A sunlit valley can be transformed by a distant shower, while frosted heather on a morning walk highlights the beauty of the hillsides.
Looking for the perfect destination to truly get away from it all this year? Here's what you can expect when you visit us this New Year 
Why Does it Snow more in the Scottish Highlands?
By a geographical quirk of fate, the Highland mountains are often topped with snow bearing clouds. Drifting across the Highland valleys these clouds regularly deposit their snow, so much so that 100-days of snowfall a year are not uncommon. Snow can transform the landscape from the multitude of browns and greens to an even white covering. Taking a walk in fresh snow you will discover from the footprints the multitude of animals and birds that live nearby. 
Planning for the New Year 2021 
As a destination for Christmas and New Year breaks Scotland ranks high on a lot of people's lists. Bookings at the Dunalastair Hotel Suites reflect this popularity and rooms tend to sell out quickly. So, booking early is recommended.
December 30th 
On your way to a romantic trip to Scotland you will drive up through the valleys and snow-capped mountains as an introduction. You will no doubt spot some wildlife and birds on your journey.
On arrival at the hotel our guest ambassadors will welcome you and offer a complimentary yuletide drink to enjoy in the warmth of the lounge. You can then check in and make your way to your premium hotel suite, where you can unpack, unwind and take in the spectacular views.
Later in the afternoon you can join us in the restaurant, Monadh Dining, to enjoy a memorable afternoon tea while finding your bearings.
December 31st  Romantic New Year's Eve
If it's Scottish it's bound to be hearty and that's the way of the traditional Scottish breakfast at Dunalastair Hotel Suites. Top quality, local produce, expertly cooked will help to set you up for the day. Then take your time to venture out for a walk and capture some of the stunning scenery or enjoy a relaxing day in the guest lounge or the privacy of your room.
We invite you to join us for a celebratory drink as we commence the good cheer towards midnight. There will be some light entertainment before serving our New Year package.
January 1st 
We understand it might have been a late-night, so don't feel compelled to rush down to breakfast. Make the most of a lie-in and join us later for our special brunch, which is served until noon.
If you are leaving for home today, why not make a reservation for 2023 to get first choice on your favourite room. 
A Warm Welcome Guaranteed 
Warm hospitality is second nature to Scots and the staff at Dunalastair Hotel Suites want nothing more than to see that you have enjoyed your stay. From the moment you arrive we want to see that you have everything to enjoy a safe, merry and romantic New Year.
All this for just £580 per room
Enjoy a romantic New Year break with the five-star Dunalastair Hotel Suites. 
3-night Package*:
Superior Room: £580.50 per person
Luxury Suite: £768 per person
Grand Deluxe Suite: £708 per person
Family Suite: £1143 per adult
Deluxe Suite: £607.50 per person
Munro Suite: £1278 per person
Before you leave for your trip home take a few minutes to chat with a guest ambassador and make a booking for next year. It's one more thing you can tick off and you get the pick of the rooms. Enjoy your journey home and take in, once more, the stunning scenery of the Scottish Highlands. You're sure to get a very warm welcome in 2022.
Book your romantic New Year break in Scotland with the award-winning Dunalastair Hotel Suites today. Call reservations to make your booking on 01882 58444 or email bookings@dunalastairhotel.com