Robert Burns was a storyteller, a composer and a poet. He's Scotland's national Bard and one of the world's greatest!
Every year, on January 25th, his life and legacy are celebrated throughout the world and here in the Highlands, we always pay a special tribute to our National Bard at our 5-star hotel in Pitlochry.
The wonderful Robert Burns legacy
Robert Burns left the world a marvellous legacy which has reached across the globe. His songs, poems and writings have inspired the likes of Wordsworth, Coleridge and Shelley!
His enduring spirit is celebrated every year to voice his works and to preserve Scotland's rich, literary, cultural and historical heritage! 
The first-ever Burns Supper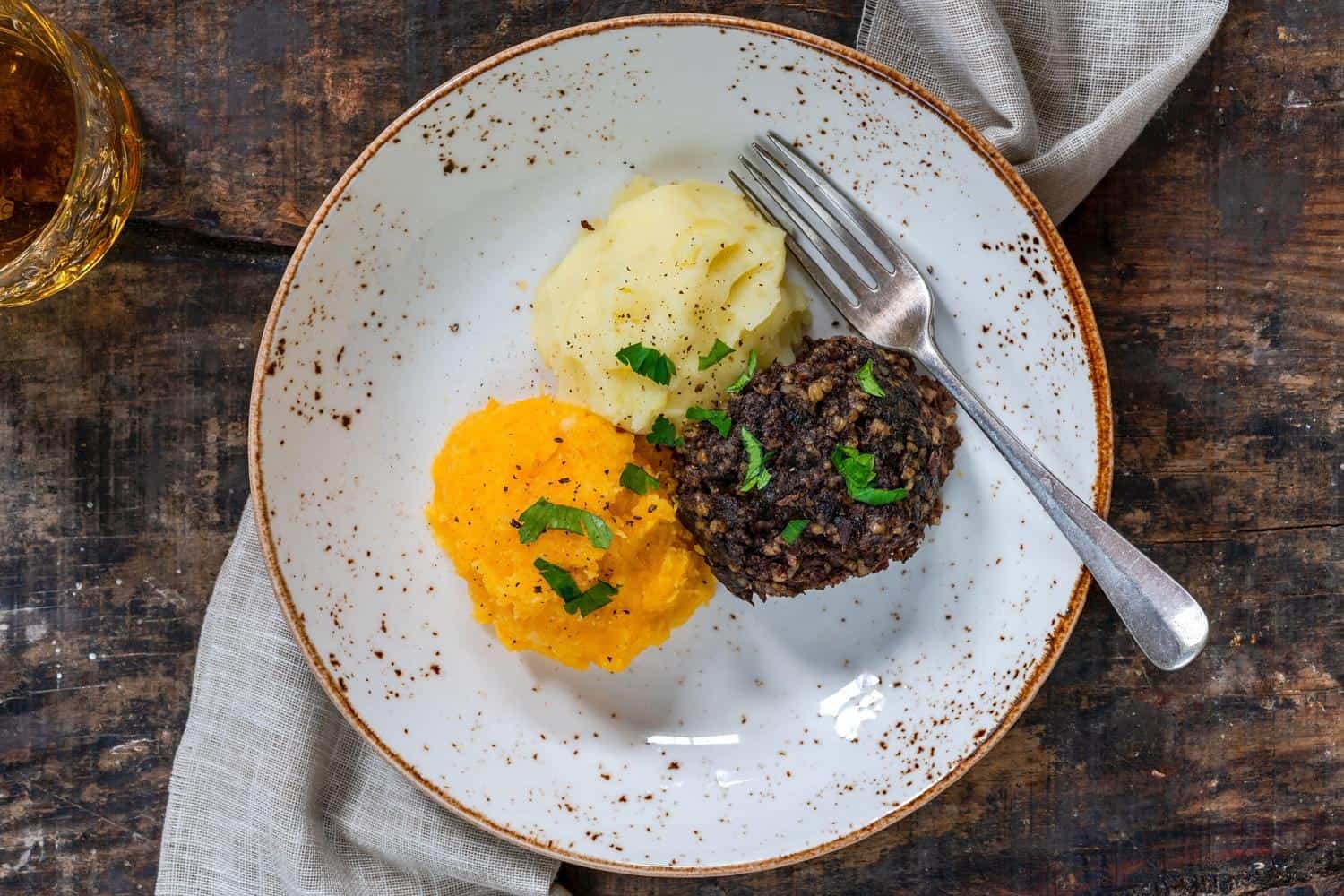 The very first Burns Supper is said to have taken place in Burns Cottage on 21st July 1801 in the Bard's birthplace of Alloway. Nine guests enjoyed a meal of haggis and other traditional Scottish delicacies.
The meal was organised by the Reverend Hamilton Paul, and little did the guests realise back in the day that it was to be the first of many suppers to celebrate the works of Scotland's Ploughman Poet!
Today, we celebrate our National Bard in our hotel in Kinloch Rannoch in a superbly traditional yet modern way!
What to enjoy when you celebrate Burns' Night in the Highlands
A Burns' Night supper begins with traditional starters which include tasty things like cock-a-leekie soup or Scots broth.
But the iconic haggis is at the heart of a Burns' Night Supper menu. Together with neeps and tatties, it's a meal like no other. The bard called this traditional Scottish delight the "great chieftain o' the puddin race!".
Today, there's a tasty alternative in the form of vegetarian haggis for those who prefer a meat-free meal.
To round off a Burn's Night supper, you'll enjoy a classic cranachan, Scotland's answer to an Eton Mess, or Clootie Dumpling among other traditional Scottish delights!
What to sup on Burn's Night
The history of Scottish whisky dates back to the 11th Century and today is part of Scotland's heritage and the country's identity!
It's thought that Scotland's whisky-making all began when monks from European monasteries brought their winemaking methods with them to the Scottish shores. As there were no vines growing in the land, the monks used grain mash to produce the spirit that was to become Scotch!
Friar John Cor of Lindores Abbey was granted a King's commission to produce Acqua Vitae which is Latin for 'uisge beatha'. This loosely translates from Gaelic to English to 'water of life'.
Today, there are over 109 distilleries throughout Scotland which closely guard the ancient secrets of traditional Scottish whisky making!
Malt Whisky is the typical tipple to enjoy at a Burns' Supper. You'll enjoy a dram or two to celebrate Scotland's National Bard's legacy as many people do!
If a dram of whisky is not to your taste, you can choose a robust red wine to accompany your meal. Or maybe you'd prefer other alternatives which could include a locally brewed ale, lager, or some delightful Scottish fruit wine!
Burns' Night Supper – Toasts and Poems
It's a Scottish tradition to 'pipe in' the haggis at a Burns' Night Supper. Then there are the traditional recitals which include the "Address to a Haggis" and the "Selkirk Grace".
And we do the Bard proud at our 5-star luxury Boutique hotel Scotland!
The traditional Burn's Night Highland Dress – Tartan!
Naturally, the traditional Burns' Night dress is, of course, tartan! Kilts, tartan-themed hats and ties all work to celebrate the occasion.
Scottish tradition dictates that men should don kilts for the occasion. It's when the Scots can wear their family's tartar to celebrate the National Bard's legacy!
Poetry to celebrate a Burns' Night Supper
You'll enjoy listening to memorable poetry all penned by the Bard himself. There'll be a speech that commemorates Robert Burns and his superb legacy.
Then there's the traditional toast known as the "Immortal Memory" and "Address to the Lassies" followed by the "Reply from the Lassies". A treat that's especially crafted for the evening! 
Dancing the night away on Burns' Night
After a Burns' Night Supper, there's lively ceilidh dancing to traditional Highland music. You'll be dancing to the Gay Gordons and other popular Scottish tunes!
A rousing rendition of Auld Lang Syne announces the end of a wonderful evening that celebrates the legacy of Scotland's National Bard.
Come and enjoy Burns' Night in the Scottish Highlands!
Come and enjoy Burn's Night in the Scottish Highlands. January is a quieter time of the year when life is peaceful in this neck of the woods. It's a great region of Scotland to recharge your batteries after the festive season!
There's so much to see and do in the Scottish Highlands. Then there are the wonderful traditions and the modern takes on our Scottish delicacies to savour!
At Dunalastair Hotel Suites, you'll enjoy 5-star luxury in a superb setting that lends itself so well to celebrating the legacy of Rabbie Burns.
You can book your Burns' Night break in the heart of the Highlands online. Or if you prefer, you can call us on +44 (0)1882 580444 to book your reservation.