Sometimes, around this time of year, your favourite friends and places might start to appear a little lacklustre and unexciting. It's nothing new; it happens to everyone; it's called the winter blues. The good news is it's not catching, so if you're tired of being cooped up indoors, make a break for the big outdoors.
Booking a week in the casual luxury of Dunalastair Hotel Suites will work wonders, re-energising your spirits to where they rightly belong.
The countryside around Dunalastair Hotel Suites can't help to work its magic. Snowcapped mountains, dark green forests, and the winter shades of heather will leave you feeling centred and calm.
So, if you think you've caught the winter blues, we have just the right prescription.
Read on to discover what's in store when you join us at our Kinloch Rannoch hotel for the Scottish break of a lifetime.
Remarkable Views at Every Turn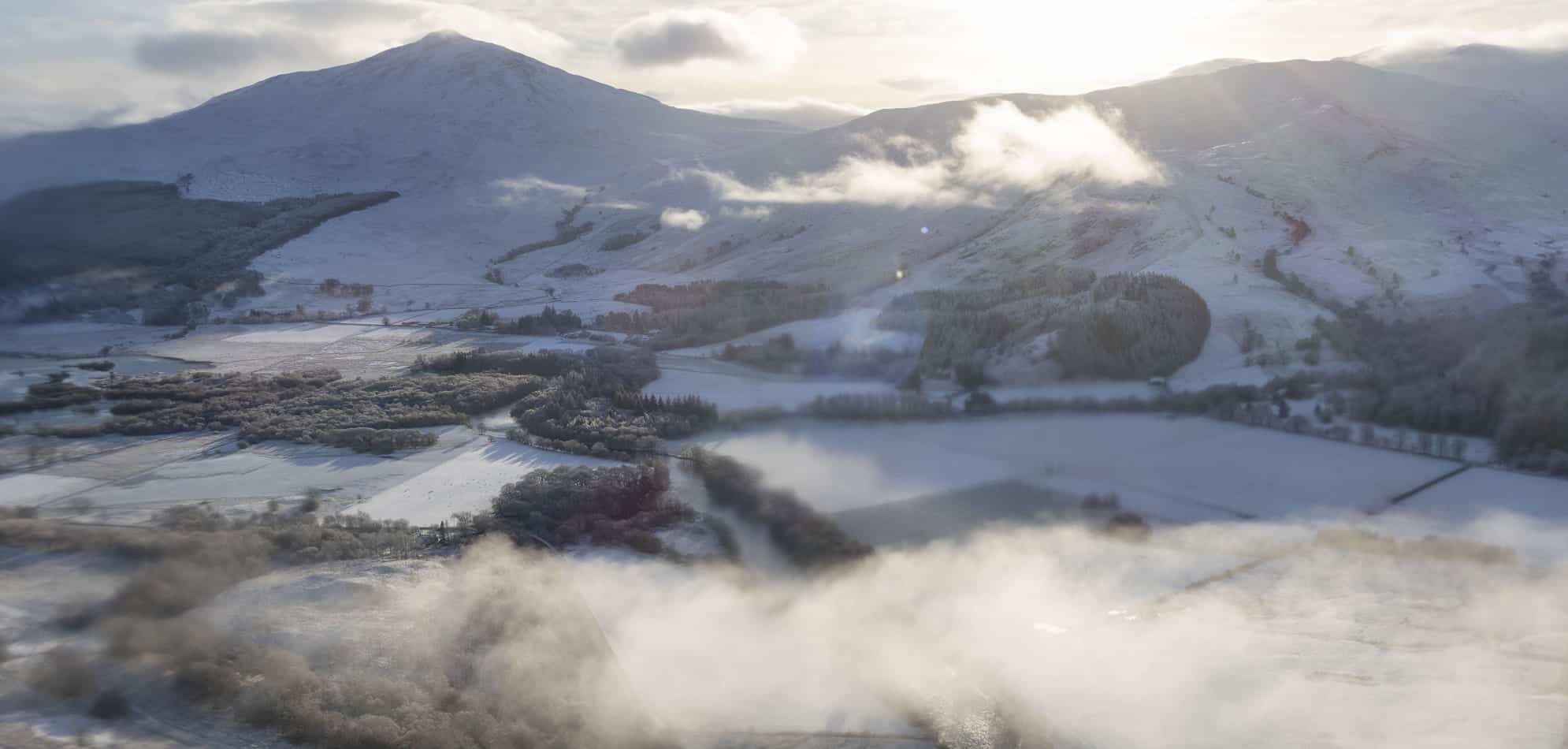 On the doorstep of Dunalastair Hotel Suites, the village of Kinloch Rannoch epitomises a charming Scottish country village. Nearby the snowcapped iconic Munro of Schiehallion stands sentinel over Rannoch Moor and the rippling waters of Loch Rannoch.
Radiating out from Kinloch Rannoch, there are numerous villages and small towns to explore. Nearby Pitlochry oozes history and local shopping, while Loch Faskally and the mountain of Ben Vrackie offer plenty of opportunities to walk among some of the most attractive Highland countryside.
The panoramas of Highland Perthshire are ever-changing, constantly influenced by the seasons and climate. They act as the palette to create a backdrop of simple nature at its best.
A Brand New Adventure on Each New Day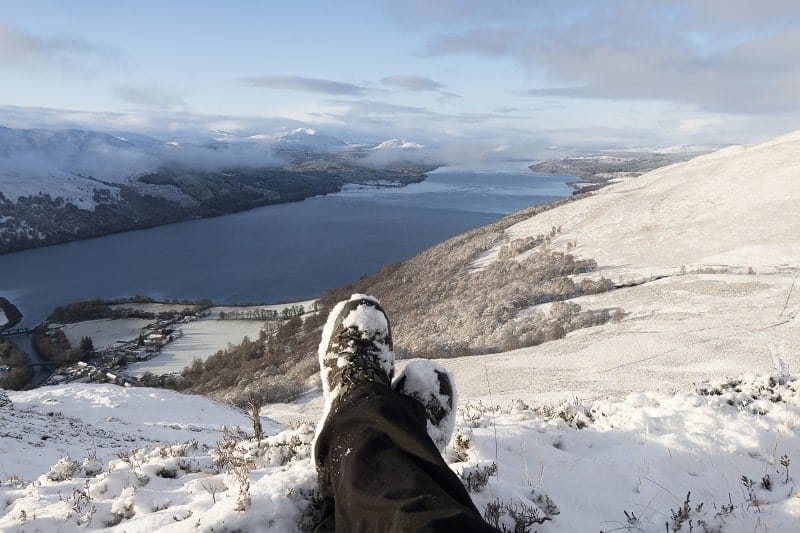 Each brand-new day is a brand-new adventure, where boredom never needs to play a part.
If you are bringing the whole family and you need to keep the kids entertained or just escaping with a loved one, you will find activities for all tastes. Indoor or outdoor, physical, or relaxing, the choice is yours, but one thing we are sure of is you'll be planning to return before you've even left. The Scottish experience is addictive!
For families with children, Nae Limits Outdoor Activity Centre in nearby Pitlochry
The company name says it all, Nae Limits Outdoor Activity Centre, offers everything from the exhilarating thrill of quad biking, where you'll be skidding your way through fields and forest, paintballing, and gorge walking, where you will slide over rocks, plunge into pools, and stand under waterfalls. 
A Haven of Peace and Serenity
If all that activity has tired you out or the festive season has left you in a spin, then maybe a chance to reflect and take it easy is the best option.
Fishing in Perthshire is some of the best, both offshore and river fishing for salmon and trout are renowned the world over. Spending a few days relaxing on the banks of Loch Rannoch or Loch Tay will revitalise the most world-weary.
Walkers are spoilt for choice, and the local villages of Aberfeldy, Kenmore and Pitlochry are the starting points for ambles and more strenuous hikes.
The history of these villages and towns goes a long way to explaining the history of Scotland itself, with its trials and tribulations over the generations.
The overriding sense of rural Scotland is of calmness and tranquillity, where the excesses of modern society have been kept at bay. It is a haven you can return to time and time again. 
A Gift of Packages from Dunalastair Hotel Suites

Weekend Wanderer (From £395)
Luxury weekend breaks in Scotland  are what we do best here at Dunalastair. Guests enjoy a retreat from day-to-day life. A chance to take stock and recover.
There are calming walks around local Loch Rannoch or plenty of drives, if you want to take in the sights, such as local Munro's or even the heights of Ben Nevis, a little further away. That said, you may prefer to curl up with a loved one in the luxury of your suite for that snooze you've been promising yourselves.
The package includes:
Cooked breakfast
3-course meal for two
Bottle of prosecco
Late check out
Complimentary upgrade
Mid-Week Roam (From £295)
Start your day with freshly squeezed orange juice and a cooked traditional Scottish breakfast to set you up on exploring your surroundings. Venture out into the rugged natural beauty of the Highlands and take a camera; you will be surprised how many shots come to life. Return to the hotel for a decadent afternoon cream tea in the comfort of the lounge and its log fire. Guests have often cited the afternoon cream tea as the highlight of many a highland stay.
The mid-week roam package starts from just £300 based on two adults sharing and includes:
Cooked breakfast
3-Course Meal for Two
Cream tea for two
Mindful Explorer (From £395)
To help you rest and recuperate for your next adventure, we've put together our own  Mindful Explorer  package, which starts from only £395 and includes:
Morning-boost breakfast
3-course meal for two
Choice of active living packs: Wild Swimming / Adventure Walking / Epic Biking
Family Voyagers
Spending quality time with your nearest and dearest is high on most people's priorities but with today's hectic lives finding that quality time is never easy.
That's why at Dunalastair Hotel Suites, we are proud to launch our brand-new Family Voyager package.
The aim is for everyone to enjoy family-friendly activities in Highland Perthshire, especially for families with younger children. Where the whole family can take part and enjoy quality time together.
The Family Voyager package in Highland Perthshire includes a two-night stay for all, which includes:
Package includes:
Cooked breakfast for all
2-Course meal for all 
Ultimate Dunalastair Weekend Experience
The Dunalastair weekend experience is all about indulgence because we know you have earned it. Relax and enjoy your luxury suite and toast your weekend with your complimentary bottle of champagne.
After relaxing, you can enjoy private dining brought to your suite or head down to Monadh dining room and start your sumptuous, seven-course tasting menu experience. Where you will be sampling some of the best seasonal produce from Perthshire. The menu combines traditional Scottish favourites, along with world-class cuisine.
You will no doubt sleep very well in the large beds with the best linen. Then, in the morning, you will be whisked away on your private Highland tour to see some of the best sights and attractions.
Package includes:
2 nights in Munro Suite
Daily cooked breakfast
Bottle of Champagne
7 Course tasting menu experience
Private Highland tour 
The Rest You Need, The Luxury You Deserve
The Dunalastair Hotel Suites in Kinloch Rannoch can deliver everything you want in a break. Whether a chance to relax and re-energise or an opportunity to spend time with family taking part in some outdoor activities.
Each suite has been individually designed with guests in mind, so you will find the best quality beds, linen, towels, and toiletries. Our state-of-the-art eConcierge service will be able to provide you with local information, travel information and hotel services. You can even order a meal to dine privately in your suite from the in-house Monadh Dining.
The chefs use locally sourced, seasonal ingredients to create a menu that reflects traditional Scottish cuisine, as well as favourites from around the world.
Beat away those winter blues by booking the holiday of a lifetime with the Dunalastair Hotel Suites in Highland Perthshire. Explore our website for our very latest special offers, or call our reservations team today on  +44 (0)1882 580444.