We may all be enjoying the height of summer right now, but with Christmas just five months away, it won't be long before some 14 million people set off on their annual festive getaway.
This year, as with every year, a number of those seasonal travellers will be making their way to the romantic, snow-covered surroundings of Highland Scotland to join us here at the multi-award winning Dunalastair Hotel Suites for our annual Christmas break package.
A holiday highlight that has many of our guests returning to us each December, our Christmas getaways combine the exceptional luxury you can expect from us right the year-round with the kind of five-star festive feel you simply won't find anywhere else.
Thinking of getting away from it all this year?
Here's just a few reasons to book your Christmas getaway at Dunalastair Hotel Suites sooner rather than later.
Did you know that Christmas wasn't a national holiday in Scotland until as recently as 1958? Traditionally, the occasion was known as

Yule

and was observed quietly with games and feasting until it was abolished altogether in 1640. It was only in 1712 that the parliamentary act abolishing Yule was repealed entirely, and it wasn't until after the Second World War that Scots began to celebrate Christmas in much the same way as the rest of the United Kingdom.
The Luxury You and Your Loved Ones Deserve
As our loyal guests would no doubt happily tell you, we do spare no expense when it comes to ensuring that every Christmas at our hotel is better than the last.
This year, we've excelled ourselves once again by offering a range of different Christmas and New Year breaks to help you celebrate the holiday however suits you best.
Still, whether you join us for a relaxing four-night stay from December 23rd to Boxing day or simply join us for the festivities on Christmas Eve and Christmas Day, there's one thing you can rely on:
The kind of impeccable luxury that makes ours one of the most popular five-star hotels in Scotland.
From the exceptional comfort of bespoke mattresses designed exclusively for our hotel to the exquisite five-course festive feast served on Christmas Day, every aspect of your stay with us has been tailor-made to ensure nothing less than perfection.
Increased Demand for Our Five-Star Festive Getaway
It's this commitment to quality that makes the festive period one of our busiest times of the year.
Year after year, guests enjoy spending Christmas Day with us so much that the first thing they do on Boxing Day morning visits us at reception to book a repeat stay for the following year.
So it's no surprise to us that, even with five months left to go we already have limited availability remaining. As such, we recommend booking now to avoid disappointment.
As such, we have limited availability – so it pays to book now to avoid disappointment.
A Truly Bespoke Luxury Christmas
Planning something extra special this year? Whether it's a relaxing, romantic getaway or a large family gathering, we can tailor your package to ensure you make festive memories that will last you a lifetime.
Call us in advance or talk to us when you arrive for room upgrades, exclusive use of our fine-dining restaurant, The Library, or for any of those little added luxuries that are guaranteed to turn a merry Christmas into a magnificent one.
Activities and Attractions for All Ages
A leisurely, 20-mile drive from Dunalastair Hotel Suites, the annual Pitlochry Christmas Festival features a host of children's activities such as storytelling sessions, games, arts, crafts, and more.
Meanwhile, adults may enjoy shopping for those last-minute luxury gifts at House of Bruar, enjoying the ultimate indulgence with The Highland Chocolatier, or simply taking a relaxing stroll in the majestic winter wonderland that is Highland Perthshire.
Looking for traditional Christmas services? Midnight mass and other services are often held a short distance from our hotel. The Rannoch and Tummel website usually has full details closer to the time.
Exceptional Comfort and Safety Throughout the Hotel
Earlier this summer, Scotland's First Minister Nicola Sturgeon announced that were no plans to quarantine visitors to the country from other parts of the UK, so if you're planning to make the long journey up north to see us this Christmas, there's no need to worry about your plans being scuppered by the need to quarantine.
Meanwhile, UK Prime Minister Borris Johnson offered more hopeful news when he declared that normality could resume by this Christmas.
Even if that proves a little over-optimistic, you'll be delighted to know that you're still in safe hands when you book your Christmas Stay with us.
Dunalastair Hotel Suites was recently awarded the AA COVID Confident Certificate in recognition of our efforts to keep our guests and employees safe without compromising the remarkable comfort you've come to expect from us.
Those efforts include enhancing our already meticulous daily housekeeping and cleaning regimes, introducing hand sanitising stations in each of our suites, minimising check-in and check-out times, and asking guests to reserve tables for breakfast to improve social distancing.
See our homepage for the full list of COVID-19 safety measures implemented at our hotel.
Outstanding Value on Luxury Christmas Break Packages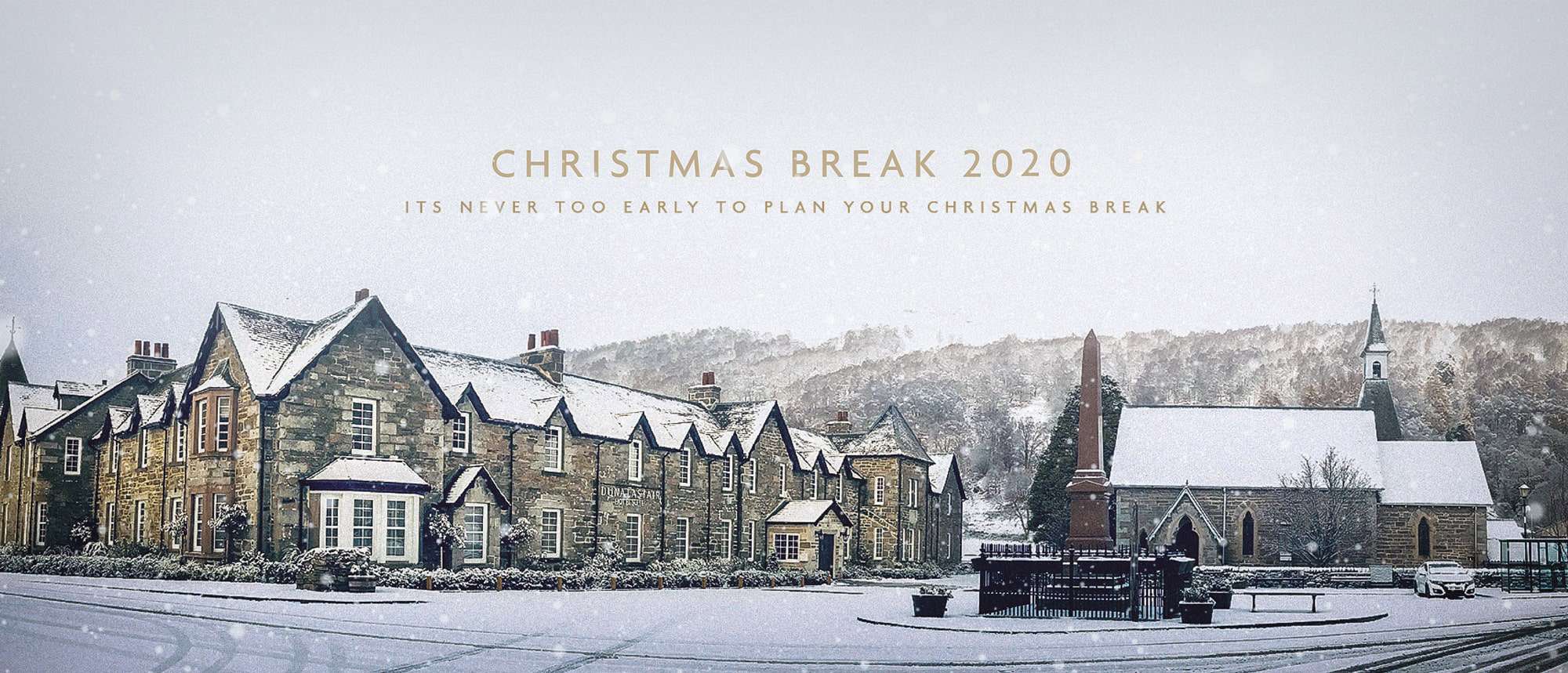 The heavy snowfall in Scotland means that when you stay with us, you're practically guaranteed a white Christmas, creating the perfect backdrop to our famous five-course festive dinners. 
The best part? When you book now, you get all of this, and more, at our lowest possible rates, including: 
2 night Premium Package: £699.00 per room
3 night-Enhanced Package: £795.00 per room
4 night- Bespoke Packages: £895.00 per room 
All prices are based on two adults sharing a deluxe suite. 
Book your 2020 Christmas break in Scotland online today, or to discuss the details of any of our packages, call us now on +44 (0)1882 580444.