It's often said that Scotland's weather is so wonderfully unpredictable that it's entirely possible to experience all four seasons in a single day.
Of course, the wild, dramatic landscapes and ever-changing scenery are all part of the country's charm, guaranteeing that no matter what time of year you visit, you're always in for a truly unforgettable experience.
Still, if you ask us, there's something altogether magical about Scotland in the autumn that makes it an essential destination for relaxing getaways and adventure breaks alike.
As the weather changes, the entire Highland landscape undergoes a remarkable transformation as the last of the summer fades away to make way for a magnificent winter.
All in all, this makes for an utterly enchanting season which captures the hearts of all who visit but don't just take our word for it.
Here, the team at the five-star Dunalastair Hotel Suites in Highland Perthshire share just five of many compelling reasons why you should consider heading to the Highlands over the next few months.
Though Scotland is a beautiful country all the year-round, the stunning autumn scenery makes the months of October, November and December a truly special time to visit.
When Does Autumn Start In Scotland?
Each year, autumn in Scotland starts in late September and continues until late December, with the start of winter usually coming just a few days before Christmas.
In 2019, the Met Office tells us that autumn officially started on September 23rd and will be with us until December 22nd.
How cold does it get in Scottish autumn and winter?
Legendary Scottish comedian Billy Connoly once famously said that there's no such thing as bad weather, only the wrong clothes.
With that in mind, we recommend bringing at least a good, warm jacket and a couple of comfy jumpers with you as you may find it a little chilly, but never so cold that it's going to spoil your Scottish break.
During the day, the average autumn temperatures in Scotland are around 7°C to 15°C (44°F – 59°F). The closer we get to Scottish winter, you can expect those temperatures to drop to around 0°C  to 10°C  (32°C  – 50°C).
So, when you visit our luxury hotel in Perthshire, be sure to come wrapped up and well-prepared to experience these five wonderfully unique things that you only find in the Scottish Highlands during the autumn season.
Scotland's autumn usually begins in late September, bringing with it temperatures between 7°C to 15°C (44°F – 59°F), though, with a cold wind chill and unpredictable weather, it pays to wrap up warm.
1: Spectacular Beauty like Nowhere Else
Did you know that Scotland is officially the most beautiful country in the world?
For those of us who live and work here, that's hardly a surprise.
Right the year-round, this remarkable country offers is full of majestic skies, magnificent mountains, and truly spectacular scenery which, though it is constantly changing, remains consistently captivating.
There's something about the way the beautiful Scottish Highlands look in the autumnal months that steal your breath in a way that other seasons don't.
Those dramatic landscapes come alive in a blaze of glorious autumnal colours. Deep, lustrous purples and glowing oranges sweep across the hills and valleys, leaves fall, covering the ground in a soft patchwork of alluring reds and gentle yellows, and all around, the golden hues of autumn reflect against the shimmering waters of gentle lochs.
Yes, Scotland is indeed renowned for its beauty, but as guests at our Kinloch Rannoch hotel will surely tell you, the country never looks better than it does in the autumn.
Stunning skies, magnificent mountains and glistening lochs all ensure Scotland keeps its reputation as the most beautiful country in the world. Never is this truer than in the magical months of autumn.
2: Thriving Wildlife
As much as it's known for its outstanding natural beauty, Scotland is just as famous for providing the ideal environment for a wide variety of wildlife to thrive.
From October through to December, many of the country's incredible native creatures can be seen among the glens, moors and woodlands of the Scottish Highlands.
Depending on where you choose to roam on your Scottish getaway, there's a good chance you could encounter any one of these impressive creatures.
Grey seals
Did you know that more than 35% of the world's grey seal population resides right here in Scotland?
After leaving our luxury hotel in Perthshire, head up to west coast islands of the Outer Hebrides, Shetland, and Orkney, where you're likely to see large numbers of pregnant female seals returning their breeding grounds to birth their beautiful, fur-covered pups.
Red Deer
There's nothing quite like the sights and sounds of Scotland's native red deer during rutting season.
Hear them galloping across the glens and watch as they clash antlers, duking it out for supremacy to determine who gets to mate with the females.
Barnacle Geese
Every autumn, over 25,000 of these stunning creatures fly away from the cruel climates of Spitsbergen in Norway and flock to the Hebrides islands to breed.
For ornithologists, it's truly a sight to behold.
Something fascinating happens to Scotland's native wildlife in the autumn. The majestic red deer go into rutting season to compete for mating rights, geese fly thousands of miles to rest on the shores of the Hebrides, and grey seals return to their breeding grounds, giving birth to litters of pups that are just too cute for words.
3: Delicious Seasonal Food
The shimmering shades of gold and resplendent wildlife are far from the only reason to book a holiday in Scotland this autumn.
Whether you spend your days actively exploring the surroundings or simply kicking back and making the most of your relaxing Scottish getaway, there'll always be some truly delicious local produce waiting for you in the evening.
Join us every day at Monadh Dining to sample Scotland's seasonal produce at its best and most flavoursome. Succulent lamb, plump game, and a rich assortment of ripe, tasty fruit are all readily available, as is our delectable selection of seafood.
It's no secret that native Scottish fish are at their freshest and most tasty during the colder months, and at Monadh Dining we're delighted to offer an array of mouthwatering dishes, including our popular seafood platter for two (£45.99) which includes  Seared Salmon, Monkfish Cheek Scampi, Fish Cake with mixed green salad, vegetables and hand-cut chips.
Prefer a plant-based diet?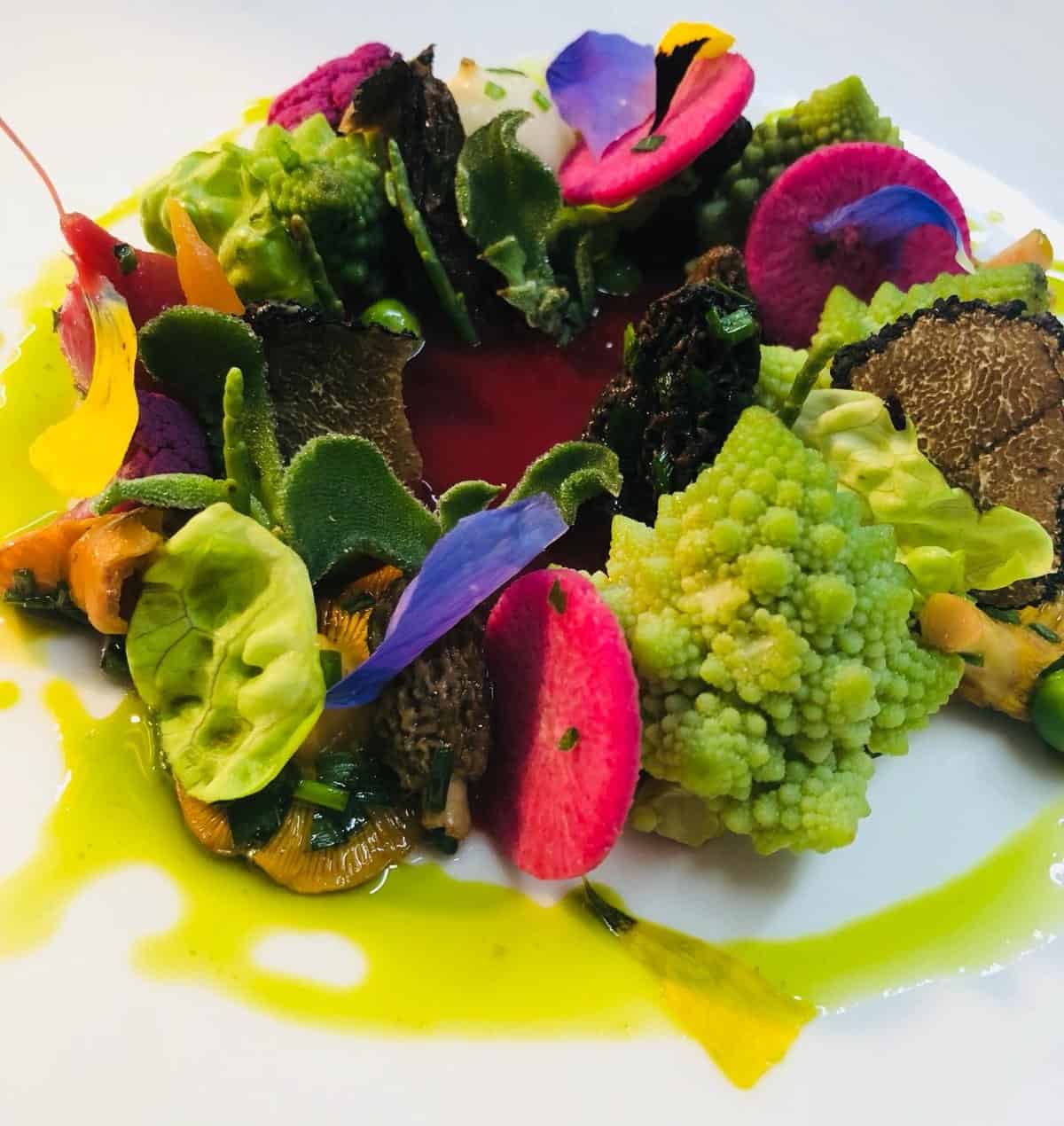 Our Flawlessly Vegan menu serves up an exciting selection of dishes that are freshly prepared by our talented chefs using the freshest seasonal vegetables.
Sample the finest in-season local produce from the autumn harvest, with delicious game and poultry, fresh seafood, and tantalising fruits and vegetables.
4: Peace and Tranquillity
Of course, one of the best things about visiting Scotland is that it presents the perfect opportunity to get away from it all.
The summer months are typically Scotland's busiest season for tourism, so, come October, you'll usually find that most of the crowds have gone back home and that the whole region is much, much quieter.
If you're planning to escape the hustle and bustle of day-to-day life, then there's no better time to visit Scotland, and no better place to stay than the haven of calm and serenity that is picturesque Kinloch Rannoch.
5: Celebrate Scotland's National Holiday
Did you know that November 30th is St Andrew's Day, the day we hear in Highland Scotland commemorate the life of Scotland's patron saint with Scots and Scottish descendants from around the world?
Of course, one of the best places to mark the occasion is in the town of St Andrews on the east coast of Fife, though it's such a big event that you're sure to find celebrations and events taking place throughout the country.
St Andrew's Day also heralds the start of advent and the beginning of Scotland's winter festival season, so be sure to stick around for the first of the Christmas markets, carol concerts, and unique Scottish traditions.
Experience Scotland at its most beautiful this autumn with the award-winning Dunalastair Hotel Suites. Book your stay online today to take advantage of our latest special offers, or to discuss your requirements, call us now on +44 (0)1882 580444.