At our boutique hotel in Kinloch Rannoch, we pride ourselves in offering 5-star comfort and luxury in a superb setting.
Ideally located for a weekend away or to attend the Highland Games, you'll find everything you need to make your stay a memorable experience the whole family can enjoy.
The History & Significance of the Highland Games
For decades, the Kinloch Rannoch Highland Games have captivated the imagination of all who attend this exciting event.
The location alone, Kinloch Rannoch is exceptionally picturesque and it showcases Scottish vibrant, exhilarating culture perfectly.
It's the ideal opportunity for locals and visitors to immerse themselves in the Scottish Highland's rich heritage.
There's music, traditional dance and naturally, Scottish hospitality at its best.
History & Significance of Highland Games
With its ancient roots in Scotland, the Highland Games have tested a warrior's strength during clan chief gatherings for decades. Today, the event is a celebration of Scottish pride and culture.
This not-to-missed event provides visitors to the Kinloch Rannoch Highland Games a captivating insight into Scottish heritage.
You'll experience exhibitions of athleticism, Scottish tradition and Highland camaraderie. 
Highland Games Highlights
Heavy events:
Testing skill and strength, heavy events include hammer throw, tossing the caber, weight over the bar, shot put and tug o'war
Piping:
Showcasing a piper's skills, these competitions include individual and band contests
Highland dancing:
Highland dancers of all ages take part in these events, competing in a range of traditional Highland dances
Hill race:
A test of endurance where competitors match their endurance by running up and down Craig Varr, the hill that overlooks Kinloch Rannoch
Events for children:
Children can take part and enjoy a variety of events which include tug o'war, races and Highland dancing
There are lots to see and do at the Kinloch Rannoch Highland Games with a range of other activities some of which are listed below.
Food and drink stalls:
There's a great selection of stalls selling food and drink which naturally includes local produce, Scottish whisky and craft beers
Craft stalls:
With a variety of stalls offering crafts and souvenirs which includes traditional Scottish objects and items like jewellery, whisky glasses and tartan
Entertainment for the children:
With bouncy castles, face painting and a variety of fun games, there's lots to keep the children entertained
All in all, the Kinloch Rannoch Highland Games provides a superb family day out and offers a great way to experience Scottish tradition, culture and heritage.
The next event takes place on August 19th, 2023.
Culture and Heritage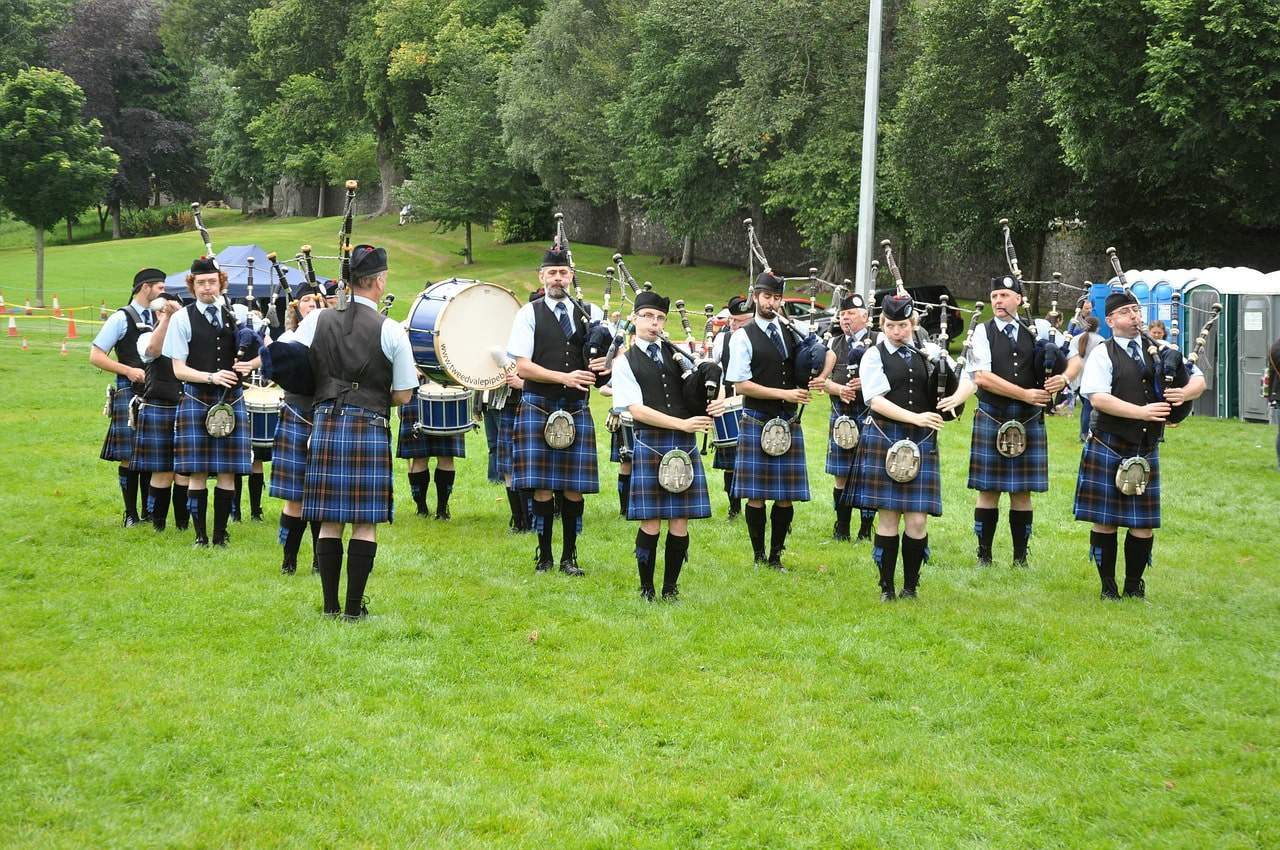 An exciting journey that lets visitors experience Scotland's culture and heritage which includes:
Immersing yourself in Scotland's customs and traditions from enjoying the mellow, haunting sounds of bagpipes to taking part in traditional Highland dances such as the ceilidh
Gaining insights into Scottish customs and tasting traditional Scottish fare while engaging with locals
Understanding Scotland's storied past by exploring historical castles and landmarks
Enjoying traditional Highland music, and storytelling while taking part in local music events that delve into Scotland's historical and artistic past
Come and enjoy Scotland's lively traditions and immerse yourself in the rich heritage the country has to offer.
You'll enjoy local arts, craft exhibitions that forge unforgettable experiences and deep connections with Scotland's legacy.
Culinary Delights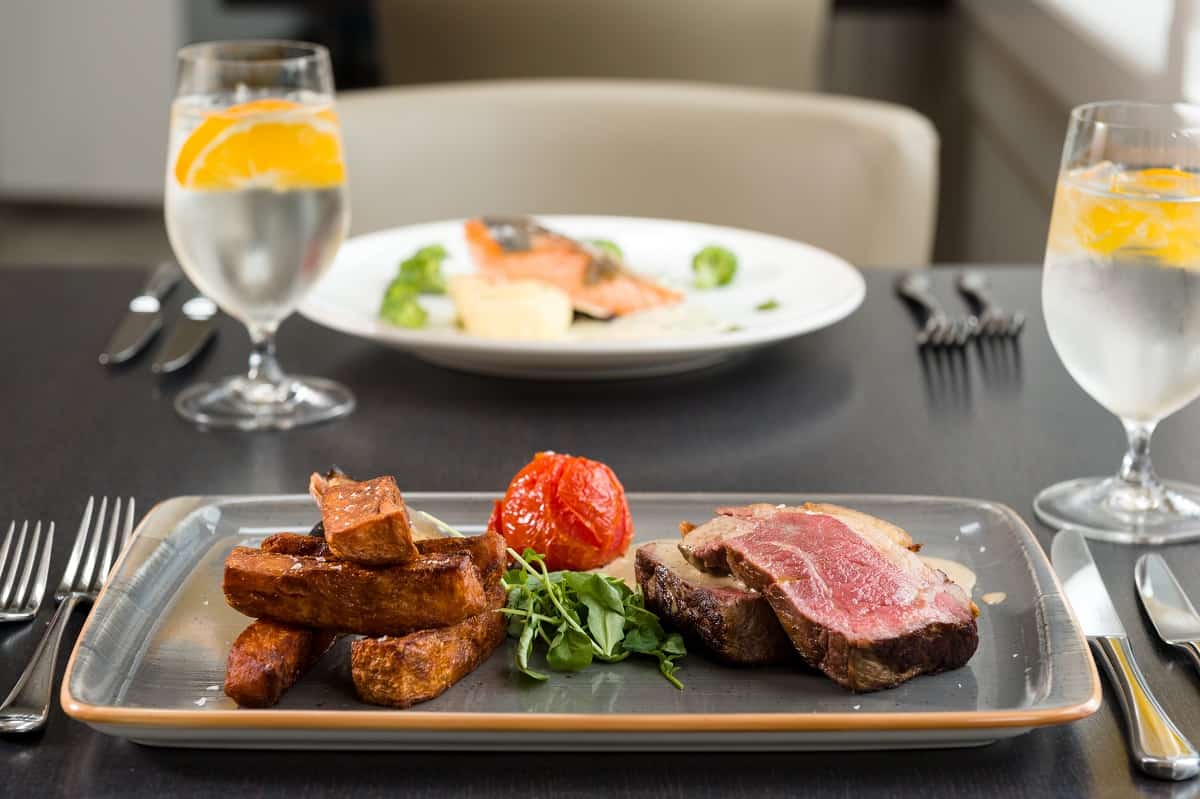 Attending the Highland Games provides the perfect opportunity to savour traditional Scottish fare.
There are authentic dishes to taste which include:
Haggis, a traditional dish served with neeps (turnips) and tatties (potatoes)
Freshly smoked salmon which is lovingly smoked over oak ships renders the fish a rich smoky flavour. Served with cream cheese capers and lemon
Crispy fish & chips which is a classic British delight that's served with fries and mushy peas
Savoury Scotch eggs are a savoury treat with hard-boiled eggs which are coated in sausage meat and then breadcrumbs before being deep-fried. Served up with mustard or ketchup
Hearty stews made of locally produced fare and served piping hot
Savoury meat pies which are a tasty filler ideal for between meals
Then, of course, there's a superb selection of dining options in Kinloch Rannoch from charming cafés, and quaint pubs to fine dining.
In short, there's something to suit everyone's taste when it comes to culinary delights in Kinloch Rannoch.
Tips on visiting the Kinloch Rannoch Highland Games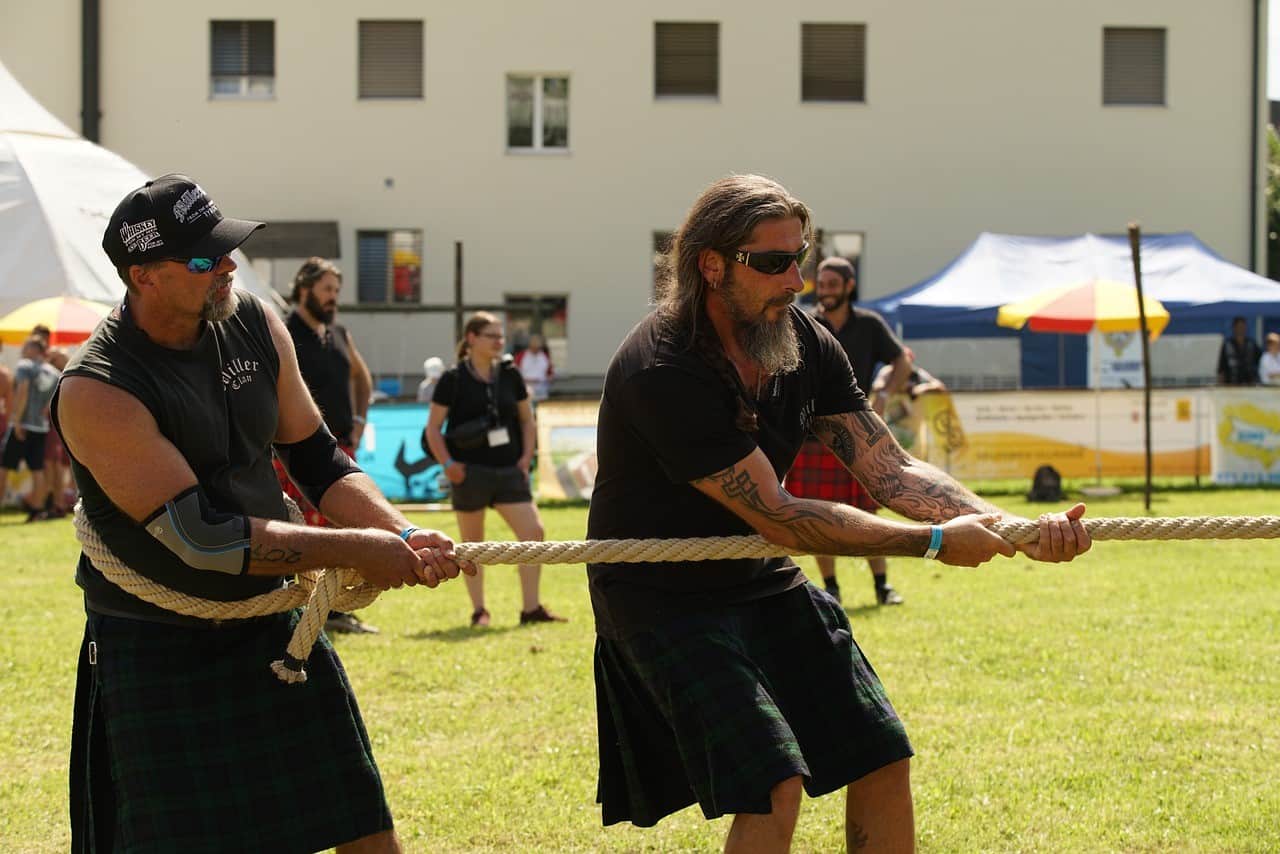 Scotland is an exceptionally beautiful country that boasts a rich cultural heritage. Planning a trip to the Highlands of Scotland is exciting so we've provided some tips to make the most of your stay.
Best time to visit and plan a trip
June through to August means booking your accommodation early so you can explore the region before the start of the games
What to bring and wear during your trip
It's always advisable to pack layers, comfy shoes, a camera and some cash for your local purchases.
The do's and don'ts during the event
You'll enjoy a warm welcome when you visit Kinloch Rannoch Highland Games. You'll engage with friendly locals which is a wonderful experience. Plus, you'll get to cheer competitors on while respecting the rules and supporting  local vendors.
Avoid carrying larger bags and always ask permission before you take any photos.
Quick Recap
With a deep-rooted history in tradition, the Kinloch Rannoch Highland games showcase the essence of Scotland's rich culture and heritage.
Visitors and locals alike immerse themselves in captivating traditions, music, crafts and arts while experiencing a great family day out.
You'll enjoy a strong sense of community at the games which enjoy such a great economic impact on the region.
Accommodation Advice
Are you wondering where to stay during your visit to the Scottish Highlands?
Look no further than our 5-star luxury Dunalastair Hotel in Kinloch Rannoch.
We cater to our guests every need when they plan a visit to the Highland Games or for weekend relaxing break on any occasion.
Book your stay online today or if you prefer, call our friendly, dedicated team now on +44 (0)1882 580444.