You've done the elaborate bouquets, you've done the expensive jewellery and you've even done the obligatory box of chocolates.
Now, as Valentine's Day  rapidly approaches, you need an entirely new way to show that special someone in your life just how much they mean to you.
Whether you're visiting for Valentine's Day or planning a romantic getaway at any other time of year, Scotland has plenty to offer loved-up couples of all ages
You could opt for a quiet night in with a rom-com or even a romantic meal for two at your local Italian, but why rehash the same old Valentine's Day ideas that everyone goes for when you could treat your loved one to a truly once-in-a-lifetime Valentine's experience, with a romantic getaway for two, surrounded by the natural beauty and ancient history of Scotland.
It's here where you'll find majestic castles like something straight out of a fairytale, all once home to  Kings and  Queens, Princes and Princesses, noblemen and fair ladies alike.
It's here where you'll hear tales of the great poets like Robert Burns, Walter Scott and James Macpherson and the enchanting odes they penned to the sweeping vistas, mystical forests and gentle lochs that so captivated them. Where those very same surroundings will  capture your heart every bit as much as your beloved.
So far, so ideal, but where exactly will you find all the ingredients you need for the perfect romantic break in Scotland?
Allow us to show you.
Here at our award-winning hotel in the Scottish Highlands , there's nothing we adore more than helping our guests experience the Valentine's getaway of their dreams.  Whether that's preparing our five-star honeymoon suite for those extra special occasions, tasking our talented chefs with cooking up the perfect candle-lit dinner in our restaurant, or offering our take on the most beautiful locations to visit during your stay.
Today, we're focusing on the latter with this guide to Scotland's 14 most romantic days out.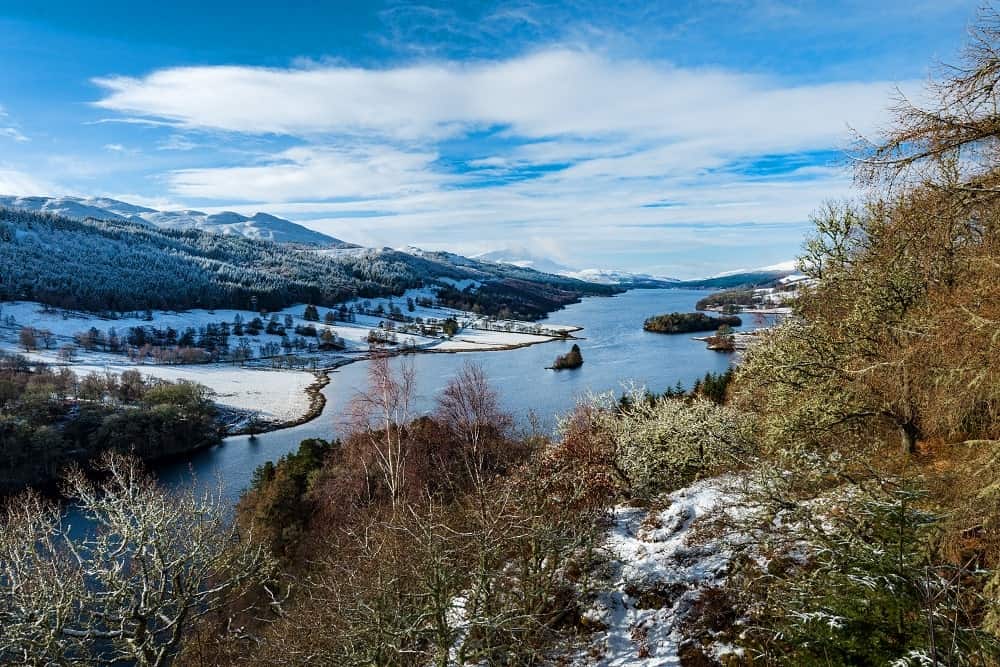 1: Queen's View
With its awe-inspiring views, it's no wonder Queen's View is often regarded as one of Scotland's most famous vantage points.
A short drive from our luxury hotel in Pitlochry, Queen's View is well regarded as one of Scotland's most famous vantage points. It's from this very vantage point that you'll take in panoramic views of such breathtaking beauty that you won't want to tear yourself away from them.
Nor could anybody blame you.
On a clear day, you can see all the way to the West Coast mountains near Glencoe, though no matter what the weather may be, this is the perfect spot to simply wrap your arms around the one you love and enjoy a perfect moment of serenity, surrounded by the very pinnacle of Scotland's famous natural beauty.
---
2: Galloway Forest Park
Visit the Dark Sky Park where you and your special someone can hold hands as you gaze up into the infinite stars above.
Is there anything more romantic than laying down with your loved one and gazing up at the stars on a clear night?
Just the two of you together, wrapped up warm in each other's arms,  surrounded by a certain sense of magic and wonder.
If that sounds like your ideal way to spend a romantic break in Scotland, then add Galloway Forest Park to your Valentine's Day itinerary.
The park is one of only a handful of designated Dark Sky Parks in the world, and the only one of its kind in the United Kingdom.
It's here where you can spend some quality time together among the twinkling stars, cast your eye over the Andromeda Galaxy, the Aurora Borealis
Or, if you're lucky, make a wish upon a shooting star.
---
3: S.S. Walter Scott at Loch Katrine
Ride a traditional working steamship as you explore the stunning surroundings of one of the country's best-kept areas of outstanding natural beauty.
One of Scotland's best-loved wordsmiths, Walter Scott captured the unrivalled beauty of Loch Katrine in splendid poetry which inspired generations of travellers to explore the area for themselves.
It's that same beauty and the 118-year-old steamship which bears Scott's name that continues to attract so many visitors to Loch Katrine year after year.
When planning your romantic break in Scotland, be sure to add this one to your itinerary and enjoy a gentle cruise on the historic S.S Walter Scott, surrounded by some of the region's most charming scenery.
The S.S Walter Scott cruise Costs
£15 for adults,
£5 for children aged 5-16 years,
Children under five go free.
---
4: Blair Castle: Where Fascinating History Meets Enchanted Romance
A historic castle that looks every bit as spectacular today as it did centuries ago, when many of Britain's most notable characters paid a visit.
A firm favourite with guests at our luxury hotel in Pitlochry, Blair Castle is one of those wonderful Scottish landmarks which exude romance.
Surrounded by gently glistening lochs, rolling hills and endearing glens, this historic castle dates all the way back to 1269.
Over the centuries, it has welcomed in a veritable Who's Who of royalty, with everyone from Queen Victoria to Bonnie Prince Charlie and Mary Queen of Scots spending time here.
The stories of these well-known guests alone make Blair Castle an ideal addition to any Valentine's getaway in Scotland,
If you're fortunate enough to visit when the inside of the castle is open to visitors, be sure to take the self-guided tour so that you and your beloved can really imagine what it must be like to live like King and Queen of your castle.
Tickets for a tour of the house and gardens at Blair Castle Cost:
£13 for adults,
£11.25 for seniors,
£8.30 for children.
A family ticket can be purchased for £24.50
---
5: Loch Lomond
As one of Scotland's most famous lochs, Loch Lomond may not seem at first like the ideal place to enjoy some quality alone time with your beloved.
But venture out into one of the loch's numerous uninhabited islands, and you'll find that you  are left with nothing but peace and tranquillity for company.
Prefer something a little less remote? Take the Loch Lomond cruise for a leisurely tour around this area of outstanding natural beauty.
---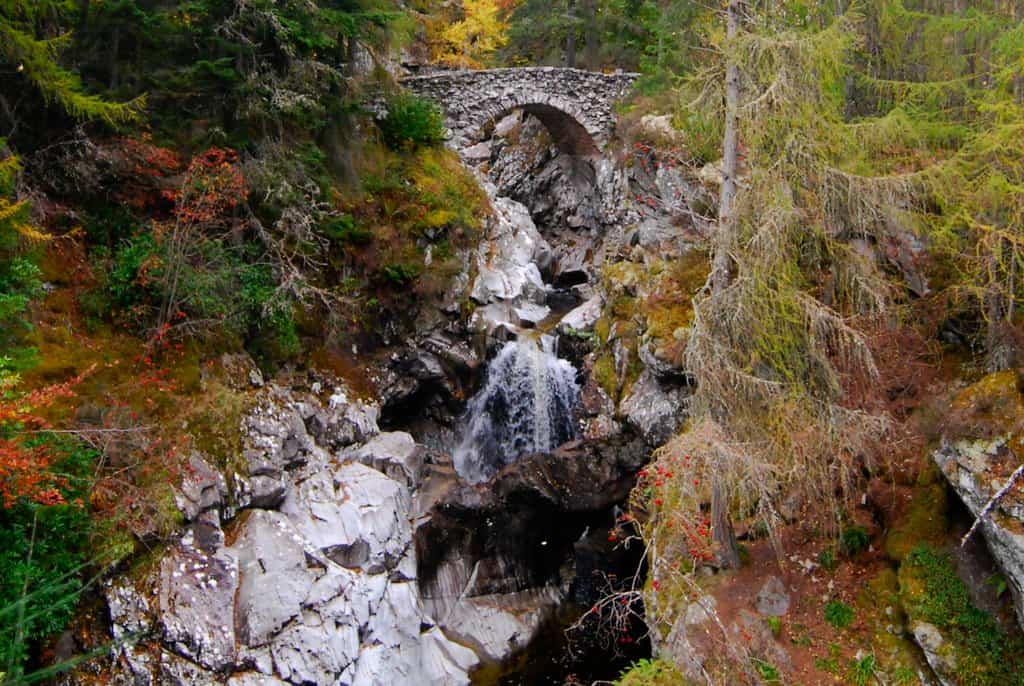 6: Falls of Bruar
Immortalised by Burns Himself
If you only visit one romantic Scottish location when staying with us at the Dunalastair Hotel Suites, the spectacular Falls of Bruar must certainly be it.
A little over half an hour away from our five-star Perthshire hotel, this truly magnificent waterfall was made famous by the Bard of Ayrshire himself, Robert Burns.
If you're feeling particularly creative, why not follow in Burns' footsteps and recite some of your poetry to your dearly beloved with the fall themselves providing a most picturesque backdrop.
---
7: Glenfinnan Viaduct: A Magical Journey aboard the Hogwarts Express
Hop aboard the very same steam engine that served as The Hogwarts Express in the Harry Potter movies for a truly spectacular journey through the Highlands.
If that special someone in your life has a place in the heart for all things Harry Potter, then a journey on the Jacobite Steam Train over Glenfinnan Viaduct is essential. The train more famously known as the Hogwarts Express from the blockbuster movie series, and it looks every bit as enchanting in real life as it does on the big screen.
Still, you don't have to be a fan of the Boy Wizard and his magical adventures to enjoy this one.
A ride along the West Highland Line reveals remarkable scenery at every turn and is perfect for those romantic days out when all you want to do is sit back and enjoy the view.
Fares for the Jacobite Steam Engine start from the following prices:
Adult Day Return – £37.75
Adult Single – £31.75
Child Day Return- £20.75
Child Single- £18.75
---
8: Caithness and the Northern Lights
Scotland's Best View of Aurora Borealis
Though it is sometimes possible to see The Northern Lights from the aforementioned Galloway Forest Park, you'll have a much better view if you travel further north to Caithness, where Aurora Borealis can typically be seen at its most best.
---
9: Lover's Stone, St. Kilda: The Stuff That Legends Are Made Of
A remote spot with an incredibly romantic backstory that is perfect for getting away from it all.
Ah, Lover's Stone.
Doesn't the very name itself conjure up images of romantic heroes and heroines?
Doesn't it just leave you yearning to hear some dashing tale of love and passion and bravery and courage like something out of a historical romance novel?
If so, you're unlikely to be disappointed.
Legend has it that back in the days of yore, young men would have to scale to the top of the stone and balance on one leg to prove themselves worthy of a woman's hand in marriage, hence the name.
Though we don't recommend you try such death-defying feats on your Valentine's getaway,
We recommend visiting St. Kilda for the remote tranquillity and, of course, to view Lover's Stone for yourself.

---
10: South Harris Beach
Perfect for Wedding Proposals
Planning to pop the question on your next visit to Scotland?
With its miles upon miles of golden sand, dramatic mountain landscapes and incredible views stretching far out into the horizon,
Few locations are better suited for those big proposals than South Harris Beach.
---
11: Cowal Peninsula: For the Couple Who Likes to Get Active
Action and adventure awaits for the couple who prefer to enjoy their time taking on a new challenge together.
Of course, not everybody's idea of the perfect romantic getaway involves sitting around and staring at the scenery.
For the more active couples among you, the Cowal Peninsula offers everything you could need to spend your Valentine's Day in the great outdoors.
Whether you take to the waters for an adrenaline-fuelled kayaking session, experience the thrill of quad biking or enjoy a relaxing horseback ride through the glens, there's something for everyone here, and that's before we even mention the miles of splendid beaches and abundance of native Scottish wildlife that await you.
---
12:  Big Sands Beach, Gairloch
Time to Relax and Unwind
You've seen the stars, you've explored ancient castles, and you've taken in some of the most spectacular scenery Scotland has to offer.
There's only one thing left to do on your romantic Valentine's getaway:
Watch the sun go down while holding hands with your special someone.
While Scotland offers a plethora of places to witness a magical sunset, few quite compare to the sights and delights you'll experience at Big Sands Beach in the Highlands.
Here with soft, golden sand beneath your feet, and grassy banks behind you, you'll take in the sun setting slowly over the Hebrides, creating a memory that will stay with you for a lifetime.
---
13: Gretna Green: One of the Most Famous Wedding Locations in the World
A popular wedding resort with a wonderfully romantic history.
Could we compile a list of Scotland's most romantic locations without mentioning Gretna Green?
As the story goes, when 18th century English lords passed laws which meant that people had to be 21 years old or over to get married,
Young lovers would run away together and cross the border into Scotland, where such laws didn't apply.
Often reaching the village of Gretna Green first, they would be married there and then, usually by the local blacksmith.
To this day, Gretna Green holds special appeal as one of Scotland's most romantic places, synonymous as it is with marriage and young love.
Whether you're planning on tying the knot or simply looking for a romantic day trip, this is the place to come.
---
14: Kinloch Rannoch
A Haven of Tranquillity in the Heart of the Highlands
Last but by no means least, we come to the picturesque village of Kinloch Rannoch.
Nestled at the foot of the mighty Schiehallion Mountain,the village is a true haven of peace and tranquillity in the heart of Highland Perthshire with ample opportunities to enjoy a gentle stroll along banks of Loch Rannoch itself,
To go hiking or biking through the lush forests and rolling hills,
or simply to relax and take it easy with a traditional afternoon tea at Monadh Dining, the in-house restaurant here at the award-winning Dunalastair Hotel Suites.
Join us this Valentine's Day, and you'll experience the very pinnacle of five-star romance, with a luxury, boutique hotel suite, first-class service from your dedicated Guest Ambassador, and all those added extras that make your sure your romantic getaway is one you and your beloved will cherish forever.
For a limited time only,

You can even take advantage of our Romantic Break special offer, including a one-night stay in your own premium luxury suite,
A welcome drink on arrival,
Complimentary handmade chocolates,
A beautiful bouquet of flowers,
Three-course dinner at Monadh Dining, all for only £395 per room.

Book your stay online today, or to find out more about romantic breaks at Dunalastair Hotel Suites call us now on +44 (0)1882 580444.