As the first of the snow begins to fall, and the halls are decked with boughs of holly, there's no escaping the fact that the festive season is well and truly upon us once again.
This year, your guest ambassadors at the award-winning Dunalastair Hotel Suites in Highland Perthshire have begun our countdown to the most magical time of year with our unique take on the 12 Days of Christmas.
So, while we can't guarantee you any leaping lords or pear-tree-dwelling partridges this holiday season, we can offer you 12 compelling reasons why Highland Scotland is a perfect place to celebrate a very merry Christmas indeed.
From beautiful, snow-covered scenery to magical markets and wonderfully warming festive food, here are 12 reasons why Highland Scotland is the ideal destination for your 2019 Christmas getaway.
1: A Great Chance of a White Christmas
Last Christmas, guests at our Kinloch Rannoch hotel enjoyed a traditional white Christmas with the hotel, and it's beautiful surroundings covered in a gentle blanket of snow.
While this certainly made for an enchanting view, it wasn't exactly surprising. After all, some part of Scotland has enjoyed snowfall on Christmas Day 37 times since 1960, with the romantic Scottish Highlands attracting more snow than anywhere else.
The areas surrounding the majestic Cairngorm Mountains, in particular, tend to receive as much as 100 days of snowfall, while the country as a whole also holds the record for the whitest Christmas in UK history when 47cm of snow fell on Christmas Day of 1981.
There's more snow in Scotland than anywhere else in the UK, and if last year is anything to go by, we're in for a stunning white Christmas here at Dunalastair Hotel Suites.
2: Visit Reindeer in their Natural Habitat
Based just a leisurely 75-minute drive (around 55 miles) from Dunalastair Hotel Suites, Cairngorm Reindeer Centre boasts the unique distinction of being home to the only free-ranging herd of reindeer in Great Britain.
Sadly, despite our best efforts, we've yet to spot one with a shiny red nose, but if you're bringing your young ones with you on your Scottish getaway, this can be a wonderful opportunity to introduce them to Donner, Blitzen, Cupid and the rest of Santa's ever-faithful crew.
If you aren't bringing your vehicle with you on your highland holiday, your guest ambassadors at Dunalastair Hotel Suites will be happy to help you arrange your trip to this popular visitor attraction.
3: Magical Christmas Markets
With beautiful tree lights twinkling, the alluring aromas of your favourite festive foods and drifting gently through the air and a whole host of unique gifts and gourmet goodies to buy, few winter traditions are as enjoyable or as magical as the Christmas markets.
No matter which part of Scotland you visit this winter, you'll never be too far away from this classic staple of the holiday season, though here in Highland Perthshire, we're fortunate to be surrounded by some of the very best Christmas markets in the land.
An easy hour or so drive (around 50 miles) from our hotel in Kinloch Rannoch, Perth Christmas Market on Perth High Street is undoubtedly the most famous festive fair around, with a host of authentic Bavarian taverns, arts, crafts, and even live music.
A little closer to home, Blair Atholl Christmas Market is just a short half-hour drive away (17 miles) from our luxury Perthshire hotel and boasts a wealth of stalls where you'll find one-of-a-kind gifts handmade by local artisans.
Christmas markets have become a highlight of the holidays in recent years, and here in Highland Scotland, we're lucky enough to be located close to some of the very best festive fairs around.
4: Pitlochry Christmas Festival
Set to take place on Saturday, December 7th, 2019, the annual Pitlochry Christmas Market is located just a 40-minute, 24-mile drive from our hotel in Pitlochry.
Again, your hotel concierge service will be happy to arrange your visit to this renowned Highlight of Perthshire's winter calendar.
Along with traditional stalls, arts, crafts and traditional Highland foods, there'll also be live entertainment from an authentic Scottish pipe band, children's activities and even a Mini Highland Games.
5: Fantastic Christmas Shopping
Of course, the Christmas markets aren't the only places to shop this Christmas. Whether you're on the lookout for the perfect gift or simply indulging in a little retail therapy, you don't have to go far to find the ultimate luxury shopping experience.
A 25-minute drive from our hotel, House of Bruar is the leading name in the Scottish style, offering a wide range of premium quality country clothing, authentic Scottish wear, and an exclusive array of exceptional household goods.
Meanwhile, art lovers can't afford to miss taking the short walk across the village of Kinloch Rannoch to The Shed Gallery, where you'll find a stunning collection of Highland landscape photographs from photographer Ian Biggs.
If that's not enough, the 40-minute drive from Dunalastair Hotel Suites to Pitlochry is well-worth the trip to visit some of the town's many high-end stores, including luxury jewellers Heathergems and sweet treats from Nancy's Macaroons.
A 40-minute drive from our luxury hotel in Perthshire you'll find Pitlochry town centre, where an abundance of luxury shopping opportunities awaits.
6:  Husky Sledge Rides in the Highlands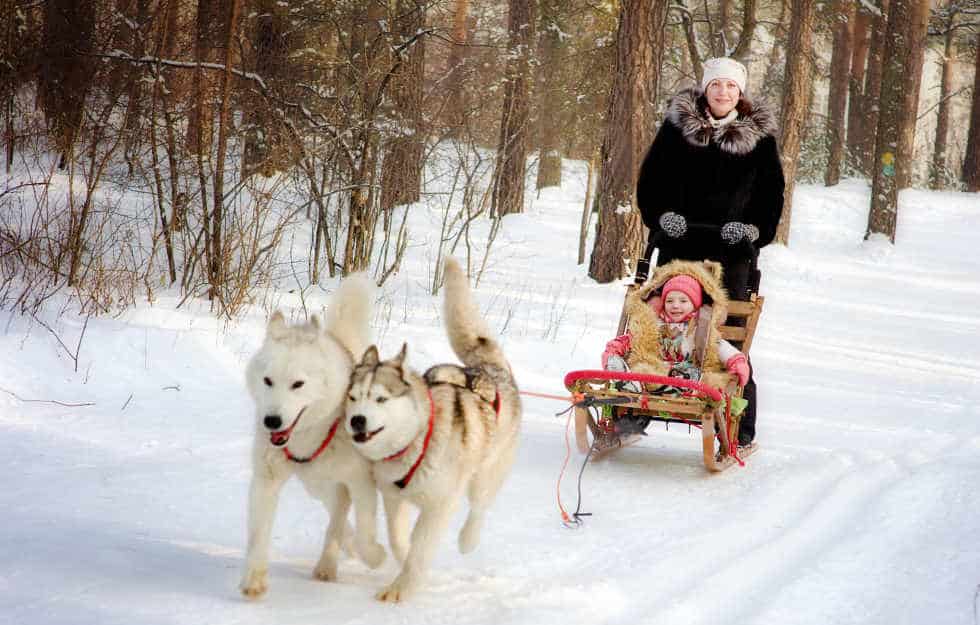 Is there any more perfect a way to enjoy Scotland's magnificent winter landscapes than a thrilling husky sledge ride.
Based 15 miles south of Aberdeen on the outskirts of Stonehaven, Husky Haven offers a wonderful opportunity to meet the ever-adorable husky dogs, experience the adrenaline of a sledge ride by twilight, and even spend the day learning everything there is to know about the beautiful Siberian huskies.
Prices start from just £45 and can be arranged by contacting your Dunalastair Hotel Suites concierge service.
7: Outstanding Snowsports
Some of the UK's best outdoor skiing and snowboarding centres can be found right here in Highland Scotland.
There are five excellent resorts located throughout the country, all offering equipment hire, lessons, and slopes suitable for everyone from novices to world-class pros. Our favourite, of course, is the Cairngorm Ski Resort, based a clear 90-minute drive from our hotel.
From sledding to snowboarding, Scotland is famous for its outdoor winter activities which combine the majestic beauty of the Highland landscape with the unique thrill of adventure.
8: Delicious, Traditional Cuisine at Monadh Dining
Whether it's afternoon tea or something a little more warming, there's a wonderful array of dishes waiting for you at Monadh Dining.
As part of our Christmas break package, we offer a five-course festive feast, but in the run-up to Christmas, there's a lot to enjoy too, including our satisfying Sunday lunches.
9: Spectacular Winter Walks
If all that delicious food left you feeling a bit full and in need of a brisk walk, there's plenty of opportunities to do that.
Visit Scotland has its suggestions for the best winter walks in the land, but we're big fans of the Loch Rannoch Forest Walk which starts just a few minutes away from our hotel, taking in the fascinating remains of the ancient Caledonia forest and offering magnificent views across Loch Rannoch itself.
10: Peace and Relaxation
Sometimes, the perfect gift you can enjoy at Christmas is a little peace, a break from the hustle and bustle of the holiday.
With its tranquil lochs and air of serenity, our home village of Kinloch Rannoch is the perfect place to get away from it all this season while still enjoying some festive good cheer.
Prefer to take it easy this season? Escape the Christmas chaos and unwind in five-star style with a luxury getaway at the award-winning Dunalastair Hotel Suites.
11: An Authentic Highland Hogmanay
There's not a country on Earth which celebrates New Year with the same sense of tradition, passion and pageantry that we do here in Scotland. Here at the award-winning Dunalastair Hotel Suites in Perthshire, we bring an extra touch of five-star luxury to the authentic Highland Hogmanay experience.
Explore all the details of our exclusive Hogmanay Break package to see just what's in store when you stay with us this New Year's Eve.
12: The Pinnacle of Five Star Luxury
Experience the ultimate luxury getaway this Christmas with a five-star stay at Dunalastair Hotel Suites.
Our Christmas break package includes a two-night stay from December 24th – December 26th with breakfast, a traditional four-course Christmas lunch, complete with drinks and all the trimmings and a Christmas Eve afternoon tea, all from only £679.00 per room, based on two adults sharing a Deluxe Suite.

Enjoy the perfect festive getaway this December with the award-winning Dunalastair Hotel Suites. Talk to your guest ambassadors today about how we can help you make this year's your most magical Christmas yet by calling +44 (0)1882 580444 or book your stay online today.