Scotland has a lot of 'best-kept secrets'. This includes its dramatic, rugged coastline and glorious Scottish beaches. Miles of fine sand and splendid dunes attract a multitude of sea birds throughout the year. There are Highland beaches you must visit when you spend time on holiday in Scotland which includes the miles of white sands near St Andrews. It all makes for wonderful family holidays in Scotland you'll never forget!
A stroll along a pristine beach refreshes the mind and body, especially when you are surrounded by unspoilt coastal scenery. Few beaches compare to those found around the Scottish coastline. You'll spot some extraordinary seabirds as you stroll along and may even be lucky enough to spot dolphins playing offshore!
Take the time to discover some of Scotland's best beaches when you're on holiday in this lovely region! We've listed a few for you here.
Aberdeen Beach
Aberdeen beach with its art-deco inspired esplanade is a must-visit when you holiday in Scotland. The beach stretches along the coast for 3km and boasts a variety of water sport activities. It's also one of the best beaches in Scotland to spot bottlenose dolphins frolicking offshore.
A little way along the esplanade, you'll discover an area locally known as 'Fittie' and a delightful fishing 19th-century fishing village. Fresh seafood is a local favourite which includes delicacies on the menu at the Moon Fish Café  or  Silver Darling  in Aberdeen's city centre.
Aberdeen Beach fact:
Aberdeen Beach won the Scotland Beach Award  in 2021 being one of the cleanest, well-managed and sustainable beaches.
How to Reach Aberdeen Beach:
You can get to Aberdeen by road, rail, sea or air. When you arrive, Aberdeenshire is easily accessible either by car, taxi, or public transport. It's a great gateway to the Highlands and only a 2½ drive from Glasgow and Edinburgh. 
Coldingham Bay, Eyemouth
Just an hour's drive from Edinburgh, Coldingham Bay  sits quietly on the Berwickshire coast. This pristine beach is a popular destination with dog walkers and surfers. You'll discover rock pools filled with hermit crabs as you stroll along the beach.
There's a great walk from Coldingham to St Abbs  that takes you along the Creel Path. The vistas are superb and the seas are crystal clear, not forgetting the glorious seabirds and wildlife you'll encounter along the way.
Beach fact:
Coldingham Priory, the former home of Benedictine monks is located in Coldingham. Its records date back as far as 640 AD.
In 2021, Coldingham Bay won a  Scotland Beach Award  thanks to being a clean, well-managed and sustainable coastal location.
How to Reach Coldingham Bay:
Coldingham Bay is just 13 miles north of Berwick Upon Tweed and is located close to the coastal town of Coldingham. 
West Sands Beach, St Andrews
The opening scenes of Chariots of Fire (1981) were filmed on West Sands Beach  in St Andrews. But this beautiful stretch of white sand is also known for its world-renowned golf course! A stroll along miles of fine white sands refreshes mind and body with the dunes to one side and seas to the other.
West Sands Beach fact:
St Andrews  is home to the third oldest university in the English-speaking world. The university was founded between 1410 and 1413!
West Sands Beach won a  Scotland Beach Award  in 2021 thanks to it being so well managed and clean. Making it one of the best sustainable beach locations.
How to Reach West Sands Beach:
West Sands Beach is around 15 minutes on foot from the town centre. You'll find plenty of parking, and there's lots of tourist information available. The beach is zoned in places so that families and yachts are kept safely apart. 
Nairn Beach, Nairn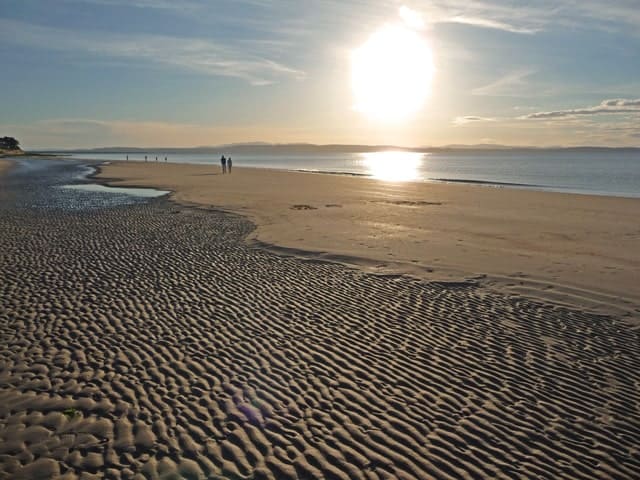 Located just 16 miles east of Inverness, Nairn Beach is a slice of Scottish paradise with its turquoise waters and white sand beach. The coastal scenery is just breath-taking! It has to be one of Scotland's most magical white sand beaches.
Children can let off steam in the playpark while adults can improve their swing at one of the two championship golf courses, namely The Nairn Golf Club  and  Nairn Dunbar Golf Club.
No trip to Nairn Beach is complete without ordering fish and chips or ice cream from one of the many food stalls at the location.
Nairn Beach fact:
Nairn Beach is great for spotting wildlife and seabirds. If you are really lucky, you may even spot Moray Firth Dolphins offshore!
How to Reach Nairn Beach:
Nairn Beach is around 16 miles east of Inverness. 
St Ninian's Isle, Shetland
The northern Shetland archipelago has superb beaches one of which can be found on St Ninian's Isle. You get to stroll along a 6 km circular walk across one of the finest sand tombolos you'll ever come across!
St Ninian's Isle Beach Fact:
They found a Pictish treasure hoard beside an ancient chapel site on St Ninian's Isle!
How to Reach St Ninian's Isle:
St. Ninian's Isle is located in the South Mainland. It's signposted from the A970. There is a limited bus service but we recommend you go by car. 
Places to Stay
Staying in a 5-star hotel makes wonderful memories when you holiday in Scotland. You get to recharge your batteries while experiencing and enjoying all the Highlands has to offer. The Dunalastair Hotel Suites is a great choice when you tour the area. But choosing our Luxury Hotel in Scotland as your base means you get to explore all the beautiful beaches and natural landscapes both nearby and further afield. Why not opt for an epic 7 day holiday in Scotland so you can take in all the sights and wonders of the Highland coastline?
Call today and book your holiday stay at our luxury hotel in Pitlochry. Or you can call Dunalastair Hotel Suites at +44(0)1882 580444 if more convenient.
We look forward to making your stay in the Highlands a wonderful experience from the moment you step through our entrance!