2020 has undoubtedly been the year of the staycation, with countless visitors discovering why the majesty of the Scottish Highlands makes it one of the best places in Britain for a short break.
While Scotland has been an incredible place to visit from when spring has sprung through to the first moment of autumn's fall, there's truly no better time to head to the highlands than at Christmas time.
Looking for the perfect destination to get to truly get away from it all this year? Here is why Scotland is the perfect destination for your winter getaway…
Christmas breaks in Scotland at Dunalastair Hotel Suites start from just £699 for a two-night stay, but this great value package is far from the only reason to head north for the winter. The breathtaking beauty, warm hospitality, and of course, our famous five-course festive feast are guaranteed to make it a holiday to remember.
The Scottish Highlands…. Where Dreams of a White Christmas Come True
Enchanted lochs glisten in the gentle glow of winter sun and frost-dusted firs line the open roads that weave lazily along the foothills of snow-capped mountains. Nowhere is quite as beautiful at Christmas than the Scottish Highlands.
Every year, the Highlands receive more snow than any other part of Highland Scotland – sometimes as much as 100 days of snowfall per year compared to just 15 – 20 in the lowlands. So, whether you're dreaming of a white Christmas or always wanted to go walking in a winter wonderland, this is the place to make those dreams come true.
Where You Can Celebrate the Season Safely
Whether you're out for a Christmas morning stroll or watching the sun go down by the loch, you rarely have to worry about social distancing while out and about in the Highlands. The area is so vast, meaning you can enjoy breathing in that crisp Highland air without a care in the world.
Even once you step inside, Dunalastair Hotel Suites have done all we can to make our hotel a one of the safest places to spend Christmas:
Faster check-in times reduced from our usual 90 seconds to 60 seconds. An express check out facility; these changes are implemented in order to reduce any unnecessary gatherings and limit contact
Hand sanitisers available in our suites and throughout the hotel
You'll be asked to reserve a table for breakfast, just as you might do for an evening meal. This is designed to ensure safe social distancing
You'll now be served by our waiting staff at our breakfast buffet stations rather than the self-serving facility we previously offered
Our restaurant Monadh Dining is now open until 10 pm in line with the latest Covid-19 measures announced by First Minister Nicola Sturgeon (correct as of 6th November)
Our measures have earned us the AA Covid Confident Award, although we're not ones to rest on our laurels.  We continue to monitor the situation and adjust to keep the hotel the safest place for our guests.
… Where Five Star Luxury Awaits on Your Festive Getaway
Christmas breaks in Scotland at Dunalastair Hotel Suites have become so popular that we often find guests returning year on year .
What makes our seasonal staycations so beloved? We go the extra mile to make it the most magical time of year for our guests.
Christmas is all about spending time with your family and friends in an unforgettable setting while enjoying a memorable culinary experience.
On Christmas Day you may start the day with a light breakfast followed by a delectable five-course Christmas lunch – traditional Christmas turkey with all of the trimmings. Complimentary drinks will keep you topped up throughout the day, so that your every need is catered for.
Don't worry, we also cater to a variety of dietary and lifestyle requirements, including vegetarian, vegan, halal and gluten-free. Do speak to one of our friendly guest ambassadors who will do their upmost to fulfil your requirements.
And that's not all we have in store. Kick back into one of our bespoke beds with luxury bed linen, designed exclusively for Dunalastair Hotel Suites. You won't find comfort like that anywhere else.
Looking to make the most of your time in the Highlands? From dog-sledding and wildlife safaris to curling and historic castles, you'll find it all on our doorstep. For more details, see our guide to the essential attractions and activities to explore on your winter break in Scotland.
A Warm Welcome Guaranteed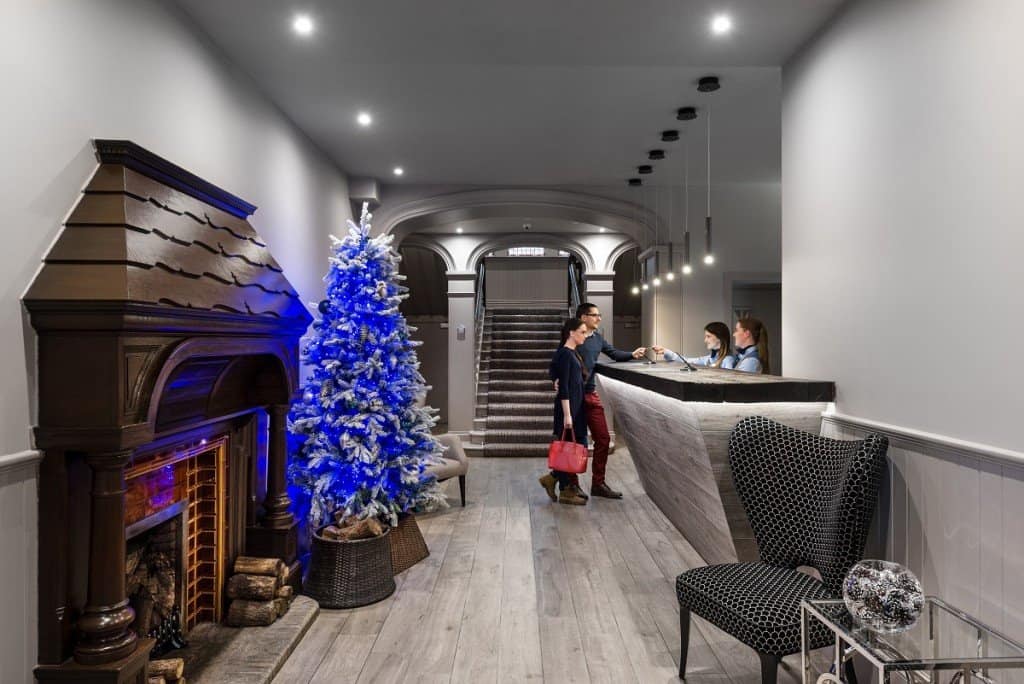 Scotland is famous for its warm, friendly hospitality, and nowhere is this more evident than in the first-class service we strive to provide for all of our guests.
From the moment you arrive, our guest ambassadors will be there to greet you, and ensure you have everything you need to make this year a safe, merry, and magical Christmas.
The festive fun and five-star luxury doesn't end once Christmas is over. Why not make it a year to remember by extending your stay with our special Highland Hogmanay celebration package?
Celebrate Your Way With a Range of Christmas Breaks in Scotland at Dunalastair Hotel Suites 
| | | |
| --- | --- | --- |
| Packages | Option 1 | Option 2 |
| 2 Night- Premium | 24th & 25th | 25th & 26th |
| 3 Night- Enhanced | 24th 25th & 26th | – |
| 4 Night-Bespoke | 23rd,24th, 25th & 26th | 24th, 25th, 26th & 27th |
Christmas break deals at Dunalastair Hotel Suites are available for a limited time only at the following rates. All prices are based on two adults sharing a Deluxe Suite. 
2 night- Premium Packages – £699.00 per room
3 night- Enhanced Packages – £795.00 per room
4 night- Bespoke Packages – £895.00 per room
For more details, see our complete Christmas 2020 itinerary here.
Book your Christmas break in Scotland at Dunalastair Hotel Suites online today or call now on +44 (0)1882 580444.