The Scottish Highlands has so much to offer when you visit the region during the Festive Season. Head to the Cairngorms National Park and discover the mountains, forest paths, rivers, and lochs in a glorious winter setting.
Explore the many friendly villages, visit all the wildlife hotspots, and rest up at one of the distilleries to enjoy a dram! All in all, a trip to the Highlands makes for the perfect Christmas break 2022!
There's never a shortage of things to do and see when you explore the majestic Cairngorms National Park! From sedate, relaxing walks through valleys, alongside rivers to visiting majestic, ancient fortresses and castles, to savouring culinary delights and whisky tastings, there's something for everyone in the Cairngorms when you plan a festive getaway.
1. Enjoy a dram (or two) at a traditional Highland distillery
There's nothing more warming than a dram enjoyed in one of our traditional distilleries. A visit to the Royal Lochnagar Distillery is well worth adding to your itinerary. You'll find the distillery on the park's eastern border, just off the SnowRoads,
Or maybe a trip to the park's southern border to Dalwhinnie Distillery to enjoy a free winter guided tour paired with whisky tastings and chocolate!
2. Take Part in the Santa Run/Bike Ride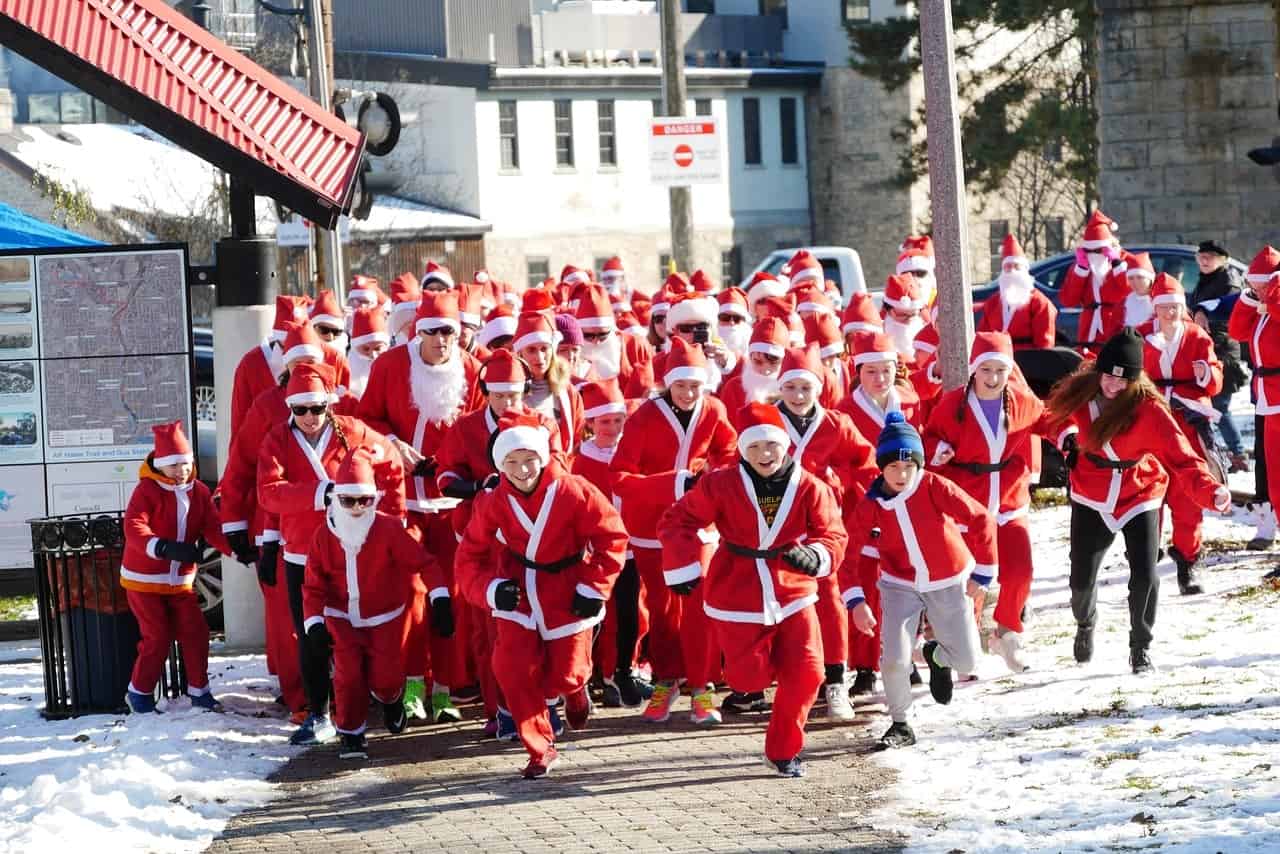 Why not dress up as Santa to take part in a fun, festive jog? The event takes place at midday in Aviemore on Saturday, December 14th. The event is in aid of Disability Snowsport UK.
If cycling is more your thing, dress up as Santa with Mike's Bikes which organises the event at their shop on December 10th. It starts at 6.30pm and a great fun time is had by all.
3. Enjoy the wild side with Santa
Ever wanted to feed Santa's reindeer? It's a spectacular experience that takes place in the Highland Wildlife Park on specific weekends in the run-up to Christmas. Naturally, Santa is there to tell you all about his magical reindeer!
Check out their website to find out more about this winter wonderland experience that's included in your entrance ticket fee. 
4. Enjoy traditional Ceilidh dancing
Locals and tourists alike enjoy an evening of traditional Scottish dancing at several venues in Strath. Join in the fun at Boat of Garten Hall and Kincraig Hall on December 31st (Hogmanay). Or at the Duke of Gordon Kingussie every Sunday and the British Legion which holds monthly music afternoons. It's a great way to enjoy New Year in Scotland.
5. Discover Highland Christmas Fairs
Highland Christmas fairs and markets offer fantastic opportunities to discover unique, locally crafted Christmas presents. Why not head to Grantown, Boat of Garten, Carrbridge, Tomatin and Aviemore to find those Highland festive treasures. 
6. Visit the Reindeer Centre
The paddock at the Reindeer Centre is decked out in the Christmas spirit at weekends on the run-up to the 25th. Come and enjoy the festive fun with the kids. There's lots to see and do. Meet Santa and Rudolph's pals up the mountain on a Cairngorm hill trip which leaves at 11am. It's one of the best places to see Santa and his reindeer.
7. Journey on the Mince Pie Train Special
Take a ride on the Mince Pie Train Special and enjoy the splendid winter wonderland views along the way. Mulled wine and mince pies as well as soft drinks for the kids are on the menu! The trains run from December 27th right through to January 2nd and leave Aviemore Station at 11am or 2pm. Book early so you don't miss out on this special festive treat!
8. Experience our Cairngorm Reindeer at Christmas time
This enchanting experience is not to be missed. Kids marvel at the 'Elf House' with its miniature toys and beds. They'll enjoy taking part in the festive quizzes and other festive activities. It includes meeting Santa every weekend during December on the run-up to Christmas day!
Take a trip up Cairngorm Mountain to meet the reindeer. The trips set off every day at 11am on a first come first served basis, so make sure you get there early!
The five-minute drive provides a great way to start a 20-minute guided adventure to meet the herd and hand-feed the reindeer. Full of character and mischief, these friendly reindeer love the attention you give them!
The whole trip lasts around an hour and a half so come prepared and dress warmly. Enjoy a mug of steaming hot chocolate and marshmallows in the café after your reindeer adventure. 
Accommodation & Travel in The Cairngorms
Getting to Cairngorm National Park by road, train, plane or on foot is easy. Just hop on a train at Inverness, Edinburg, Glasgow or London where the Caledonian Sleeper leaves from Euston Station.
By road, the A9 goes from Edinburgh to Inverness through Perth, Kincraig, Aviemore, and Tomatin. If you're leaving from Glasgow, the M80 towards Stirling takes you to the A9 to Perth and onto the National Park.
If you're coming from further afield, the airports at Inverness, Edinburgh, Glasgow and Aberdeen are the perfect departure points for a fantastic road, train or coach trip to the Cairngorms. 
Accommodation Advice
Thousands of visitors enjoy the wonders of the Cairngorms National Park every year. This unspoilt region in the Highlands has a lot to offer the intrepid explorer. Come and discover the picturesque lochs and lochans. Wonder through the forests and woodlands at your leisure. Marvel at the lush valleys and majestic mountain ranges.
Just a short 34 miles from the Cairngorms National Park, Dunalastair Hotel Suites is the perfect base for a festive break in the Highlands. The setting is glorious in the winter months and the hotel provides you with all the luxury and comfort to make a winter wonderland festive break extra special.
Our Monadh restaurant serves a range of dishes with vegan and gluten-free options on the festive menu. Children can enjoy free meals throughout their stay! Enjoy our Scottish delights in our Pitlochry restaurant. Check out our online menu to see just what's on offer to complete your perfect Christmas in Cairngorms.
Come and enjoy 5-star comfort and luxury during your festive winter wonderland break at Dunalastair Hotel Suites in Kinloch Rannoch. Enjoy Christmas and New Year breaks in Scotland to create superb festive memories.